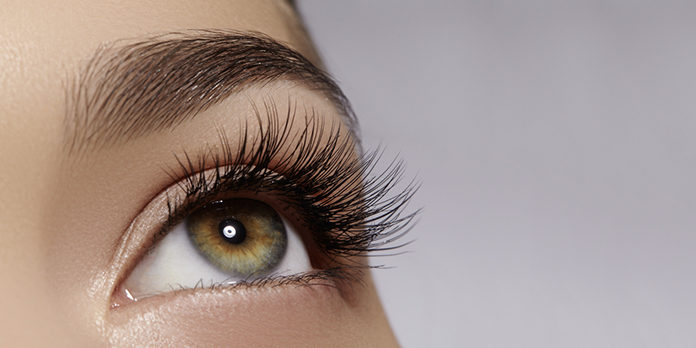 The quest for longer, fuller eyelashes has created a boom of
interest in magnetic eyelashes. Magnetic lashes are falsies that promise to
free us from the messiness of adhesive glue and gummy residue left on natural lashes. Their secret is in tiny magnets that hold the false lashes to each
other and to your natural lash line. Magnetic lashes come in a range of
different styles from bold and glamorous subtle and natural. Some are made of human hair while others are synthetic. Many are reusable.
Learning to apply magnetic lashes is relatively simple but takes
some practice, so plan to devote a little time to perfecting your technique. Application instructions from different brands vary, but these two tips will help secure magnetic lashes in place.
One, trim the lash for a natural fit along your lash line
just as you would for false eyelashes that depend on adhesive glue for
adherence. Magnetic lashes line up on your natural lash line for a perfect
application every time once you make sure you've got them right on the lash line.
Two, apply mascara to your natural lash to give the magnetic
lash something to grip onto.
Here are brands that beauty experts are recommending:
Ardell Accents 001 Magnetic Lash, $12, Walmart and $14, Ulta and $12, Target
Four magnets hold impressively when you sandwich your
natural lashes between the two full-lash strips made with 100 percent human
hair. You'll place the upper strip across the top of your lash line and the under strip beneath your natural lash line. The magnets lock the strips in place. Accent lashes are held in place by three magnets.
Don't remove Ardell's magnetic lashes by pulling them
straight off. This could do damage to your natural lashes. Instead, gently lift
the top lash strip up and pull the bottom strip down to pull them apart. You may want to experiment by sliding the top and bottom magnets away from each other one at a time.
Kiss Magnetic Strip Lash – 02, $14,Ulta
What's not to love about these lightweight magnetic lashes that look and feel oh-so-natural? Part of their natural look comes from spacing that is a little wider than most magnetic falsies.
Eylure Luxe Magnetic Opulent Accent Lashes, $17, Ulta
Click these handmade
and reusable lashes on with the applicator and simply rub them off to remove. These work best if you apply a coat of mascara first to give the magnetic ones a more secure grip.
Love Lash Magnetic Faux Lashes, $40,Credo Beauty
Pick the Abundant Collection for lashes that
give you a thicker, more accentuated lash line, perfect for a night out. Choose
the Abundant Zen Collection for a reserved, natural look perfect for everyday glam.
One-Two Cosmetics Magnetic Lashes – Runway Lash, $69, hsn.com
These synthetic magnetic lashes are pricey but reusable. They
come in full strips with an applicator that resembles tweezers. Half lashes to accent the outer corners of your eyes are included.
READ ALSO Do You Know The Differences Between Artificial Flavors, Natural Flavors, Organic Flavors?
First appeared on youbeauty.com