We are all so different. It is impossible to find a person who has the same way of thinking as you, says, dresses, interacts with others akin to you. This suggests that each of us is an individual. And psychological, especially visual, tests help to know oneself, to reveal the facets of one's personality.
We suggest you look at the picture and answer what you saw first on it?
The result of the test for visualization will tell a lot of interesting things about you.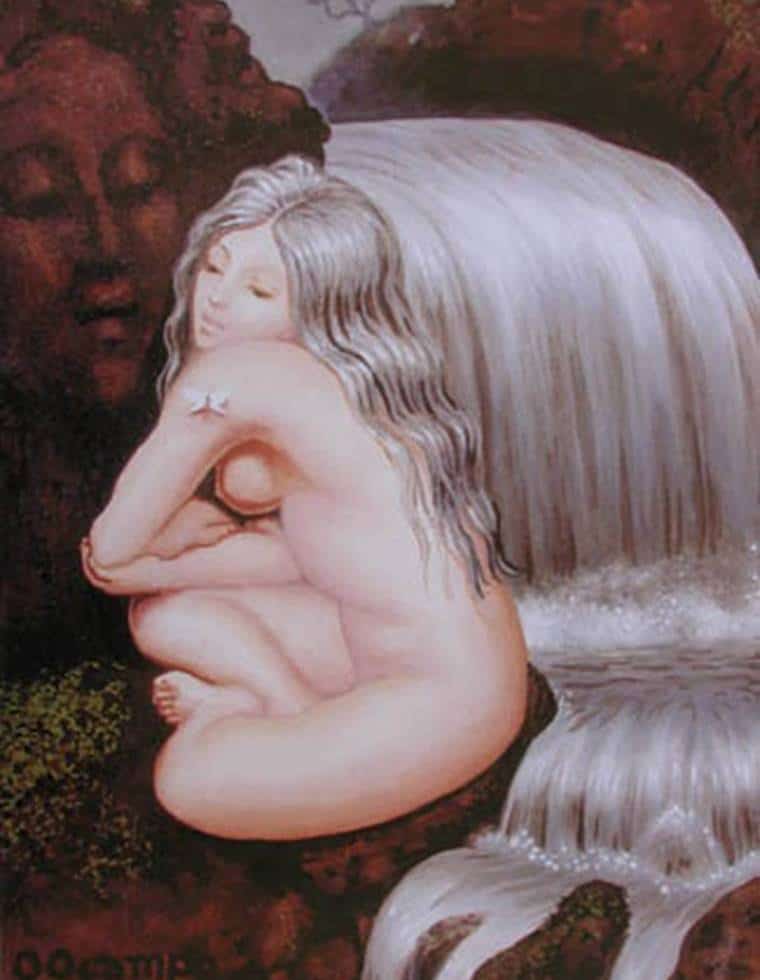 If you saw a waterfall
This suggests that you are a very calm person. Your inner peace helps you adapt to all life situations. You are not used to sitting in one place. Your nature requires a constant change of pictures, something new: a new place of work, a new place of residence. In one place you are bored, you are literally choking on monotony. But the fear of disappointment scares you and makes it impossible to decide on the first step. In this case, always repeat to yourself the phrase: "It is better to do and regret than not do, and then also regret and reproach yourself for the dullness of everyday life." Enough to go with the flow. After all, you are a free-spirited nature, so it is important for you to always keep in touch with nature. It literally nourishes and charges you with its energy.
If you saw the face of the old woman
This suggests that you are a creative person and are always in search of new knowledge. In all you are looking for positives. Even if bad things happen to you, you will definitely find a plus in them. You radiate and infect others with your optimism. You do not take this away. And many want to learn it from you. Each life situation for you is a kind of lesson from which you extract important and necessary moments for yourself, learn from your own mistakes, so as not to repeat them in the future. Smile, in spite of everything, and do not allow anything and no one to influence your optimistic attitude.
And from time to time it would not be superfluous for you to listen to the advice of older people and parents. At this stage of life, you have detractors, so be extremely careful not to take them as "friends" and not to let them go deep into your heart.
If you saw a sitting girl
It characterizes you as a sensitive and sensitive nature. But it is important that you learn to control your feelings and emotions, which sometimes make you suffer from the injustices of this world.
Remember that the most important thing in your life is family and friends, so you should take care of them, give them the love and attention that they deserve. You are a person who can give and receive love. And although sometimes it brings you, and you step on the same rake. But it does not stop you. You get up and move on.
You always have the strength to overcome all the difficulties in life, and give you their people who you love and who love you.
And the image of the girl can be interpreted as a kind of intrigue. The image of a young and beautiful girl can mean new opportunities, a meeting with her second half, joy, happiness, luck and even profit.
If you saw the girl's face in the distance
This means that you are a person who is not afraid to leave his comfort zone, because something new and unexplored is stored for you, and you will definitely find something perfect for yourself. You do not tolerate flattery towards yourself after you have achieved something grand. However, you like it when you hear approval and when your efforts are appreciated.
It's hard for people to earn your trust. But if they succeed, they can be called lucky, because you will never fail and will always provide help and support in difficult times. For that you appreciate. You know how to be a true friend. Therefore, people are drawn to you.
And this face foreshadows big changes in your life. Do not be afraid. Swim to meet the wind of change. Spread your sails and leave everything that holds you in the past. Believe in yourself, in your own strength, and luck will undoubtedly await you. Your course is a happy life, do not stray from it, and everything will work out for you!
Having passed our visual test, did you learn something interesting about yourself?
READ ALSO LA Best Lunch Spots
READ MORE Tiny Magnetic False Eyelash Give Natural Look Perfect for Everyday Glam.