With summer in full swing, this simple Grilled Bruschetta Chicken recipe is calling your name! Perfectly marinated chicken is grilled up, sliced and topped with a fresh and bright tomato and basil bruschetta. A delicious dinner that's gluten-free, low-carb and paleo and whole30 friendly.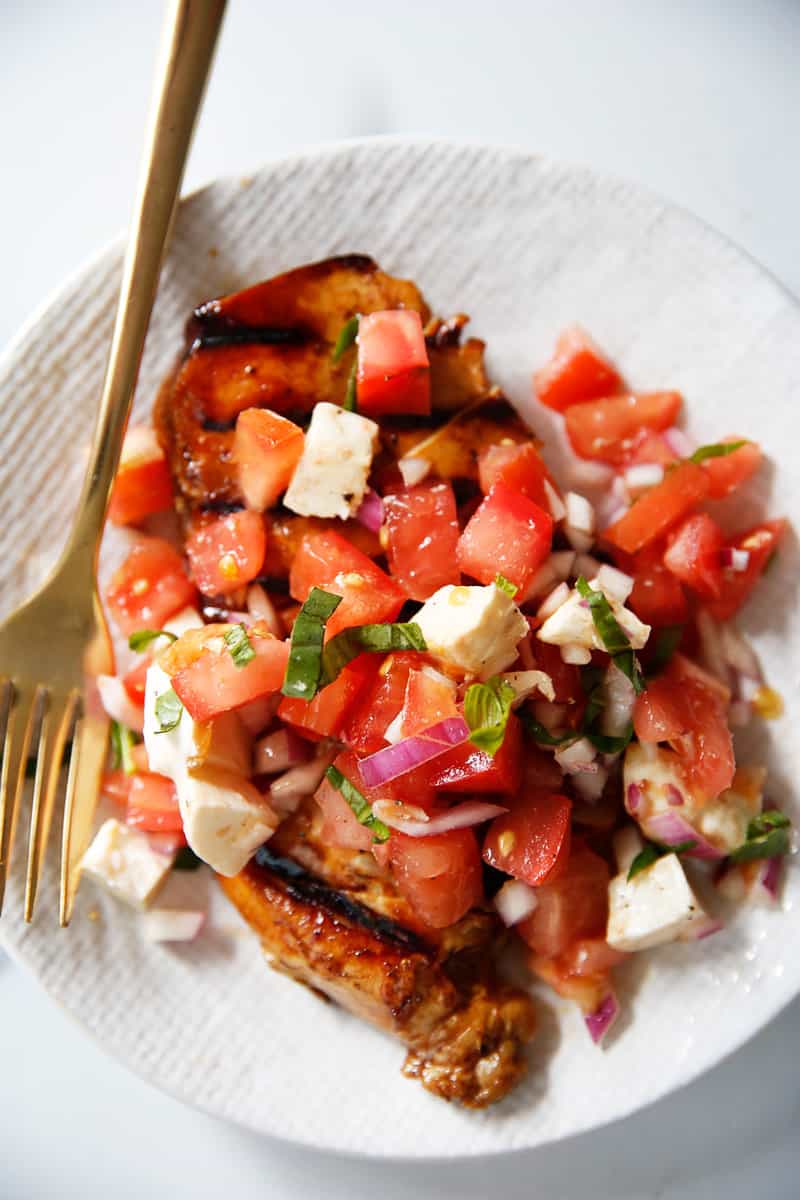 Easy Bruschetta Chicken Recipe
This Bruschetta Chicken is perfect anytime of the year now that you can find ripe greenhouse tomatoes year round. However this is especially on point during grilling season when farm, fresh tomatoes are everywhere. It's the perfect semi no cook meal when the weather begs for you to cook and eat outside. The chicken is marinated to perfection, grilled, and topped with a delicious fresh tomato bruschetta. It's perfect on it's own, but if you want you can serve it with a light salad or with pasta! This dish is already gluten-free and low-carb but leave out the cheese for a Whole30 compliant or paleo meal.
What is Bruschetta?
Bruschetta (pronounced bru-sketta in case you ever find yourself in Italy and want to do as the Italians do) is an Italian appetizer of grilled bread rubbed with garlic and olive oil, and sometimes topped with other things like tomatoes. In American culture bruschetta usually means bread topped with diced tomatoes and basil, and sometimes cheese. Our recipe takes the idea of the grilled bread, and uses grilled chicken instead for a heartier more nutrient dense version, making it appropriate as a meal (and dang delicious!)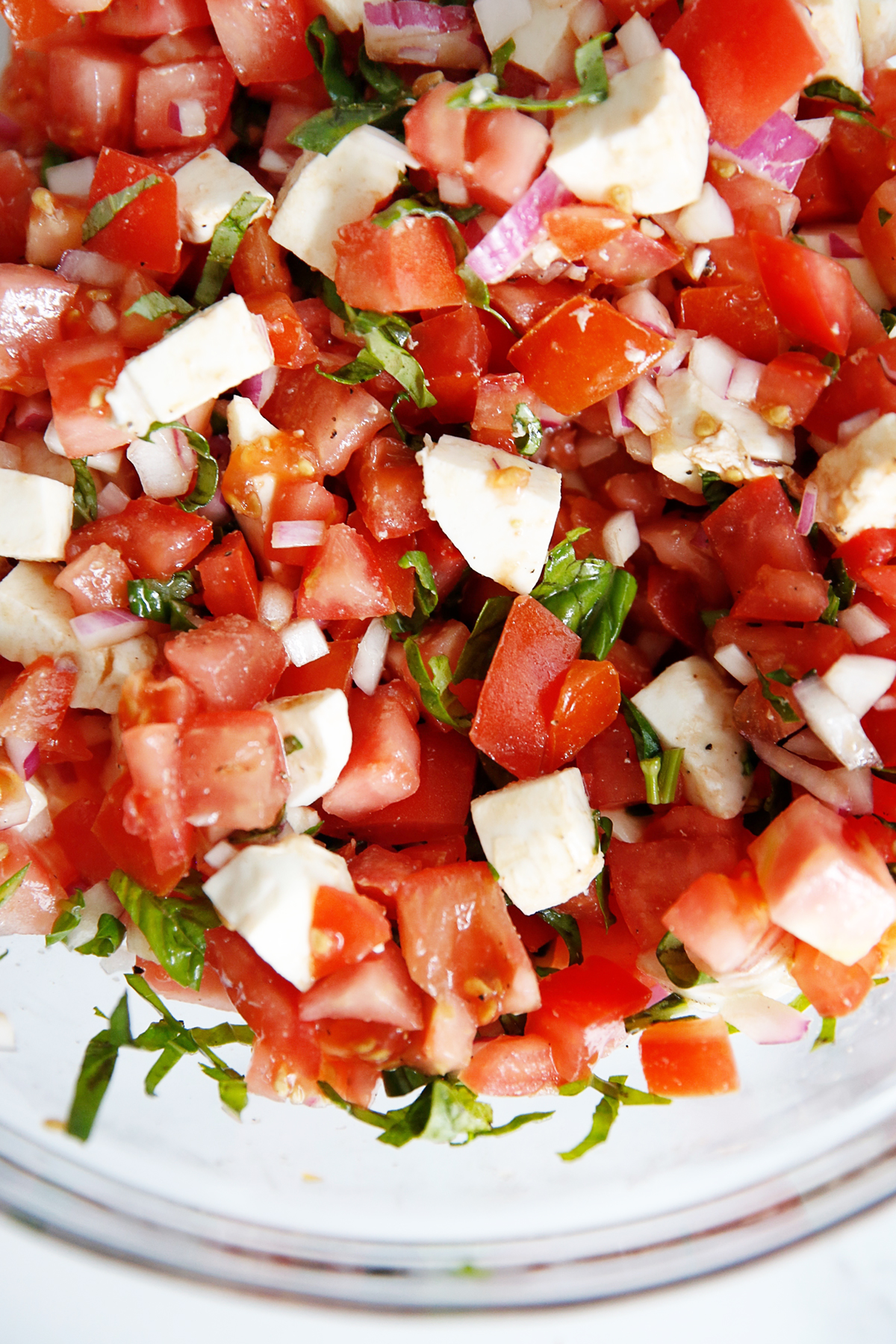 Easy Bruschetta Chicken Ingredients
Boneless + skinless chicken breasts
Olive oil
Balsamic Vinegar
Fresh Tomatoes
Red Onion
Garlic
Basil
Fresh mozzarella
How to Serve Bruschetta Chicken
This recipe is intended to be a stand alone dish! But it wouldn't be out of place to serve it with some pasta (spaghetti or linguine might be nice), spaghetti squash or cauliflower rice. It also could be great on a bed of tender greens like spinach or arugula!
Can I make it without a grill?
Yes! While we love the charred smoky taste of the grill, this dish would still be perfectly acceptable on a grill pan inside of even if you need to, in a regular skillet! Do what works for you, either way a nice marinated juicy piece of chicken will be delicious topped with this tomato salad.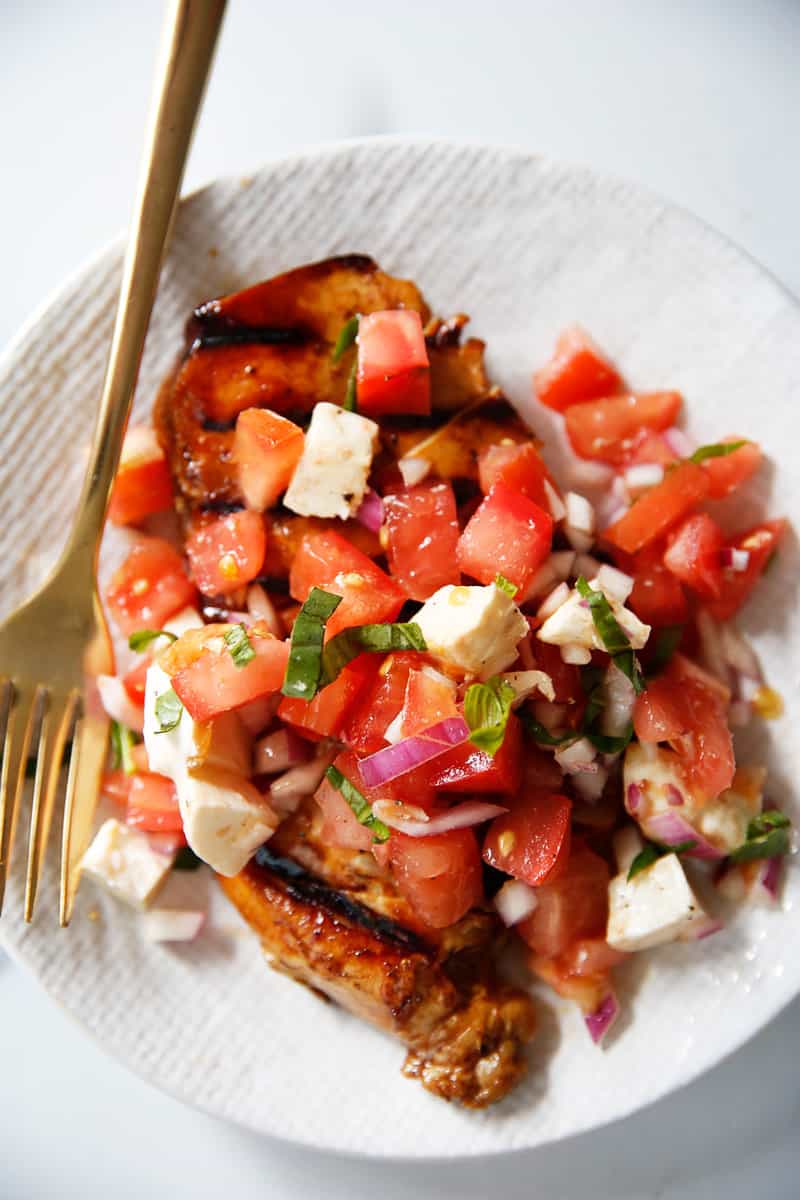 If you like this grilling recipe, check out these others:
Watch the video:
---
Ingredients
For Chicken
For Bruschetta
4 tomatoes, diced
1/2 red onion, finely diced
1 garlic clove, minced
1-2 teaspoons extra virgin olive oil
1 tablespoon balsamic vinegar
Sea salt and pepper, to taste
1/2 cup (packed) fresh basil, chopped
1 cup fresh chopped mozzarella (optional)
Additional basil, for garnish
Directions
Season chicken with salt and pepper then place chicken, balsamic vinegar, and oil into a bowl or sealable bag. Let marinate for at least 1 hour or overnight.
Pre-heat grill or grill pan to medium high heat.
When hot add chicken and let cook for 7 minutes on each side or until fully cooked through.
Meanwhile combine all bruschetta ingredients in a large bowl and toss to combine.
Let chicken sit for 5 minutes, then slice and top with bruschetta and serve immediately.
READ ALSO Mediterranean Grilled Balsamic Chicken and Olive Tapenade
First appeared on lexiscleankitchen.com