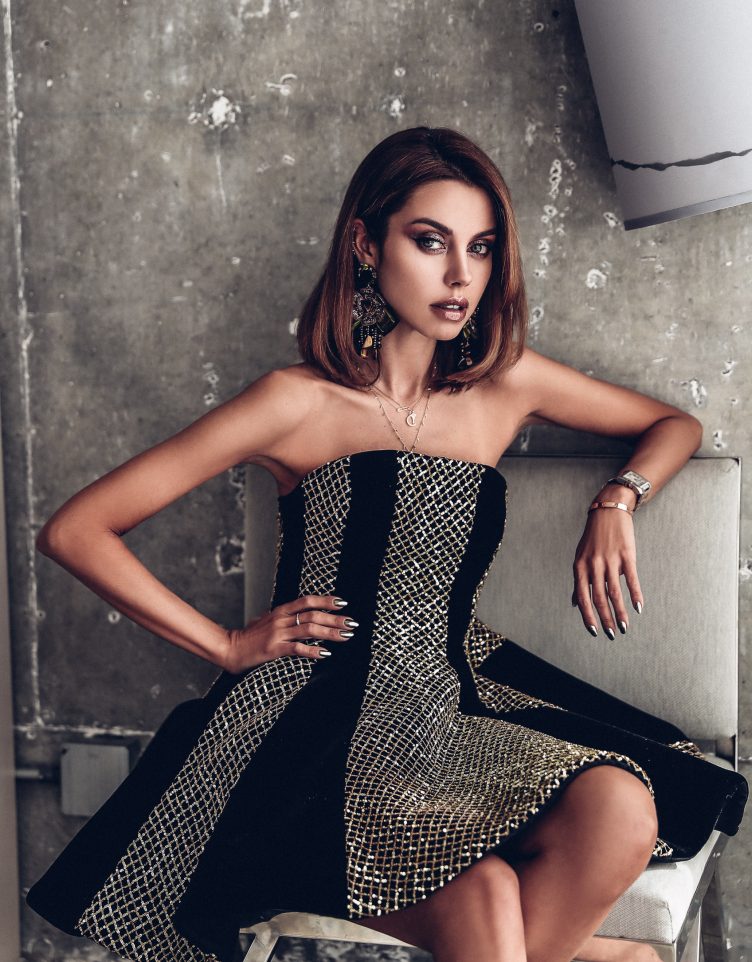 In a perfect world I'd love to have two hours to get party-ready, but in reality, during the busy Holiday season, I'm lucky if I get half an hour. This particular look took about 25 minutes only because come crunch time, I always reach for my time tested favorites that I know will get me the look I want quick! What I find, is that when you don't have a lot of time but want to look pulled together and festive, metallics are definitely the way to go! Something about that glow gives your make-up a night-time look and feel, yet application is simple and easy, so your makeup doesn't take all day to create! So, without further ado, here are my favorite Holiday Glow Getters, or my little helpers as I like to call them.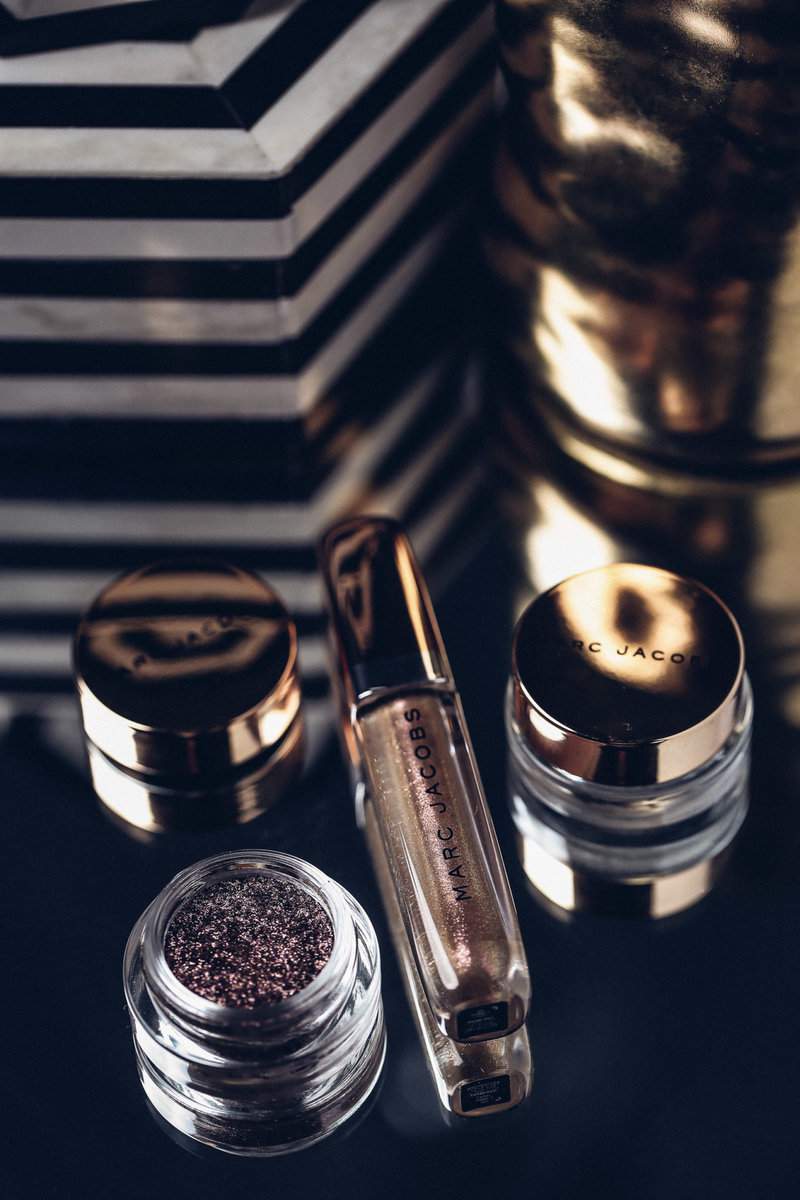 See-quins Glam Glitter Eyeshadows in Icy Opal and Topaz Flash – love these glitter eyeshadows! Perfect option for that dramatic Holiday night-time eye looks. Love that the shadows glide on the lid super smoothly and can be packed on for extreme pigment and glitter or applied lightly for just a bit of shine. Today I used the Topaz Flash shade all over the lid and used the Icy Opal to highlight my brow bone and inner corner of the eye. The Icy Opal shade is a very stark white so if you're looking for a dramatic highlight shade, this is it. I've also been adding it in the very center of the eyelid for a pop of highlight.
Enamored Hydrating Lip Gloss Stick in the shade Uh-Huh Honey Enamored – another killer lip product from Marc Jacobs Beauty. It's really unique because it's solid (like a lipstick) but it applies as a gloss (super shiny). It's non sticky and feels like I'm not wearing anything which I love. I have it in a few shades but my favorite has been the one pictured here – the prettiest nude metallic color that creates that perfectly shimmery pouty lip effect!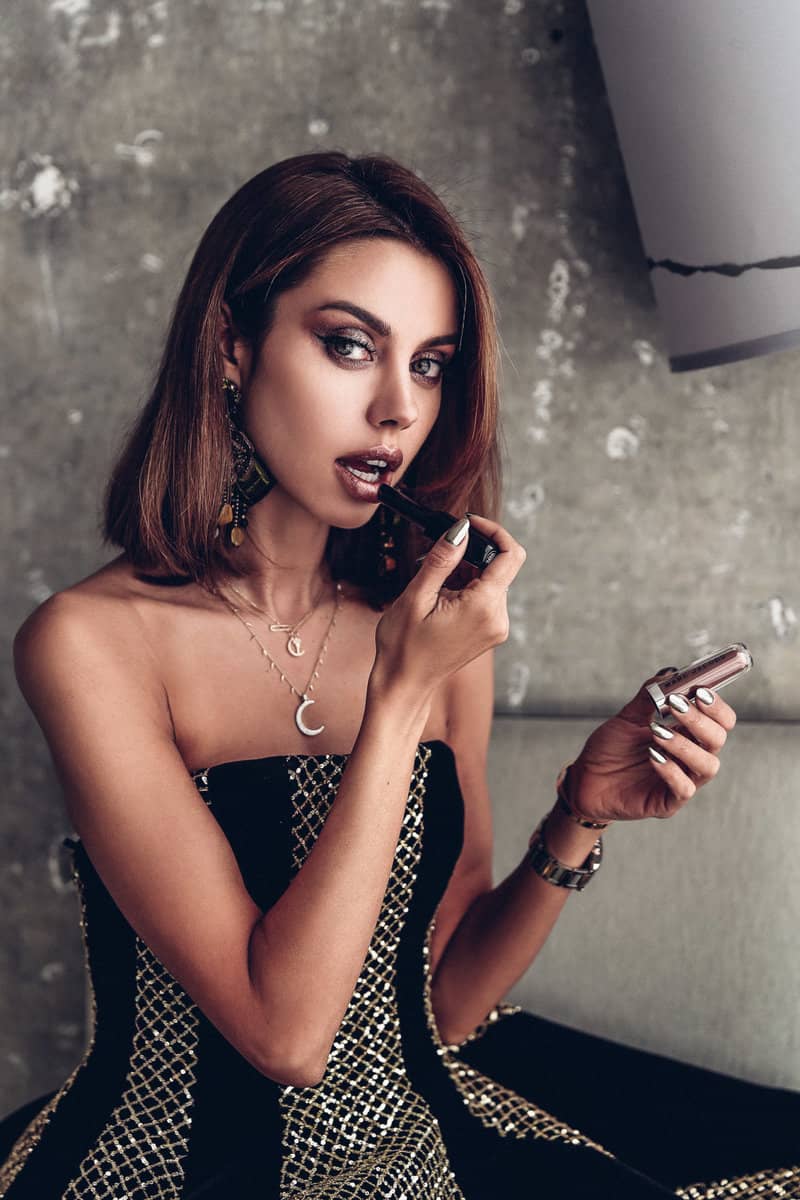 Enamored Hi-Shine Lip Lacquer Lipgloss in Shine a Light – The lipgloss has been my favorite for some time now – perfect amount of shine and pigment, I love the way the Shine a Light shade adds a bit of sparkle and dimension to any lip color I'm wearing, yet looks just as pretty on its own. In today's post I dabbed a bit of this gloss on top of the lipstick I was wearing to instantly add more shine and dimension to my lips. I also love to dab it on my cupid's bow to highlight it. I've even used this gloss as an eyeshadow! This one is definitely a must for your holiday makeup kit.
Marc Jacobs Beauty Glow Stick Glistening Illuminator – I like to apply it on my cheekbones as well as collar bone and high points on my shoulders. It's a beautiful highlight, and I love the compact design that I can take with me anywhere for a quick and easy touch up. It comes in super handy during Holiday season since so many dresses have exposed shoulders and I love a shoulder highlight! Adding a little body glow is such an easy thing to do, but I feel like it makes a huge difference and pulls your look together.
READ MORE Irina Shayk showed a picture of her mother in her youth and proved to everyone that her beauty is real!
Stello Los Angeles Dress | Ranjana Khan Cascade Gold Tone Velvet And Crystal Clip Earrings | Sydney Evan Small Gold & Diamond Moon Necklace, Gold & Diamond Fringe Drop Moon Necklace, Yellow Gold & Diamond Mini Key Necklace, Yellow Gold & Diamond Safety Pin Necklace, and Gold & Pavé Diamond Crescent Moon Studs
READ ALSO 7 Secrets to Look 10 Years Younger
A Lovely Little Crafty Decor Object – Stacked Box Christmas Tree…
First appeared on thevivaluxury.com