In view of the worldwide coronavirus pandemic, WHO strongly recommends washing your hands thoroughly with soap and water for at least 20 seconds, using sanitizers and masks. But what to do if the latter have substantially increased in price or are simply not available for sale? There is an exit! You can make them yourself, and today in the magazine "Furilia" I will tell you how.
Hand antiseptic recipes and making masks at home
All the necessary ingredients can be found in the pharmacy at an adequate cost, and the remedies thus prepared will not be inferior to ready-made ones in any way.
Antiseptics: tips for use and rules of preparation
Before you make an antiseptic at home, remember that it will act only if it contains 60-90% alcohol. Also, the product will not be effective for heavily soiled or greasy hands. First they will have to be washed and degreased. This is why it is considered safe and proper to simply wash your hands with soap and water for 20 seconds. This procedure protects against the virus more effectively than using a sanitizer.
If there is no access to water, an antiseptic will come to the rescue. Take it with you when going outside, to work, to the store, etc. Put 3 ml of the solution on your hands so that it completely covers them, and treat them with skin for at least 30 seconds. Pay special attention to the area under the nails, since a lot of dirt accumulates under them and the virus can survive. And so that from frequent use of the antiseptic, the hands do not dry out, use a moisturizer. And remember: sanitizers are toxic, so keep them away from small children.
Recipe number 1
Ingredients:
medical alcohol 90% – 50 ml;
glycerin – 30 ml;
essential oil (orange, grapefruit, mint, lemon, vanilla) – 5 drops.
Cooking method:
Combine all ingredients and mix well.
Pour into a bottle for convenience. Alcohol will kill all germs, glycerin will soften your hands, and the essential oil will kill the unpleasant odor, so you can choose it to your liking.
Recipe number 2
List of ingredients:
alcohol tincture / tincture of chamomile or calendula – 50 ml;
glycerin – 30 ml;
water – 50 ml;
lemon essential oil – 5 drops.
Cooking:
Combine all ingredients until smooth.
Pour the solution into a bottle. Alcohol tincture disinfects hands, glycerin protects against tightening and dry skin, and essential oil gives a pleasant aroma.
Recipe number 3
What is needed:
alcohol tincture (calendula, chamomile) – 50 ml;
aloe vera gel – 1 tbsp. l .;
tea tree essential oil – 7 drops.
How to cook:
Combine all ingredients and mix thoroughly.
Pour into a bottle. Alcohol and tea tree oil act as a disinfectant, while aloe vera prevents dry hands.
Recipe number 4
What do you need:
ethyl alcohol 60% – 830 ml (or isopropyl alcohol not less than 60% – 750 ml);
hydrogen peroxide – 40 ml;
glycerin – 15 ml;
distilled or cooled boiled water.
How to do:
Pour alcohol into the bowl, add hydrogen peroxide and glycerin to it.
Dilute the solution with distilled water. Close the lid so that the antiseptic does not disappear.
Mix thoroughly and bottle. Treat your hands as needed.
Recipe number 5
Ingredients:
alcohol 60-90% – 100 ml;
chlorhexidine 0.05% – 30 ml;
glycerin – 10 ml.
Cooking:
Combine all ingredients until smooth.
Pour into a convenient container with a dispenser and use.
Recipe number 6
List of ingredients:
witch hazel – 1.5 tsp;
pure aloe vera gel – 1 cup;
tea tree oil – 30 drops;
lavender or peppermint essential oil – 5 drops.
Cooking method:
Combine aloe vera gel, witch hazel, and tea tree oil.
Add under one drop of essential oil, constantly stirring the antiseptic until the smell is pleasant to you.
Pour the solution into the dispenser bottle. Sanitizer does not contain alcohol, but witch hazel is an excellent disinfectant, and tea tree oil is a natural antiseptic.
READ ALSO 12 Amazing Benefits Of Charcoal For Health And Beauty. Charcoal Face Mask Recipe.
How to make a mask yourself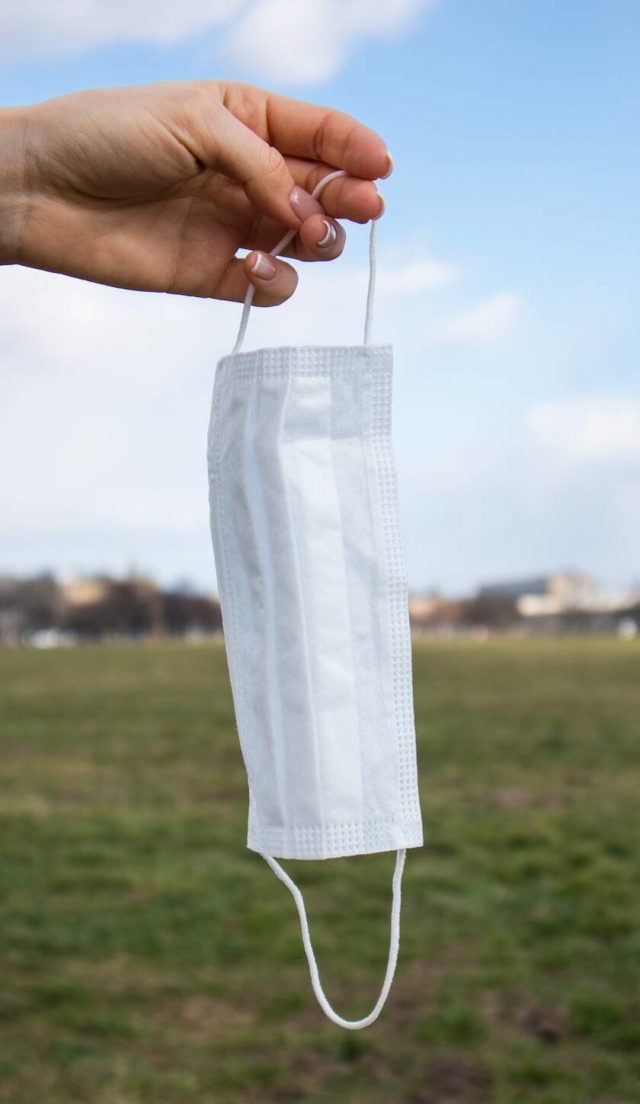 Wearing a medical mask is recommended for those who come in contact with sick people, show signs of a respiratory illness (especially a cough) or visit public places (for prevention and protection). It should tightly cover the chin, mouth and nose. Change the mask every 3-4 hours. Sewn at home can be worn again after washing and ironing at the highest temperature.
1.Water-gauze bandage
What is needed:
bandage or gauze;
cotton wool;
thread, needle, scissors;
essential oils (optional).
How to do:
Cut 80 cm of the bandage, fold it four times and sew along the edges.
Make 4 ties from the bandage and sew them to the mask. This is the easiest option.
To make the protection more reliable, put a layer of cotton wool 14 cm long inside the bandage.
Some doctors also recommend applying a few drops of pine, juniper, tea tree or fir essential oil to the dressing. But you can do without it.
You can erase the mask if you remove cotton from it. Iron before reuse.
Video instruction for the manufacture of cotton gauze dressings:
© How to do it yourself / Magazine / YouTube
2. Fabric mask
Materials:
linen or thick cotton – 45×45 cm;
elastic band – 2 pcs. 18 cm each;
scissors, threads, needle.
How to stitch:
Take a square piece of fabric. Fold it in half and put it together.
Bend and sew the edges where the elastic bands will be inserted manually or on a typewriter.
Thread the strings in them. Done!
You can watch the video instruction here:
3. Mask with filter
For its manufacture you will need all the same as for a fabric dressing + non-woven material as a filter. It can be found on the Internet or in a sewing store. The filter will more reliably protect against pathogens. Just put it between the layers of fabric while sewing the mask. By the way, the filter can be made removable, for which cuts are left on the inside of the dressing so that it can be pulled out and changed.
More details in this video:
4. Paper mask
What do you need:
paper towels or napkins;
elastic bands – 2 pcs.;
stapler.
Preparation method:
Fold a paper towel or napkin with an accordion.
Tuck the edges, put on elastic bands and fasten with a stapler.
Remember that such a mask is the most unreliable. It quickly soaks, so it is not recommended to wear it for more than 30 minutes.
Video instruction here:
Take care of yourself and be healthy!
Featured image on unsplash.com
Follow Furilia on Pinterest and Instagram
READ ALSO Orange Mask And Bottles. Unusual Methods Of Chinese Inhabitants Struggle With Coronavirus!
READ MORE The Most Unusual Home Face Masks: This You Have Not Tried!