Italian hot chocolate is a rich luxurious treat that takes only 5 minutes to make. Half-way between a drink and a dessert, this is probably the BEST hot chocolate in the world!
---
Smooth, uber rich and so indulgent, Italian hot chocolate is hands down the best hot chocolate in the world. It has nothing to do with the watery, sad version often served at bars and cafeterias around the world.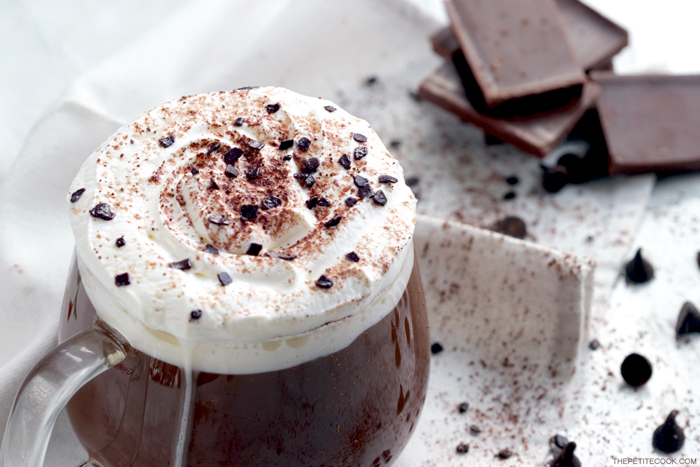 I've tasted (and tested) hot chocolate in Japan, France, Germany, UK and a bunch of other places, but not once I was handed over something nearly as close as the decadent Italian version.
On the other hand, the most amazing hot chocolate I've ever had is served at Caffè Rivoire, right in front of the famous Piazza della Signoria in Florence, Italy. If you happen to be in the neighborhood, make sure not to miss it.

Rich and Decadent Italian Hot Chocolate – Ready in 10 mins with 5 Ingredients Only

READ MORE Enhance Your Sex Life With These Fall-Winter Foods!

Italian Hot Chocolate Ingredients
Italian hot chocolate is ready in just 10 mins start to finish and only requires 5 simple and easy ingredients: fresh organic milk ( feel free to use whole or part-skimmed), high-quality cocoa powder ( I like to use the Madagascar variety), 70% high-quality organic dark chocolate, sugar and cornflour.
Cornflour is the secret ingredient that makes this hot chocolate so decadent and rich, but goes completely undetectable over your palate.
To bring out the amazing chocolate aroma use the best dark chocolate you can find. It does make a HUGE difference. Some o my favorite chocolate brands include Pascha Chocolate and Alter Eco. But there are lots of good brands out there, just remember that good chocolate should be made only with cocoa mass, cocoa butter and sugar (some add vanilla too).
Italian Hot Chocolate Add-Ins
Add a splash of pure vanilla extract, a drop of your favorite liquor (Baileys, Rum, Grand Marnier are my favorites!), or spice it up a little with a pinch of cinnamon.
Top it up with whipped cream, extra cocoa powder, mini marshmallows, a drizzle of salted caramel sauce or dulce de leche, crushed toasted hazelnuts, or anything else you may dream of.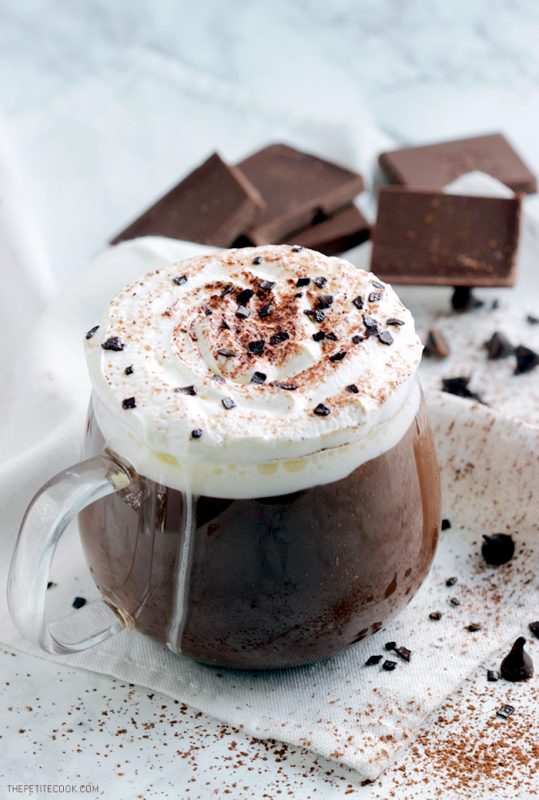 Deliciously warm and thick, Italian hot chocolate is the ultimate luxurious treat to satisfy your chocolate cravings!
Watch How To Make Italian Hot Chocolate:
Did you make this recipe?
Please let me know how you liked it! Leave a comment below and share a picture on Instagram with the hashtag #thepetitecook! Looking at your pictures always makes me smile *and super hungry*!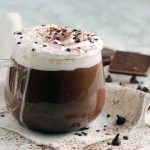 Italian Hot Chocolate
Italian hot chocolate is rich, creamy and decadent. Half-way between a drink and a dessert, it's the most delicious way to warm yourself up this winter.
Ingredients
500

ml

fresh whole (or semi-skimmed) milk, warmed




17.5 fl oz
5

tsp

high-quality organic cocoa powder




(25 g)
4

tsp

white or demerara sugar




(20 g)
120

gr

70% dark chocolate, finely chopped




(4oz)
whipped cream, to serve




(optional)
Instructions
Pour the warm milk in a large pot. Whisk in the sifted cornflour, cocoa and sugar.
Warm the mixture over medium-low heat, whisking occasionally to avoid lumps.
Bring the hot chocolate mixture almost to a light boil, then reduce the heat to low and fold in the chopped dark chocolate.
Whisk the hot chocolate until creamy and dense, adding more sugar if you like it sweeter.
Divide the Italian hot chocolate among two cups, top with whipped cream and serve.
Recipe Video