Every week in Genius Recipes—often with your help!—Food52 Creative Director and lifelong Genius-hunter Kristen Miglore is unearthing recipes that will change the way you cook.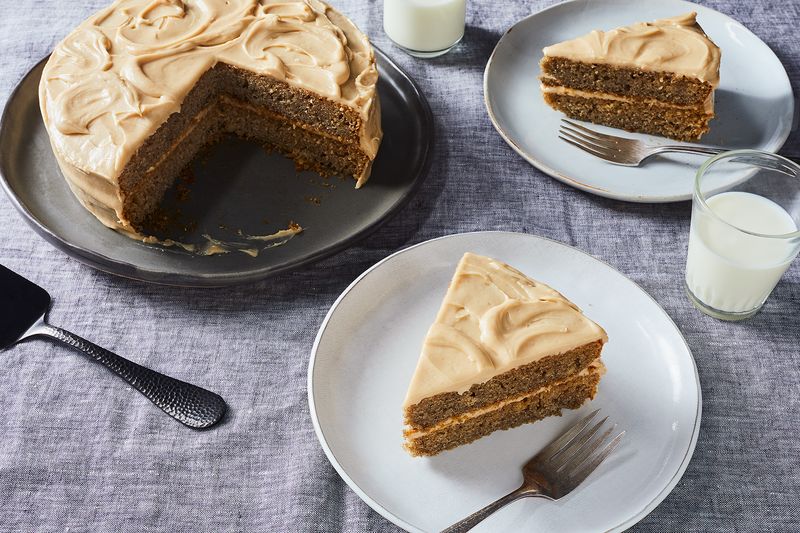 What looks like a banana cake, tastes (kind of) like a banana cake, has the same ingredient list as a banana cake—but comes out lighter and bouncier, and makes you feel really weird while you're making it?This incredible, ultra-fluffy layer cake, made with zero bananas and two banana peels. Don't run away! Trust me, trust this cake's adoring fans on our staff, and especially trust Lindsay-Jean Hard, who was an editor here at Food52 for six years and has just written her brilliant first cookbook called Cooking with Scraps (out October 30th—go preorder it now).
In her many years writing a column about scrappy cooking at Food52, Lindsay-Jean became an expert at harnessing the more texturally challenged (but, most of all, reputation-challenged) parts of fruits and vegetables to become delicious, economic, no-waste ingredients.
Like potato peels, coffee grounds, and artichoke leaves, banana peels only seem like inedible castaways because that's how we've always treated them. But they're loaded with moisture and lightness and even some banana flavor, if you simply chop them up, simmer them for 10 minutes, and blend them smooth.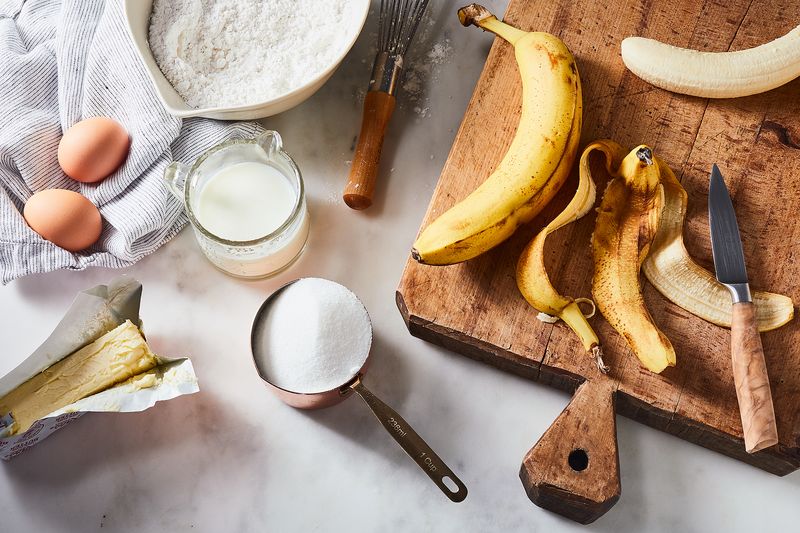 Every kitchen trick like this in Cooking with Scraps is simply a matter of education, not effort—of having a trusted friend to tell you what to do with the things that every other recipe has told us, unequivocally, discard.
"Learning that they're edible was enough for me to assume that they could be cooked, blended, and used like any other fruit purée in a baked good," Lindsay-Jean told me, when I asked how the heck she figured out she could bake with banana peels. "And I already knew that my grandmother's banana cake is perfection, so I decided to start there."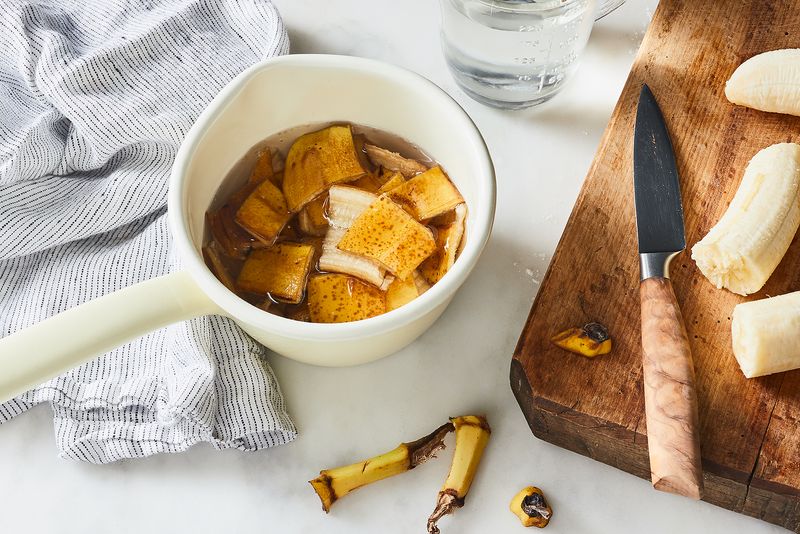 I completely understand if your mouth is still hanging agape from four paragraphs ago. To be honest, we first tested this recipe mostly out of morbid curiosity, while also trying some sure things: Lindsay-Jean's utterly delicious leek top (leek tops! finally!) cacio e pepe and everything-spiced pumpkin seeds. But after I tasted the fluffiness, hugged by Grandma G.G.'s brown sugar frosting, for myself—then saw the wild crowd reactions from every taster at Food52 HQ—I knew that we needed to get the word out about this cake.
We should probably stop being surprised by how many odd characters can blend seamlessly into cakes and make them richer, lighter, better. In this column alone, beets, eggplant, and quinoa have all done good work, and in my research for Genius Desserts, I saw just about everything else you could imagine: lettuce, jicama, potatoes, sauerkraut. (Got any more?)
As with all unexpected secret ingredients, it's a bad idea to keep this one really secret, just in case someone has an allergy—in this case, folks with latex allergies can also have reactions to banana peels, among other things. But I'm not sure how you'd stop yourself from singing this from the rooftops anyway.
Makes one two-layer cake
Peels from 2 very ripe bananas, stem and very bottom discarded (about 100 grams)—see note below

1/2

cup unsalted butter, softened, plus more for buttering the pans

1 1/2

cups granulated sugar

2

large eggs, separated

1/2

cup cup buttermilk

1 2/3

cups cake flour (210 grams), plus more flour (any type) for flouring the pans

1

teaspoon baking soda

1/4

teaspoon baking powder

1/2

teaspoon fine-grain sea salt
1/2

cup unsalted butter

1

cup packed (220 grams) light or dark brown sugar

1/4



cup milk, 2% or higher

1 3/4 to 2



cups powdered sugar (220 to 250 grams), sifted
Photos by Jenny Huang
READ Three Simple Tricks That Will Help You Lose Weight Without Diet and Drugs
READ ALSO Sweets for joy! Eat and lose weight
Orange Coffee Cake Recipe by Chef in Training
---
First appeared on food52.com