In the review of the sexiest winter clothes, we have already said that knitwear on a naked body is perhaps the most seductive clothing in the cold season. Yes, warm knitted dresses 2021 with high boots are our uniform for cold weather!
There are one or two seductive tricks available in winter: tops with bare shoulders or dresses with a bare back look at least strange and out of season, you have to wear tight tights like leggings under miniskirts, and cover your neckline with a woolen scarf. What remains is the good old knitwear, which both warms and emphasizes the figure, and is pleasant to the body.
If you, despite any pandemic, have not yet stopped going on romantic dates, then in 2021, do it in long knitted dresses and high boots. The stunning effect of the date is guaranteed, and you will definitely not freeze thanks to the warm coat and passionate hugs. A long knitted dress, high boots and gold jewelry – a trio with which we are ready to withstand another two months of winter.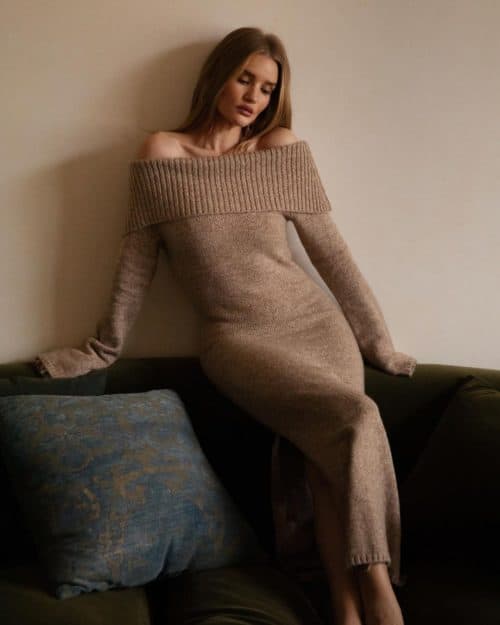 Knitted dress with corset top and brutal boots
Pay attention to the cut of the top of the dress: it imitates an underwired bodice without any hesitation, which means that with the right bra selection you will have a stunning neckline. To slightly tone down the piquancy of the image, we would match it with brutal platform boots and romantic gold jewelry on the neck.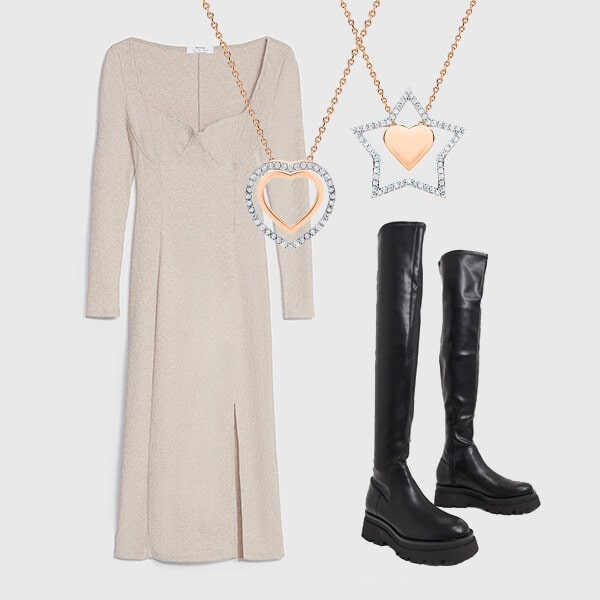 Black viscose midi dress and Cossack boots
A basic knitted dress in black will provide you with a lot of possibilities: in such an outfit it is not a shame to go to work, and it will be cozy on a weekend. Thin material and tight fit make you visually fragile and defenseless – add a contrasting tight top and one or two large, voluminous jewelry to the dress.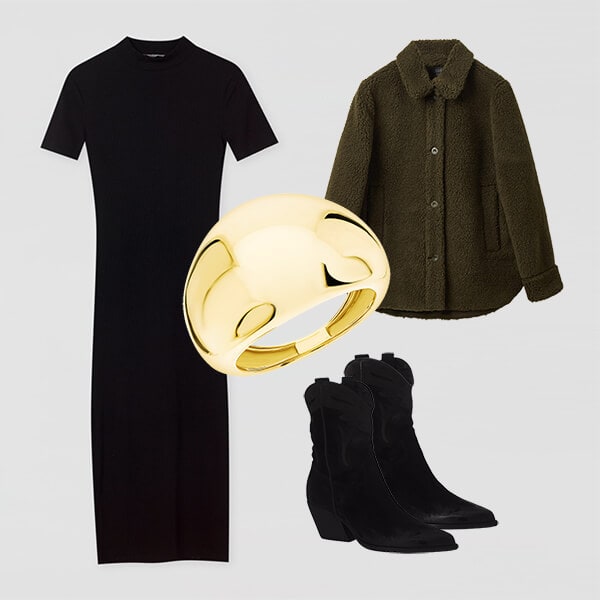 Gray jersey dress and high heel boots
We will reveal to you a small, but very pleasant secret to use: vertical "pasta" stripes visually increase your height and make you slimmer, and if you add plain shoes with a narrow nose and heels, the effect will only intensify. Now you know what your outfit looks like for an instant boost of self-esteem and an emergency collection of compliments!
Light knit turtleneck dress and cherry suede boots
Milky white and dark red are a chic and expensive-looking combination, and a waist accentuated by a thin belt will make the image even more collected and elegant. These two colors, in combination with all shades of brown, will be a great base for the cold season and the best alternative to black and gray.
Warm turtleneck dress and lace-up high boots
A knitted dress is a chameleon thing. With high boots made of shiny leather and a classic coat, it looks restrained and grown-up, and with a down jacket and lace-up boots, it hurries to pass you off as a teenager on vacation. Take this opportunity and compose winter images depending on your mood and your inner sense of age.
Featured image credit: @camillecharriere Instagram
READ ALSO: DRESSED UP VINTAGE HOUSEHOLD THINGS IN CROSS STICH EMBROIDERYS RETURN TO LIFE AS BEAUTIFUL ART OBJECTS