One of the most frequent requests to work with a nutritionist is refusal of sweets…How to give up sweets forever? People come with complaints of a constant desire to eat sweets, mainly in the afternoon. Everyone already understands that sweets age us, leads to insulin resistance and diabetes mellitus, increases cholesterol, acidifies the body, gives rise to fungi, viruses and bacteria, and stimulates the growth of cancer cells.
However, there is a belief that the brain needs sugar. After all, this is what energizes us, gives us energy and strength. Let's see when you can eat sweets and why most often we are addicted to sugar.
Causes of sugar addiction
In order to understand why there is a dependence on sugar, you need to understand its reasons:
emotional (substitution of joy);

stress (increased cortisol is extinguished by carbohydrates);

little or no food during the day, or it all consists of fast carbohydrates, little protein and fat;

not enough complex carbohydrates in the morning;

micro flora (if you eat sweets every day, then you have those in your intestines who will demand sweets every day);

insufficient amount or poor quality of sleep (when the body is tired and not recovered, the amount of simple carbohydrates in the diet will increase).
READ ALSO: WHAT HAPPENS TO OUR BRAIN WHEN WE EXPERIENCE COMPLETE SILENCE & PEACE OF MIND
Why do you want something sweet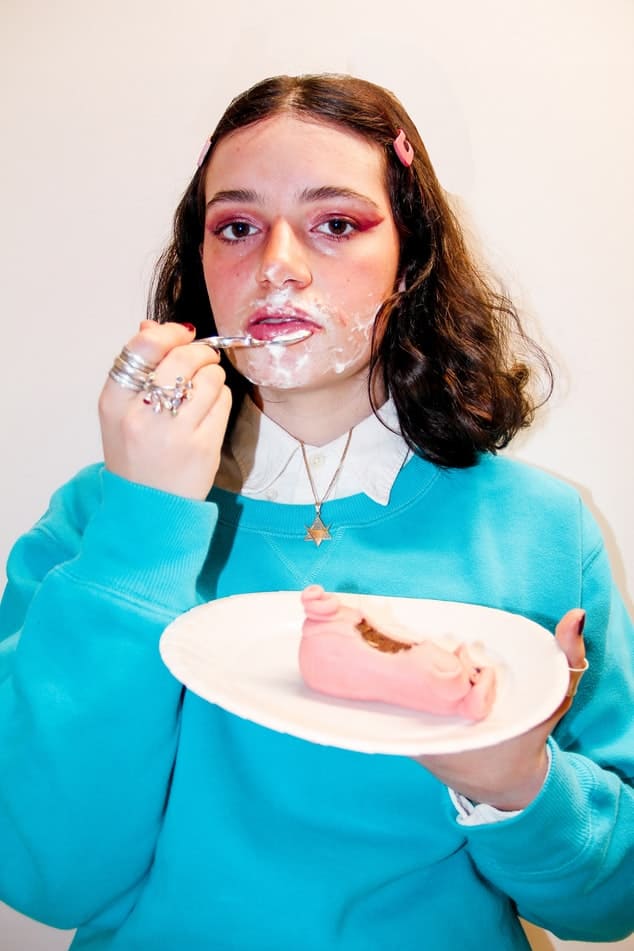 The brain actually needs energy, which can be obtained from complex carbohydrates, berries and fruits. Many people simply do not know about this or mistakenly believe that a candy or cookie will give a faster and more effective result. As for the speed, yes – the sugar from the candy instantly enters the bloodstream and seems to charge, but this charge very quickly drops to zero and you again want something sweet, because glucose has dropped sharply and strongly. This happens because light carbohydrates tend to be instantly absorbed into the bloodstream. Only, there is nothing good in this, both in terms of energy and vigor in the long term, and for health. The more sweet we eat, the more we want more. And we, of course, do not deny ourselves doping. This is good for the brain, it is useful, but my work is intense, stressful, I did not sleep much.
Such frequent swings lead to insulin resistance and type II diabetes mellitus, with which a person can live without even knowing. In terms of the number of deaths, diabetes is in the lead today. If in numbers, then in 2019 the death rate from this disease was 4.2 million – this is 11.3% of all deaths in the world.
Almost everyone has a request to get rid of the habit of eating sweets and almost everyone has insulin and blood glucose elevated, which indicates insulin resistance. If your insulin is higher than 8, you can and should work with this deviation. The scheme is simple and effective.
READ: 5 REASONS WHY YOU SHOULD LOVE DANCING
How to stop eating sweets
Key rules:
it is important to establish

diet

: when you eat regularly, three times a day, at about the same time, there are no surges of loss of strength and hyperactivity;

we remove snacks so as not to increase insulin once again;

in the morning on an empty stomach we drink a glass of warm water, maybe with lemon, to start metabolism; it is ideal to do a small 10-15 minute exercise;
20 minutes before breakfast and lunch, we eat 200-250 g of berries and / or fruits – this way we get glucose for the brain and will eventually be able to completely say goodbye to the loss of energy and the desire to eat something sweet;
we add complex carbohydrates to the diet and eat them only for breakfast and lunch. What exactly? Whole grain pasta, brown and red rice, buckwheat, quinoa, millet, couscous, whole oats, yeast-free bread;

we remove simple carbohydrates from the diet – cookies, sweets, white flour baked goods, white sugar, healthy sweets;

when you really want something sweet, we drink cocoa in vegetable milk, coconut yogurt, we eat nut butters and dark chocolate;

if you really want your favorite dessert, then sometimes we pamper ourselves, but in the afternoon and also as part of lunch or breakfast 20 minutes before the main meal. Better before dinner;
we minimize the consumption of alcohol, because usually the next day we want unhealthy and sweet food;

we drink the norm of water per day (30 ml per 1 kg of body weight). When you feel hungry, try drinking;

we train – physical activity greatly stimulates the rejection of sweets, both physiologically and psychologically;

doing our favorite hobbies. If you don't have one, be sure to get one. You can get pleasure and energy not only from sweets!
Easy for you to give up unhealthy sweets and switch to healthy food!
Featured image credit: unsplash.com
READ ALSO: ELIZABETH II'S FAVORITE DESSERTS CAN BE EASILY COOKED AT HOME: THE TOP 3 RECIPES
DON'T MISS: 7 HEALTHIEST PLANT BASED OILS FOR A HEALTHY DIET