This Filo Dough Spinach Pie recipe may well become your lifesaver if guests are about to appear in the house and you want to meet them with a delicious treat. Unsweetened pie is a great way to showcase your hospitality and give your guests a satisfying meal.
Recipe is unusual and very easy. The pie contains cottage cheese, feta cheese, herbs, spinach. Thanks to the fact that the pie is made from ready-made filo dough, the guests will get the feeling that it took you a long time to create it. No one would even guess that the dough was pre-prepared!
Ingredients:
Cottage cheese – 150 g
Feta cheese – 150 g
Filo dough – package
Egg – 2 pcs.
Onions – 2 pcs.
Green onions – bunch
Garlic – 2 pcs.
Spinach – 200 g
Parsley – bunch
Olive oil – 3 tablespoons
Cooking method
Prepare oven and mold. Preheat oven to 180 degrees. Lightly oil a 24 x 24 cm square or round baking dish.
Heat 3 tablespoons. olive oil in a large skillet over medium heat. Sauté the onions, green onions, and garlic until tender and lightly browned.
Frozen spinach must be defrosted and squeezed very well (you can do this in a colander or put another soup bowl on top of the spinach in a bowl, squeeze and drain the liquid) .. Add the spinach and parsley and continue simmering until the spinach is tender, about 2 minutes.
Remove from heat, set aside and let cool (this is very important).
In a medium bowl, combine eggs, cottage cheese, and feta. Add spinach mixture.
Place 1 sheet of filo dough in prepared baking dish and lightly brush with olive oil or melted butter.
Top with another sheet of dough, brush with butter and repeat this process until you have 4-6 layers. The sheets will crawl onto the walls of the form and higher, this is not scary.
Spread the spinach filling evenly into the tin and place the edges of the dough over the filling. Brush with butter, then line the remaining dough sheets, brushing each with butter.
Hide the excess dough inside the mold, "sealing" the filling.
Bake in preheated oven for 30-40 minutes, until browned.
Serve the filo spinach pie, cut into portions.
READ: HEALTHY SPINACH ARTICHOKE FONDUE | HEALTHY IDEAS FOR KIDS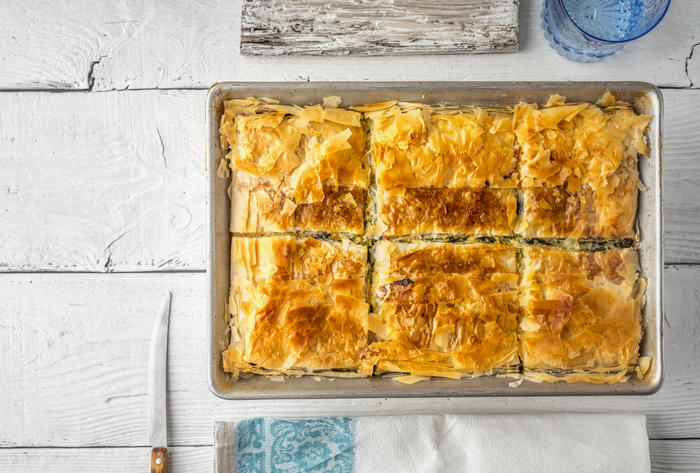 Bon Appetit!
Follow Furilia on Instagram and Pinterest!
READ MORE: OLIVE OIL CAN REPLACE THE CREAM! DEBUNK ANOTHER MYTH