Each country has its own traditions. Some Christmas and New Year's baking recipes have gained worldwide popularity. Here are some world-famous recipes with which you can surprise guests and please the family on Christmas Eve.
1. Christmas Stollen
Traditional German pastries symbolize Christ wrapped in swaddling clothes. To do this, it is formed in a special way and sprinkled with powdered sugar. The first stollen recipes were lean, without calorie content.
Baker Heinrich Drazdo added fruits and nuts to the recipe. By that time, rapeseed oil in the recipe was replaced with butter. The recipe for the Drazdovsky Stollen became popular. Particularly relevant to the symbolic Christmas pastries in Dresden. Here, according to tradition, a giant stollen is baked annually.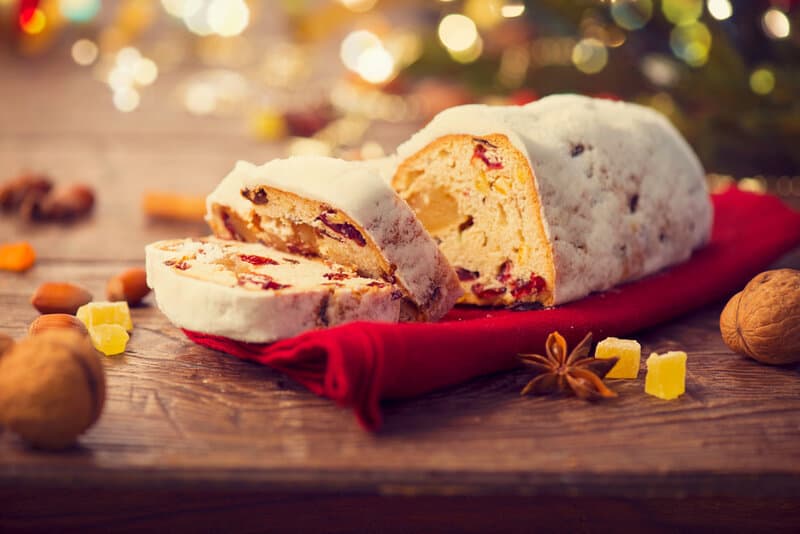 A classic is considered an oil stollen recipe. It takes approximately 3 hours to cook. Servings enough for 8 people.
The dough consists of the following components:
Premium wheat flour – 500 grams;
Butter – 300 grams and 50 grams for lubrication;
Cow's milk – 250 milliliters;
Almond flour – 100 grams;
Sugar – 85 grams;
Fresh yeast – 50 grams;
Salt – 3 grams;
Spices – 5 grams. To get a slightly spicy aroma, make a mixture of cardamom, nutmeg and vanilla. The saturated composition can be supplemented with cinnamon, ginger, cloves, anise, allspice and coriander.
Filling includes:
Light raisins – 200 grams;
Peeled dates – 100 grams;
Candied fruits – 100 grams;
Dried cranberries or cherries – 100 grams;
Walnut mixture (almonds, hazelnuts, walnuts) – 100 grams;
Zest of 1 lemon and 1 orange;
Fresh squeezed juice of 1 orange – about 100 milliliters;
Aromatic alcohol – 100 milliliters. Rum, brandy or brandy will do.
For sprinkling:
Powdered Sugar – 150 grams.
Before kneading the dough, it is better to prepare the filling:
Rinse thoroughly with raisins and cherries or cranberries. Fold in a colander to glass the water.
Chop the nuts finely.
Grind candied fruits.
Rub the zest of lemon and orange on a fine grater.
Squeeze juice from an orange and combine with alcohol.
Mix all the ingredients and leave to insist.
Now you can do the test:
Mash yeast with 1 teaspoon of sugar.
Preheat the milk so that it is slightly warm. About 40 degrees.
Pour 125 milliliters of milk into the yeast. And put it in a warm place so that the yeast dissolves.
In another container, combine the remaining sugar, flour, salt and spices.
When the yeast comes up, pour them into the dry mix and add the rest of the milk.
Knead the dough well.
Add pre-softened butter.
Leave the dough in a warm place so that it fits.
When the dough comes up, add the almond flour. Stir thoroughly.
Combine the dough with the infused filling. Mix thoroughly and transfer to a table sprinkled with flour.
Divide the finished dough into 2 parts.
Each part needs to be flattened to form a layer with a thickness of 2 centimeters and an elongated shape.
Measure the third part of the formation by eye and mark the section along the line with the edge of the palm of your hand.
Fold the dough into a fold and place on a baking sheet.
Leave to rise.
Bake stollen at 200 degrees for 15 minutes. Then reduce the temperature to 180 degrees. Continue to bake another 45 minutes. To prevent the baking from burning, cover it with parchment when the dough is browned.
Let the pies cool completely, then grease them well with butter, roll in icing sugar. You can still sprinkle powder on top.
Pack the baked goods in parchment and leave to ripen. Experienced bakers advise keeping the dish for at least 1 week to maximize the aroma and taste. Stollen can be stored for up to 3 months.
In addition to the classic, other recipes are also popular:
Almond. With lots of almonds and no raisins.
Marzipan Contains at least 5% persipan and marzipan in the composition.
Poppy. With the addition of poppy seed filling.
Walnut. Contains 200 grams of nuts per 1 kilogram of flour.
Curd. The composition includes 400 grams of cottage cheese and 200 grams of butter per 1 kilogram of flour.
Champagne Raisins for baking are pre-soaked in champagne.
A fragrant treat will harmoniously complement the Christmas table.
2. Gingerbread cookies
A treat originally from the Middle Ages is traditionally served at the Christmas table. Gingerbread cookies in the shape of stars and little men are used to decorate fir branches.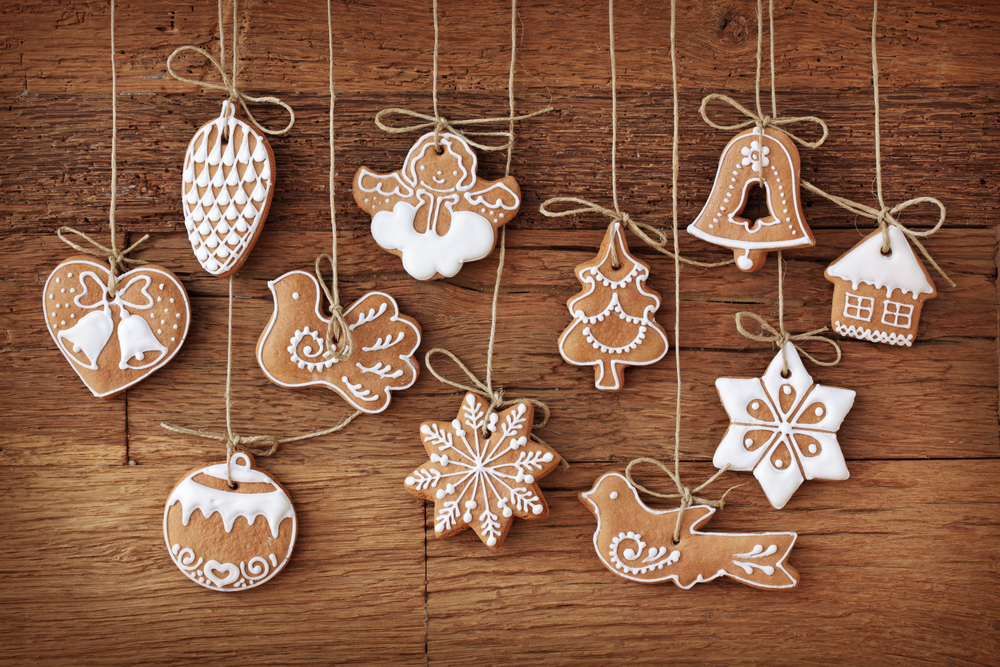 The British believe that cookies with ginger have useful medical properties. Swedish monks use it as a medicine for indigestion.
The composition of the components often add honey or molasses. Density and softness may vary.
The classic recipe consists of the following components:
Liquid honey – 300 grams;
Sugar – 250 grams;
Butter – 200 grams;
Flour – 750 grams;
Chicken eggs – 4 pieces;
Ground ginger – 10 grams;
Cinnamon – 10 grams;
Cocoa powder – 10 grams;
Baking powder for dough – 20 grams;
Orange peel – 10 grams;
Vanillin – 7 grams.
This amount of ingredients is enough for 10 servings. Cooking gingerbread is carried out in several stages:
Beat the eggs and beat lightly.
Add softened butter, honey and sugar.
Mix well.
Add dry ingredients.
Knead the dough thoroughly.
Pack the dough in a film and refrigerate for 30 minutes.
Unpack the dough, and roll out a layer with a thickness of 5 to 7 millimeters.
Use the cookie cutters to cut out the figures.
Place them on a baking sheet lined with parchment.
Preheat the oven to 180 degrees and place a baking tray with gingerbread in it.
Bake for 20 or 25 minutes.
Ready-made gingerbread cookies can be decorated with mastic or sugar icing to your taste.
3. Cookies with sugar icing
Traditionally in Germany, biscuits are baked under the "Platzhen" icing. By Christmas, it is sold at kiosks and shops. White icing with chocolate touches looks simple and attractive.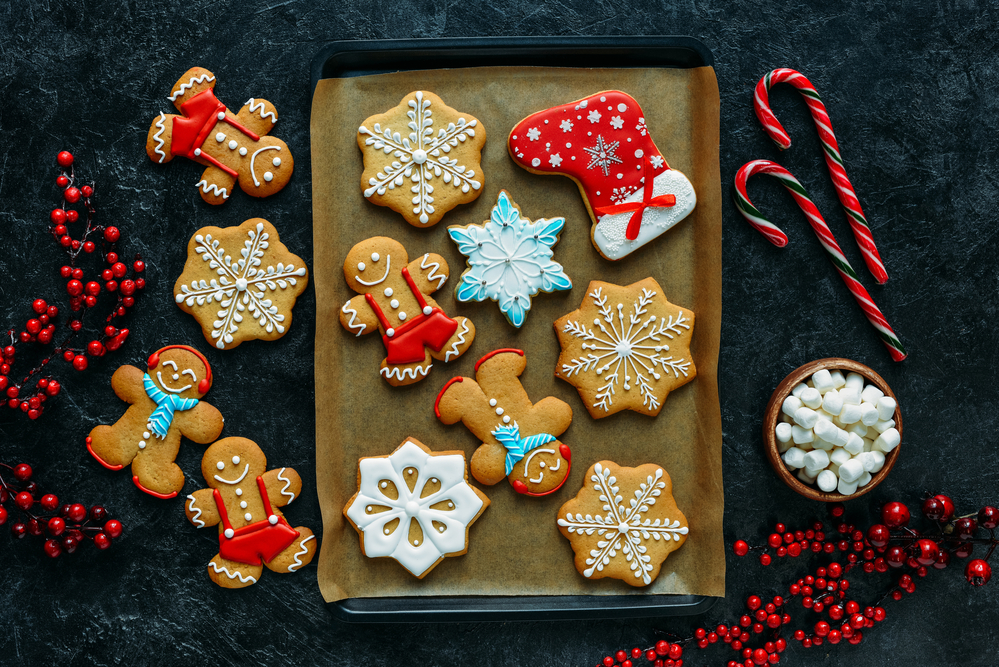 To make cookies, you will need:
Wheat flour – 300 grams;
Sugar sand – 100 grams;
Chicken eggs – 1 piece;
Butter – 150 grams;
Baking powder for dough – 5 grams;
The aromatic essence of rum is at your discretion.
Cooking the dough is not difficult:
Take a wide bowl and sprinkle all dry ingredients.
Add softened butter. Mix well.
Beat the egg into the mixture and add the essence.
Knead the dough thoroughly and form a ball.
Pack in cellophane and refrigerate for 3 hours.
Allow the dough to rest a little at room temperature.
Sprinkle flour on the table and rolling pin.
Roll out a dough sheet 5 millimeters thick.
Cut the figures with the help of molds.
Transfer the figures onto a baking sheet previously covered with parchment.
Bake in an oven heated to 180 degrees for 10 minutes.
For the preparation of sugar glaze you will need:
Powdered Sugar – 150 grams;
Lemon juice – 10 milliliters;
Cold water – 15 milliliters.
To get the icing:
Take a deep bowl.
Add citric acid to it.
Gradually mix water into icing sugar.
Add water to a thick consistency. It should not be too thick or fluid.
The composition quickly hardens, so it is better to use it little by little. The dried glaze can be diluted with water. You can apply the composition with a brush or with a bag.
4. Christmas log
French dessert is traditionally served at the table on Christmas day. The custom is associated with the symbolic burning of cherry logs. It is customary to store its remains and ashes in the house as a talisman.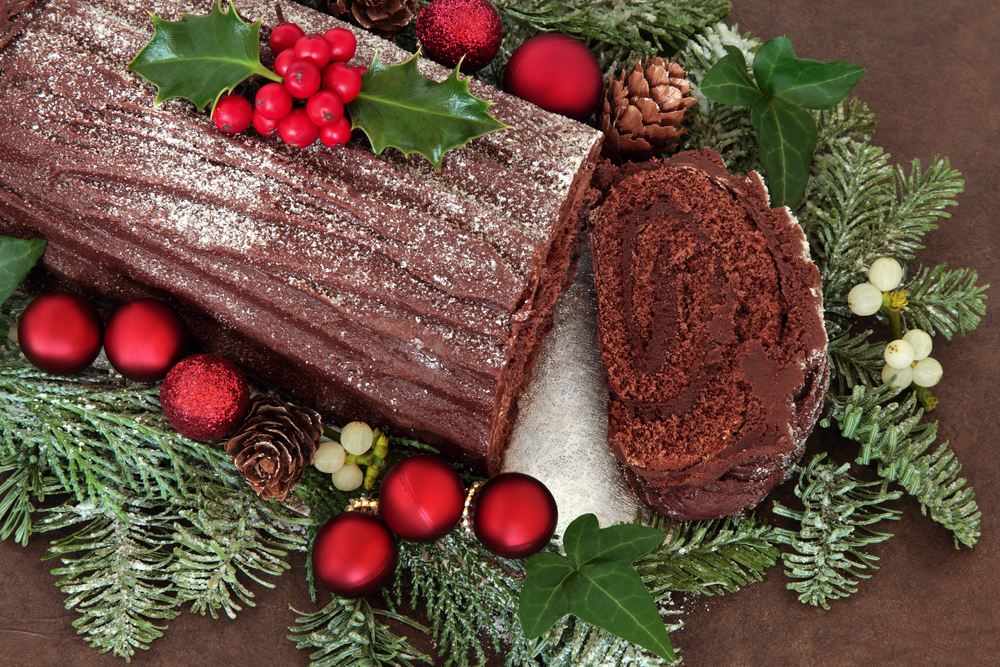 The cake consists of a biscuit, cream and glaze.
The cream is prepared from the following components:
Powdered Sugar – 400 grams;
Softened butter – 150 grams;
Cocoa powder – 50 grams;
Salt – 5 grams;
Cow's milk – 30 milliliters.
Soft cottage cheese – 100 grams.
All components must be placed in a bowl and beat with a mixer until smooth.
For a biscuit base you will need:
Ghee – 30 milliliters;
Cocoa Powder – 75 grams;
Premium wheat flour – 100 grams;
Salt – 3 grams;
Eggs – 5 pieces;
Sugar – 150 grams;
Vanilla Extract – 5 grams.
Cooking in stages:
Combine flour, salt and cocoa in a bowl.
Grease a baking sheet with butter.
Beat eggs to a lush white froth with sugar.
Add vanilla extract.
In 2 doses, mix in the dry ingredients.
Move the finished dough onto a baking sheet.
Bake in the oven for up to 10 minutes.
Spread the finished biscuit on a clean towel sprinkled with powdered sugar.
The cake needs to be rolled up and allowed to cool for about 15 minutes.
Expand the cooled cake and moisten with milk. For the adult version, milk can be replaced with liquor.
Lubricate the cake with cream and roll the roll again.
Wrap the roll with cling film and refrigerate for 2 hours.
To make chocolate glaze, take:
Cream 30% – 200 milliliters;
Chocolate chips or chips – 200 grams.
To prepare the icing, you need:
Pour cream into a metal container and put on fire.
Boil.
Pour in chocolate and leave for 5 minutes.
Mix thoroughly and wait until it cools down a little.
Remove the roll from the refrigerator and cut a small portion for the knot. Form a log and coat with glaze. Place the finished cake in the refrigerator to cool the icing.
After 15 minutes, remove the log to draw a pattern on the bark. You can decorate and complement the composition to your taste.
5. Almond Pie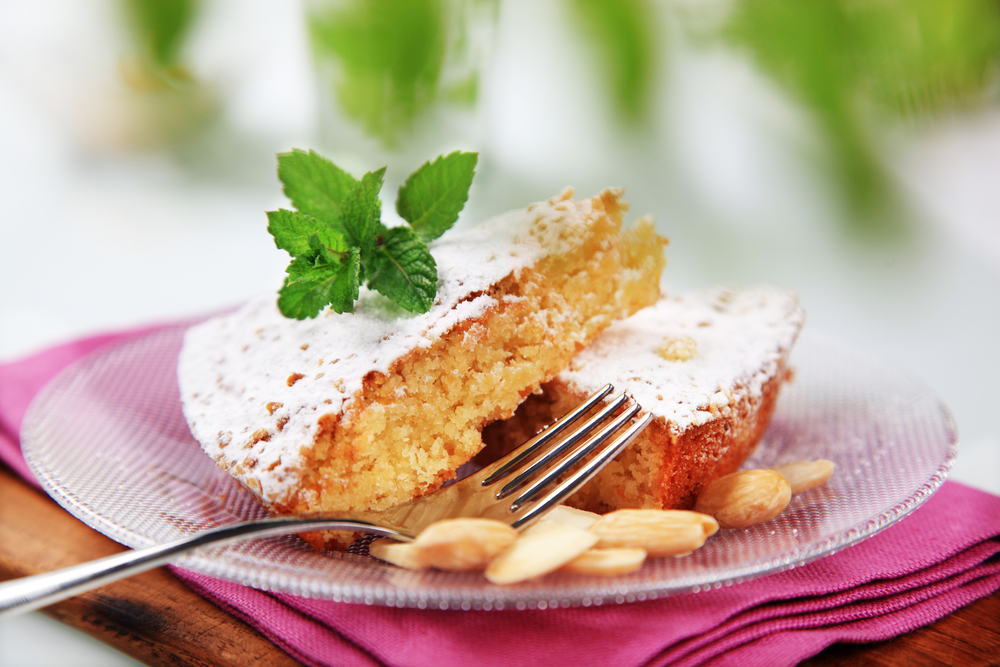 A classic Norwegian dessert is usually served at the table on Christmas day.
The dish consists of the following components:
Chicken eggs – 6 pieces;
Almond flour – 300 grams;
Sugar – 250 grams;
Zest of 1 lemon and 1 orange;
Vanilla sugar – 15 grams;
Cinnamon – 5 grams.
To make a pie you need:
Grate the zest of lemon and orange.
Separate the yolks from the proteins.
Place the proteins in the refrigerator, and mix the yolks with vanilla sugar.
Beat until thick white foam.
Combine with almond flour, cinnamon and zest.
Squirrels are removed from the refrigerator and beat with sugar until white peaks.
Gradually connect the two components.
The dough is transferred into a mold and baked in an oven at a temperature of 170 degrees.
The product will bake after about 30 minutes. You can decorate the finished cake with powdered sugar and almond chips.
Original desserts according to proven recipes will decorate the table and cheer you up.
Have you already chosen what you will cook? Write us in the comments!
READ MORE How To Celebrate the New Year 2020? Good Colors, Hairstyles, Accessories and More
READ ALSO Sweets for joy! Eat and lose weight