These one-bowl Vegan Chocolate Muffins are ready in just 25 minutes and only require 7 simple everyday ingredients!
The first time I made these vegan chocolate muffins I knew immediately they were a keeper!
Ready in just 25 minutes start to finish ( and that includes 5 minutes prep and 20 minutes in the oven), moist, chocolatey, and absolutely fool-proof these vegan chocolate muffins have everything you want.
They're soft and rich with a rich chocolate flavor, and SO easy to make, you will want to make them on repeat.
I tried many vegan chocolate muffins recipes before, but this recipe beats them all. You really can't go wrong with these.
7 Simple Ingredients To Make Vegan Chocolate Muffins
There are many vegan muffins recipes out there that call for "unusual" ingredients such as flax eggs, coconut oil, applesauce, etc. But not this one.
This vegan chocolate muffins recipe only calls for 7 simple everyday ingredients I'm pretty sure you have in your pantry already: flour, cocoa, brown sugar, olive oil, vegan dark chocolate, baking powder and water. YEP. That's it!
I use wholemeal flour because is a bit healthier but you can totally use all purpose flour if you like, it won't affect the result.
For the rich chocolate flavour, I use a mix of cocoa powder and vegan dark chocolate. Cocoa powder plays a fundamental role to make the most delicious vegan chocolate muffins. For best results choose high-quality Dutch cocoa powder whenever possible. Why Dutch cocoa powder? I won't bore you with all the details (but here they are), but common rule in baking is: if you're using baking soda go for raw cocoa powder, if using baking powder choose Dutch cocoa powder instead.
For the chocolate, I like to add a small chunk of vegan dark chocolate into the center of the batter before baking the muffins in the oven. There are many vegan chocolate bars out there, I usually opt for organic brands for personal taste, but feel free to use your favorite brand, or not add any chocolate at all for plain vegan cocoa muffins.
I use a light extra-virgin olive oil for making these vegan chocolate muffins. You can also use mild-flavored inexpensive olive oil, canola oil or sunflower oil.
I use organic unrefined brown sugar for most of my baking treats including these vegan chocolate muffins. I simply love the taste of this kind of sugar, so this is a totally personal choice, and you will be absolutely OK by using regular white sugar or brown sugar.
How To Make Vegan Chocolate Muffins: Step-by-step Pictures
I cannot stress enough how easy these vegan chocolate muffins are! This simple recipe requires just one bowl and 25 minutes, from measuring out the ingredients to biting into a delicious decadent muffin.
Check below my easy to follow step-by-step pictures to make these vegan chocolate muffins recipe. If you're a novice baker or a super busy mum who gets continually interrupted by her kids whilst attempting baked treats (that's me. EVERY SINGLE TIME), you will find this extremely useful!
Start by measuring out the flour and baking powder, then sift them into a bowl and add a pinch of salt.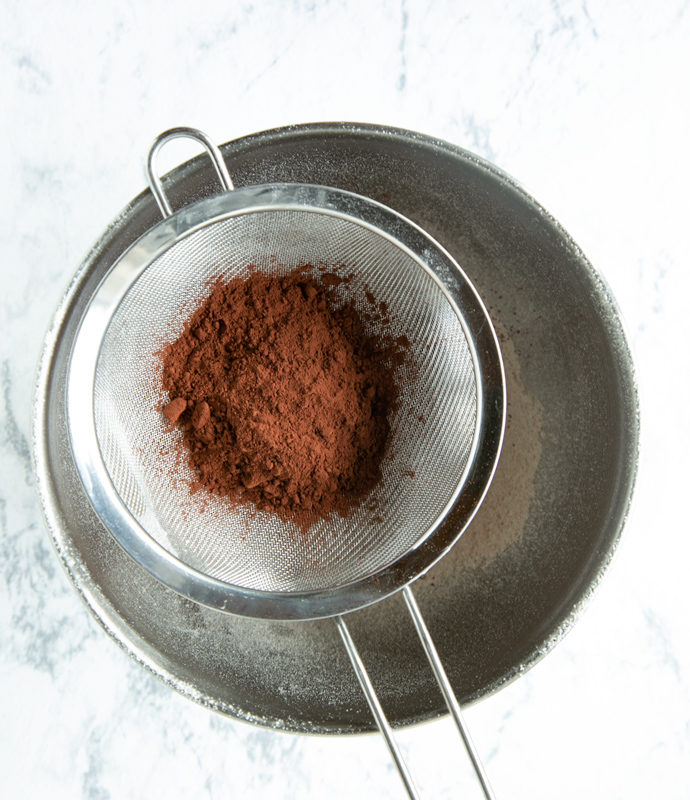 Measure the cocoa powder then sift it into the bowl.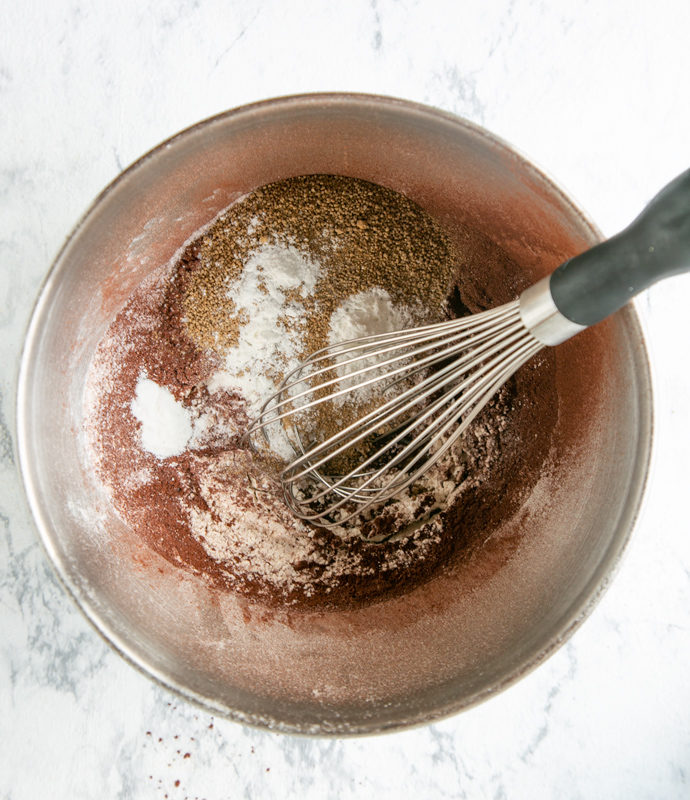 Add in the brown sugar, then pour the olive oil into the bowl.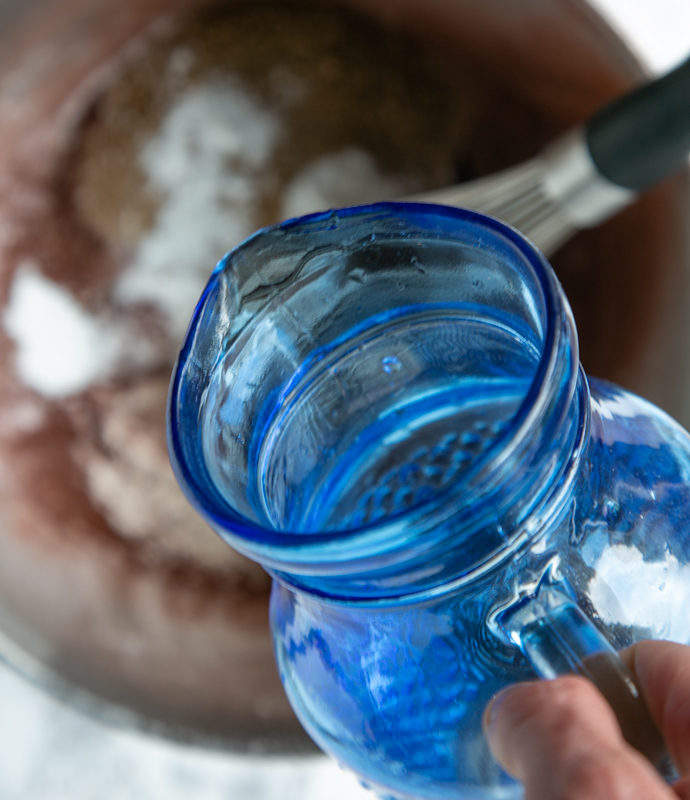 Mix all the ingredients gently with a whisk, then slowly incorporate the water.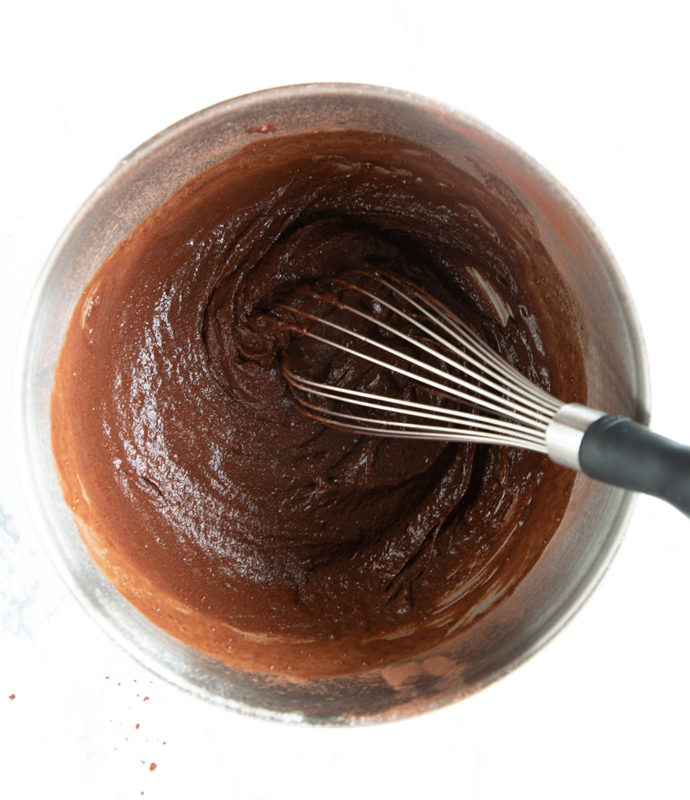 Mix all the ingredients until just combined (do not over mix the batter, or your muffins will end up super dense!).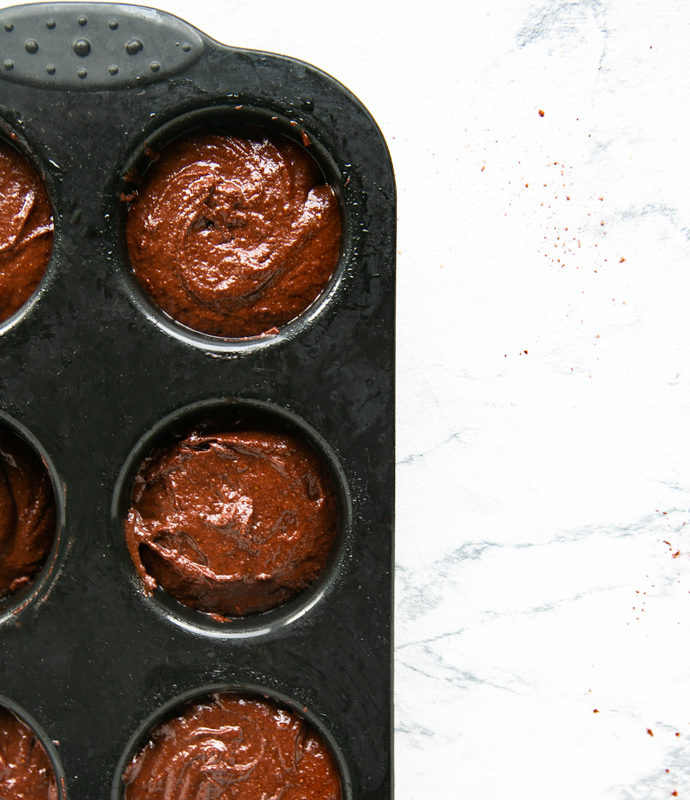 Divide the batter among a muffin tin greased with a little oil (I didn't use paper liners, but if you do, you can skip the greasing step), filling each mould by half. Place a small chunk of vegan dark chocolate into the center of each mould, then pour the remaining batter on top until filling 3/4 of the mould. You can also omit the chocolate chunks and simply fill 3/4 of each mould with the batter.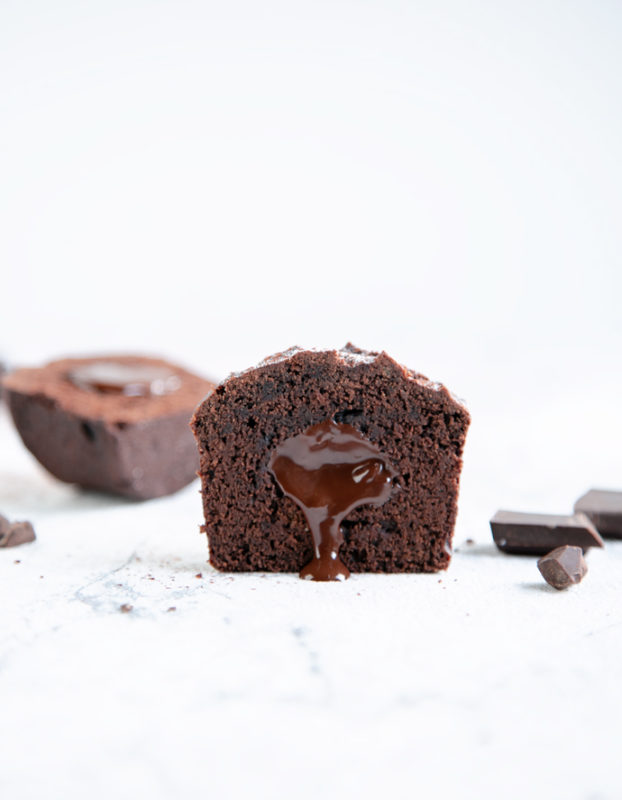 Bake the vegan chocolate muffins in a pre-heated oven to 180°C / 360°F for about 20 minutes, or until a toothpick inserted into the center comes out clean. Et-voila, they're all ready to be enjoyed!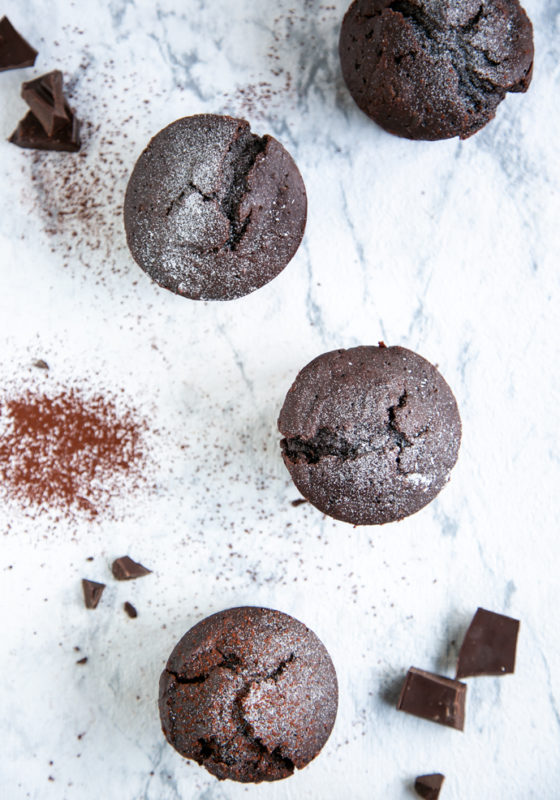 These soft delicious vegan chocolate muffins will make the perfect breakfast option, and they are just as good for a yummy afternoon snack! Make a big match and store the remaining muffins in an airtight container, they keep well for about 3 days, but trust me, they will disappear a lot sooner than that!
Are These Vegan Chocolate Muffins Allergy-friendly?
These vegan chocolate muffins are naturally dairy-free, egg-free, soy-free and nut-free, so they are definitely the perfect treat to share with anyone who has these food allergies.
MORE MUFFIN RECIPES YOU'LL LOVE
Vegan Chocolate Muffins
Prep Time5 mins
Cook Time20 mins
Total Time25 mins
Servings: 6 muffins
Author: Andrea
Ingredients
200

g

all-purpose flour

2

tsp

baking powder

a pinch of sea salt flakes

(optional)

40

g

cocoa powder

(about 6 tsp)

40

ml

light olive oil

110

g

brown sugar

200

ml

water

30

g

vegan dark chocolate

chopped into 6 small chunks
Instructions
Preheat oven to 180°C / 360°F and arrange a baking rack into the middle shelf.
Sift the flour and baking powder into a bowl, then add a pinch of sea salt if you like.
Sift the cocoa powder into the bowl with the flour.
Add in the brown sugar, the pour the olive oil into the bowl.
Mix all the ingredients gently with a whisk, then slowly incorporate the water and continue to mix until all the ingredients are just combined and your have a smooth lump-free batter.
Divide the batter among a muffin tin greased with a little extra oil (I don't use paper liners, but if you do, you can skip the greasing step), filling each mould by half. Place a small chunk of vegan dark chocolate into the center of each mould, then pour the remaining batter on top until filling 3/4 of the mould. You can also omit the chocolate chunks and simply fill 3/4 of each mould with the batter.
Bake the vegan chocolate muffins in the oven for about 20 minutes, or until a toothpick inserted into the center comes out clean.
Remove the muffin tin from the oven, allow to cool slightly, then remove the muffins and serve at room temperature. Store leftovers into an airtight container for up to 2 days.

READ ALSO These 3 Beauty Products Are Already In Your Kitchen! Use Them
First appeared on thepetitecook.com