Why Is It Worth Eating Pineapple And How To Cook Pineapple Deliciously. Pineapple is a very healthy and tasty fruit! With it, you can cook delicious smoothies, fresh, add to granola or eat with cheese. In addition, pineapple has a large number of useful properties and should be on the menu for everyone who cares about their health.
If you are still skeptical about this sweet fruit, the following will list the facts that will not leave anyone indifferent:
Pineapple in the shortest possible time will help strengthen a weakened immune system. One pineapple has a very high content of vitamin C, the rate of which exceeds the average daily rate for a person. Therefore, you should not eat the whole fruit in one day. It is recommended to use pineapple at least once a week as a prevention of colds.
Pineapple contains vitamin B1, which is responsible for the proper functioning of the central nervous system and improves memory.
This is an excellent option for low-calorie snack, as 100 grams of the product contains only 48 kcal.
Pineapple contains a rare plant enzyme ром bromelain. It reduces the formation of blood clots and edema, relaxes tense or sore muscles, accelerates the digestion of food and thereby helps to break down proteins faster, has anti-inflammatory effects, and accelerates wound healing.
Pineapple is able to reduce the amount of sebum excreted on the skin. And as you know, increased production of "sebum" leads to oily sheen, black spots and enlarged pores. Therefore, the use of pineapple leads to a decrease in inflammation on the skin and effectively heals damaged integuments, due to stimulation of blood circulation in the body.
A few pieces of fresh pineapple can moisturize the skin from the inside, due to the fact that it is 85% water.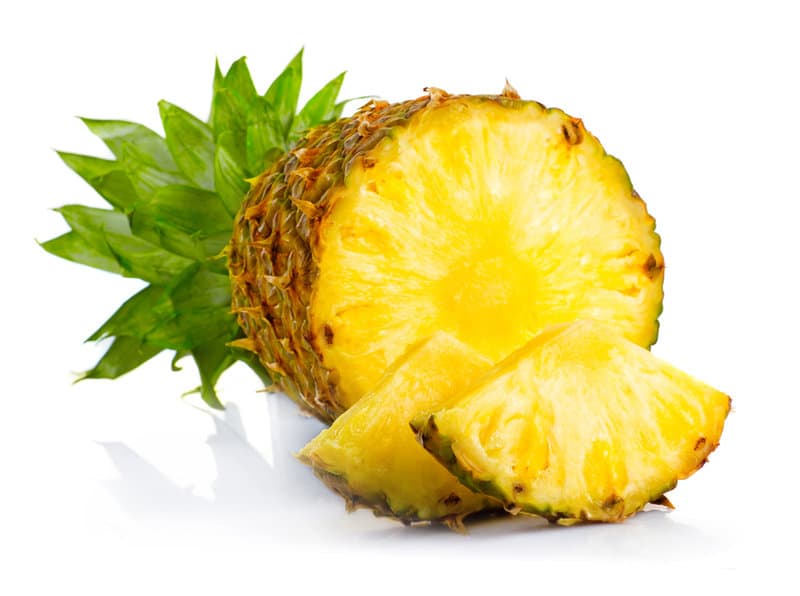 Pineapple is rich in fiber, vitamins A, B1, B2, C, PP, iron, potassium, calcium, magnesium, sodium and phosphorus. The presence of these useful elements contributes to the correct process of losing weight, helps to get rid of excess fluid, and also contributes to the processes of detoxification of the body. But pineapple fruit or juice should not be taken on an empty stomach, otherwise this will lead to an imbalance in the intestinal microflora.
Pineapple contains a large amount of tryptophan ー substance, which helps in the production of serotonin. And as you know, it is he who affects good mood and vitality during the day.
Pineapple recommends eating for the prevention of thrombosis and for resorption of atherosclerotic plaques in the vessels.
Pineapple juice helps get rid of nausea during air travel and water travel.
Preserved pineapples retain the presence of vitamin C, but the amount of all other useful elements is significantly reduced.
Dried pineapple retains all the beneficial properties of a fresh fruit. Therefore, this is a great replacement option for those who quit smoking or have sweets.
There are many ways to peel and eat pineapple. The most popular now is to cut off the top, and then break off the pineapple sections along with the peel. But this method is specific and is suitable if the pineapple is very ripe. To choose the ripe pineapple correctly, you need to focus on the color: it should be saturated yellow, and the leaves of the apex can easily be separated from the base of the fruit. If such a pineapple could not be found, it is better to peel it in this way: first peel, then chop the pulp, removing the core.
If you do not like to throw out the leftovers, then from the core of pineapple you can prepare a delicious syrup that can be added to smoothies, pour pancakes or pancakes.
Ingredients for Pineapple Syrup:
Core from one middle pineapple;
Peel of lemon or lime;
120 grams of brown or white sugar.
Cooking method:
It is necessary to finely chop the core and peel of the lemon, put in a ceramic or glass bowl, add sugar and mix. It is important that the sugar dissolves, so the container must be wrapped with cling film and left at room temperature for 4 hours.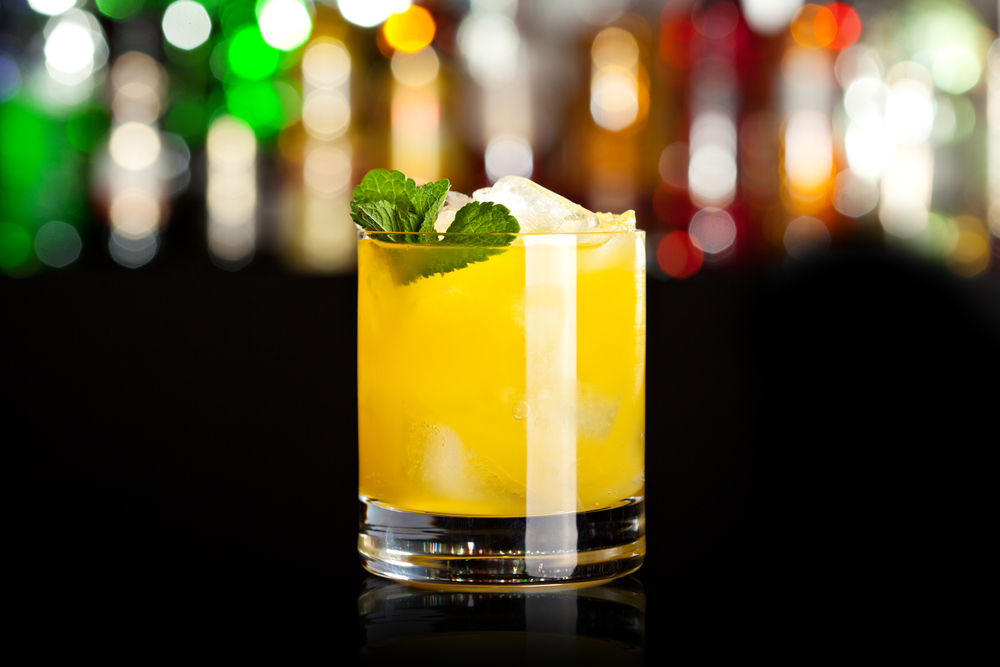 After this, the resulting liquid with a sieve must be poured into a glass jar. During this, you can lightly press down with a spoon or wooden spatula that all the juice has flowed out. Get about one hundred and forty grams of such a syrup. It must be stored in the refrigerator, in a glass, tightly closed jar for no longer than 3 months.
READ MORE Unconventional Ways to Eat Pineapple & Important Reasons To Drink Pineapple-Infused Water Every Day
Salad recipe
Ingredients:
Fresh pineapple
Eggs
Walnuts;
Hard cheese;
Sour cream;
Mustard;
Lemon juice;
Olive oil;
Boiled beef.
Cooking method:
Separately, finely chop 50 grams of cheese and 100 grams of walnuts, boiled beef, slices of pineapple and eggs. For the sauce you need to beat until smooth: two boiled egg yolks, a teaspoon of mustard, lemon juice and olive oil. Then add salt to taste and add sour cream. The salad needs to be collected in several layers, for this you can use a 10 cm baking dish. This salad will have five different levels. At the bottom you need to put beef and pour the sauce, then finely chopped pineapple and pour the sauce. Then comes a layer of walnuts, which is poured with sauce. The fourth layer, lay the egg and grease the sauce. Put the cheese last and pour the sauce. Now you need to repeat all the layers in the same order again. When everything is ready, you can get the salad out of the mold and garnish with finely grated cheese and chopped squirrels left after the eggs from all sides.
Fresh pineapple over time makes the meat soft, which is why the whole taste is lost. Therefore, the salad must be eaten immediately after serving.
ALSO READ Delicious Turkey Burgers with Grilled Pineapple Recipe
Baked Pineapple Recipe
Ingredients:
A pineapple;
Sugar;
Ginger;
Butter;
Dark rum or cognac.
Cooking method:
We clean and cut the pineapple into slices. Then you need to melt the butter, so that it turns out 3 tablespoons, and mix it with 2 tbsp. l sugar and 2 tbsp. l rum or brandy.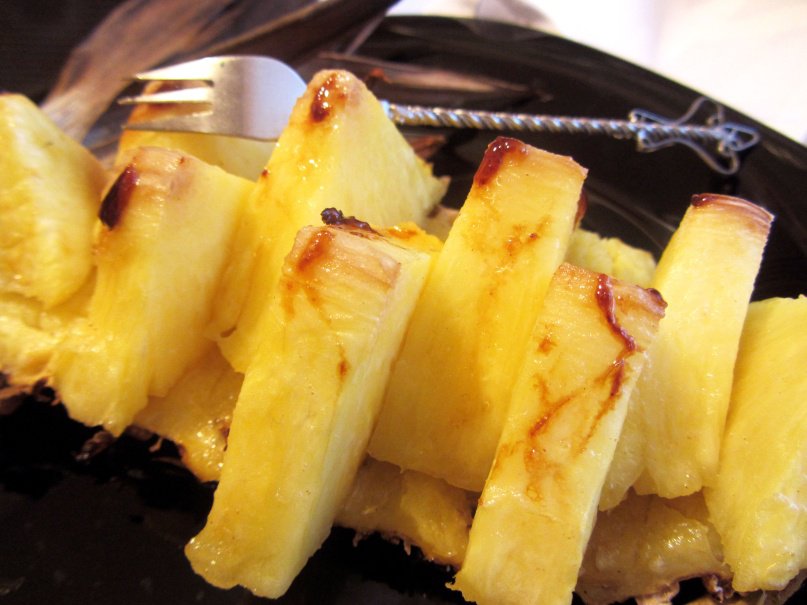 Mix everything well. Put pineapple slices on a baking sheet covered with parchment paper and gently brush all the slices with the resulting mixture using a brush. Then put in a preheated oven at 200 degrees for 10 minutes. Depending on the oven, the cooking time may vary, the main thing is that the caramel melts more.
Pineapple Parsley Recipe
Ingredients:
Canned pineapple;
Sugar;
Cognac;
Champagne.
Cooking method:
Finely chop pineapples and mix with juice from a jar, 5 tablespoons of sugar and 125 ml of brandy. We leave this mixture in the cold overnight. Before serving, pour one bottle of champagne.
Often, when they hear about the beneficial qualities of a product, they begin to use it in too large quantities. This will only harm health and will not bring the desired results! For example, abuse of pineapple can damage the mucous membrane of the mouth. Therefore, try to observe the measure in everything.
Do you like pineapple? In any form?
Featured image on unsplash.com
READ ALSO Biohacking: What Is It And Its Basic Principles. Do Celebrities Use Biohacking?