Quiche is a mysterious dish: a mixture of pie, casserole and the most delicate soufflé. The French pride themselves on their quiche – an open pie on salted dough, for which they use chopped dough and fill the filling with a mixture of eggs and cream.
However, the leadership in the preparation of this cake is seriously challenged by the Germans. The fact is that in the Middle Ages, Lorraine (and it was there that the Quiche was born) was German. By nature, thrifty Germans used leftover food, including dough to bake bread.
They made baskets out of dough and stuffed them with everything that came to hand. They poured all this with eggs and milk and baked. The result was a hearty, rustic omelette pie.
Then in Lorraine this dish was called "kyuchen" (which in translation from German means "pie"). When Lorraine became French, kyuchen began to be called "quiche". And the French – who would doubt it – made his recipe more refined, of course.
The fate of Lorraine was unenviable – it now and then passed under the patronage of one or another state. But the quiche remained a swarm, and its recipe changed slightly for the better.
Authentic Lorraine quiche made with bacon. It is hard to imagine how many options for cooking quiche exist today – classic with smoked brisket, with onions, herbs, vegetables, mushrooms, fish and even … with berries! Furilia publishes 3 great recipes for this dish.
Classic quiche
For the test you will need: 1 tbsp. flour, 75 g butter, a pinch of salt, 1/4 tbsp. ice water. For filling take 3 eggs, 1 tbsp. cream (you can replace 3/4 cup milk and 0.5 cup sour cream), salt, ground black pepper, nutmeg. For the filling: a few slices of smoked bacon or ham, 1-2 onions, a handful of grated cheese.
First, prepare the dough: mix flour, salt, chilled butter into crumbs with your hands. Add water gradually. Knead the dough. Roll into a ball and, slightly flattened, wrap in plastic wrap, refrigerate for 1 hour. Then roll it out, put it in a mold and bake in the oven for 10-15 minutes. Cut the onion into half rings, the brisket into cubes, fry.
Whip eggs with cream, salt and pepper, add grated nutmeg. Put the brisket and onion on the half-finished dough, pour the egg-cream mixture, sprinkle with grated cheese. Continue baking the cake for 30 minutes. The filling should grab, brown, but tremble in the center.
Quiche with broccoli
You will need 200 gr. flour, 150 gr. butter, 150 gr cream, 3 eggs, 150 gr. hard cheese, 200 gr. broccoli, salt.
Mix oil with flour, add 3 tbsp. l. ice water, knead the dough. Next, you need to form a ball and put it in the refrigerator for an hour. Cook the broccoli for 5 minutes. Divide into inflorescences. Grate cheese on a coarse grater. Beat eggs with cream, add salt, half of the cheese, stir. Distribute the dough in shape, make sides. Sprinkle the remaining cheese over the base. Put broccoli, pour egg mixture. Bake for 30 minutes.
Quiche with smoked salmon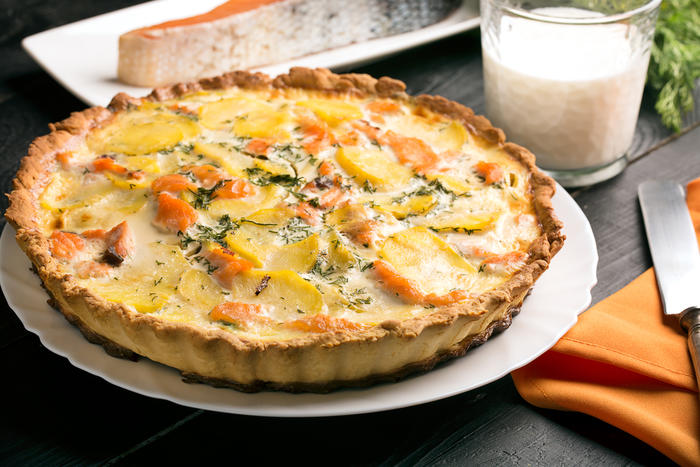 For quiche you need: 280 g flour, 140 g chilled butter, grated on a coarse grater, 8 tbsp. tablespoons of ice water are dough products. For the filling: 350 g of potatoes (preferably young), a small bunch of dill, 1 lime zest, 200 g of smoked salmon, 2 eggs, 300 ml of heavy cream.
READ ALSO: TOP RECIPES FOR HEALTHY SUGAR-FREE DESSERTS
Quickly knead the dough, roll into a ball, wrap with plastic foil and refrigerate for 1 hour. Next, you need to preheat the oven to 190C. Roll out the dough, place in a rimmed dish, prick with a fork and bake for about 25 minutes.
Peel the potatoes, cut into slices and boil until half cooked, chop the dill, cut the salmon into thin strips. Mix the beaten eggs with cream, dill, add grated zest, salt and pepper. Put half of the potatoes on a crust, alternating with pieces of fish. Pour 2/3 of the egg-cream mixture, lay out the rest of the potatoes and fish, pour over the rest of the cream. Bake at 180C for about 30 minutes.
Enjoy your meal!
Featured image on unsplash.com.
READ ALSO: TOP 3 LEEK RECIPE FOR DELICIOUS DISHES
DON'T MISS: WHAT TO COOK WITH BROCCOLI: 4 DELICIOUS RECIPES