A simple recipe for Italian fragrant sauce, which is great not only for pasta, but also as a supplement to vegetable side dishes and meat dishes.
The origin of sauce alla vodka is hazy. According to one legend, an unusual sauce was invented in the 80s of the 20th century by a Roman chef commissioned by a vodka factory in order to popularize the drink in Italy. According to another (more plausible) – penne with vodka around the same time invented by the Living in the USA Italian Luigi Franzese, splashing a glass of vodka under his arm to dilute too thick tomato sauce. Franzese called his know-how "Penne alla Russa" (Pasta like in Russia).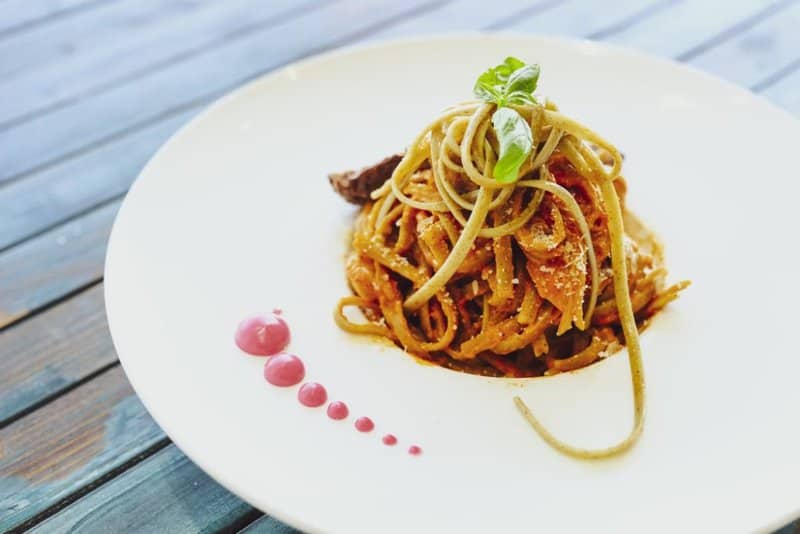 As in any other sauce, in the cooking of Vodka Sauce important not so much the recipe and exact proportions, as inspiration, good mood and a set of products that will "fall under the arm".
Ingredients:
Medium onions 1 piece.
Garlic 1 clove
Olive oil 2 tbsp. L.
Medium tomato 4 pieces.
White dry wine 200ml
Tomato puree 350g
Vodka 3 tbsp. L.
Thyme 1 tsp.
Basil 2 tsp.
Parmesan grated 35g
Cream 33% fat 100g
Pepper red 1/4
Salt, pepper To taste
How to cook:
Peel and finely chop the onion and garlic. Cut tomatoes and peppers into small cubes.
In a heated frying pan with olive oil fry the onion and garlic, then add the tomatoes, pepper, white wine and tomato paste.
Bring the sauce to a boil and simmer for 15 minutes. Then add the vodka, spices, parmesan cheese and cream. Cook for another 10 minutes.
Next, grind the sauce in a blender until smooth, salt, pepper and cool.
Bon Appetite!
READ ALSO DISH OF THE DAY: DELICIOUS LAMB WITH PEPPERMINT SAUCE RECIPE
READ MORE BLOATED LIPS BEAUTY. WHY DID WOMEN SCRATCH, BITE AND PIERCE THEIR LIPS FOR CENTURIES