How to celebrate St. Patrick's Day? Discover typical Irish recipes for fun and tasty holiday! If you want to have fun, then why not touch the Irish traditions? Moreover, St. Patrick's Day, like Halloween, is a holiday with rich beautiful paraphernalia, widely celebrated in many countries of the world.
St. Patrick's Day is celebrated annually on March 17.
The meaning of the holiday
St. Patrick, according to legend, brought Christianity to pagan Ireland and expelled all the snakes. In honor of St. Patrick, a parade is arranged with songs and dances, Irish beer is pouring in.
This holiday has grown beyond national borders and has become a kind of international day of Ireland. In different cities of the world – in New York, Buenos Aires, Melbourne celebrate St. Patrick's Day. Vivid processions, parades and festivities of people dressed in green (the national color of Ireland) are visible everywhere where the Irish live. Clover, a symbol of Ireland and good luck, is threaded into the buttonhole on this day.
Many legends are associated with the name of St. Patrick, for example, that he used the three-leaf clover to explain the concept of the Holy Trinity to people. "Just as three leaves can grow from one stem, so God can be one in three faces," this saint's phrase has already become a textbook.
How to Deliciously Celebrate St. Patrick's Day
Firstly, you can attend one of the events arranged for this day. Cafes, restaurants, pubs are especially trying, bringing Irish dishes, green dishes to their menus, as well as arranging a festive program.
But even if you stay home, you can celebrate St. Patrick's Day. This bright holiday is a great occasion to decorate the house in green colors, have a friendly party or join Irish traditions with your family.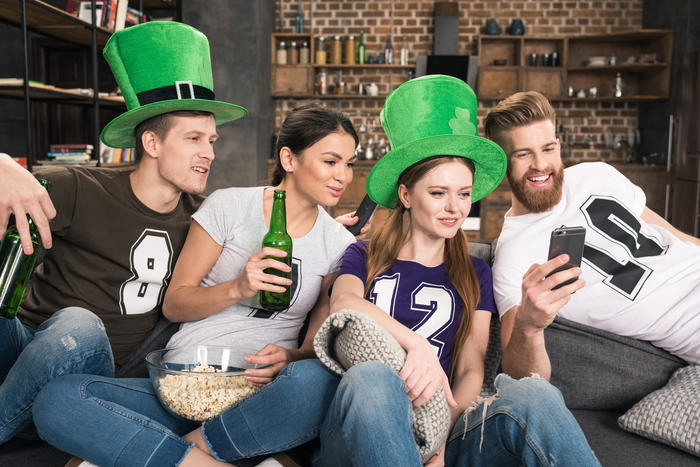 And, of course, prepare dishes that emphasize the color or spirit of the holiday. For instance, soup with spinach, peas and mint, which is called "Zelenka" because of its bright taste. St. Patrick's Day is a good reason to bake smart salmon and spinach snack pie or spinach chicken breasts.
READ ALSO Why Is It Worth Eating Pineapple And How To Cook Pineapple Deliciously
The best delicacy for dessert will be fruit skewers: you just need to string pieces of kiwi, apples, pears and grapes on a wooden skewer. Or the legendary green cake Forest Moss.
Also pay attention to typical delicious Irish recipes
Idea # 1 – Make Irish Coffee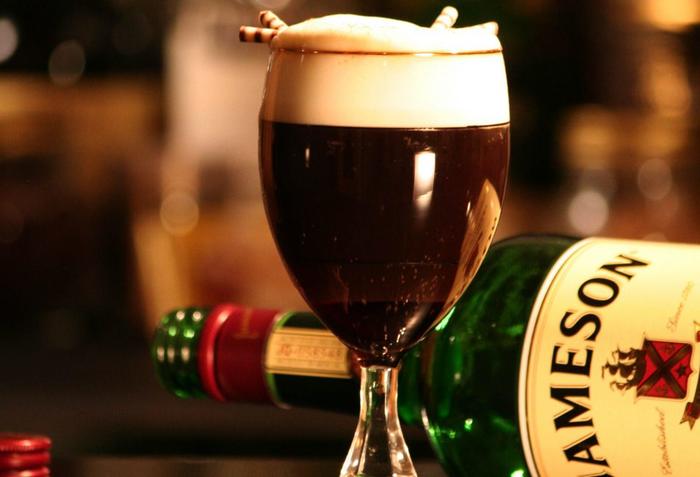 This recipe is from Jamie Oliver and coffee lovers will enjoy their rich taste.
Ingredients:
1 cup freshly brewed hot coffee
2 tsp brown sugar
1 shot of Irish whiskey
lightly whipped cream
Recipe:
Take a heat resistant glass cup for mulled wine and fill it with hot water. Pour out the liquid.
Add hot coffee and sugar, mix to dissolve the sugar.
Pour in whiskey and mix again.
Then pour whipped cream on a warm, inverted spoon, very carefully so that they remain on the surface of the drink. Do not mix.
Finished drink can be decorated with ground cinnamon, coffee beans or cocoa powder.
READ MORE Medieval Workout: how to train your man according to the rules of the XVI century!
Idea No. 2 – Guinness Braised Beef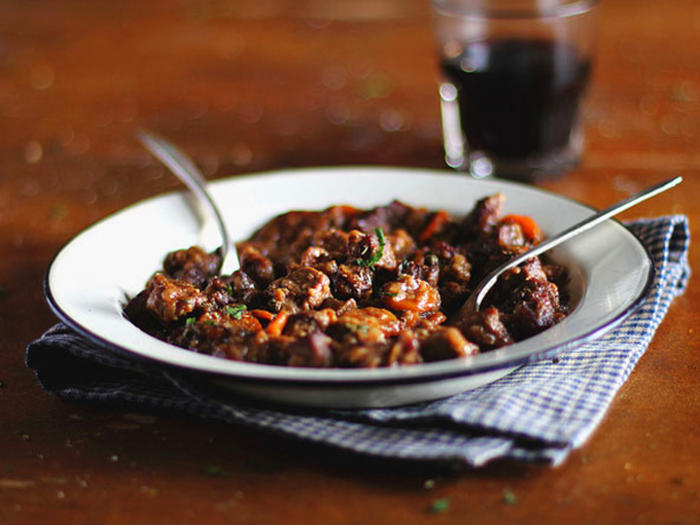 Ingredients:
Lean Beef – 700g
Vegetable or ghee butter – 3 tbsp. l
Flour – 2 tbsp.
Salt and freshly ground cayenne pepper to taste
Big carrot, diced – 1 pc.
Onion – 2 pcs.
Garlic -2-3 cloves
Clove – 2-3 pcs.
Tomato paste – 2 tbsp.
Guinness beer – 250 ml
2-3 sprigs of thyme
Parsley – to taste
Cooking method:
Trim meat, remove fat and cartilage. Dice 3×3 cm and put them in a bowl with 1 tablespoon of oil. Mix flour with salt and ground pepper, roll meat in a mixture.
Heat the remaining oil in a wide skillet over high heat. Fry meat from all sides.
Add onion, chopped garlic and tomato paste to the pan, cover and simmer over low heat for about 5 minutes.
Transfer the contents of the pan to the pan, pour Guinness. Bring the meat to a boil, add carrots and thyme.
Simmer for at least 2 hours. Add chopped parsley at the end. Serve with boiled potatoes.
READ MORE 7 Mystical Points Of The Planet That Remain A Mystery To Scientists
Idea No. 3 – Chocolate Cheesecake with Irish Cream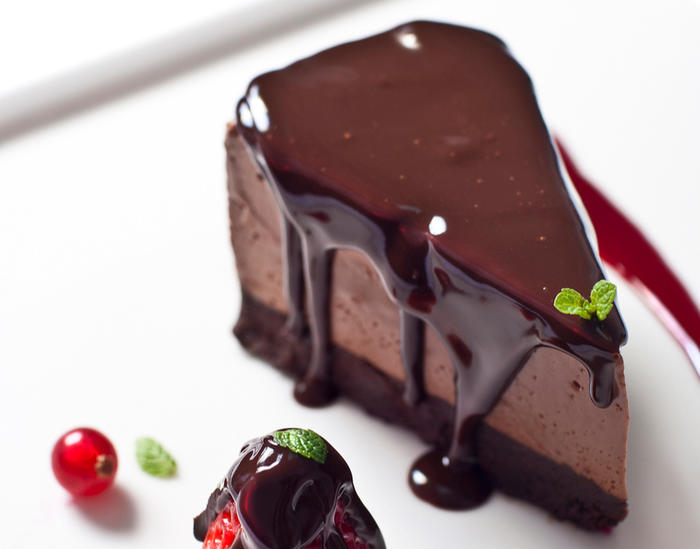 Ingredients:
For the basics:
chocolate chip cookies – 170 g
butter – 70 g
sugar – 3 tablespoons
cocoa powder – 2 tbsp.
For filling:
cream cheese Philadelphia – 600 g
sour cream – 180 g
sugar – 1 1/4 cup
cocoa powder – 1/4 cup
flour – 3 tbsp
egg – 3 pcs.
Baileys (or Sherridan) Creamy Liqueur – 1/2 cup
For cover:
cream – 100 ml
chocolate – 100 g
chocolate chips – for decoration
Cooking method:
For the crust: grind cookies with a blender. Mix with sugar and cocoa. Melt butter and mix with cookie crumbs. Put in a baking dish and tamp well with the bottom of the glass (it is also convenient to do this by hand, putting on a plastic bag). Form a small side about 1 cm. Bake in the oven preheated to 180 degrees for 10 minutes. Cool. Lubricate the edges of the mold with oil and stick in a circle a strip of baking paper.
For filling: lightly whisk cream cheese with sugar with a whisk until smooth. Pour flour and cocoa, mix. Add eggs (one at a time), beat lightly. Add sour cream and liquor, mix. Pour the mixture onto the crust of cookies. Lightly tap the mold on the table to let out air bubbles. Bake at a temperature of 130 degrees 50 – 60 minutes. At the end, do not immediately get out, slightly open the oven door and allow to cool. Put in the cold with the form, cool.
READ The Most Amazing Names Of Celebrity Children
3. For cover: in a bowl, mix the cream and pieces of chocolate, melt in a water bath or microwave (1 min.), Mix well until smooth. Using a spatula, pour cover over the top.
Happy holiday!