Autumn chill has come, and now you can legally wrap yourself in your favorite warm clothes, do trendy autumn makeup in the current palette of the season and, of course, you need to have time to try all the best manicure ideas in deep and restrained colors. It is impossible to imagine this season without velvet designs, because matte manicure 2020 is the perfect solution for autumn. If you think so too, here are 18 stylish options for your Matte Manicure 2020 inspiration.
Red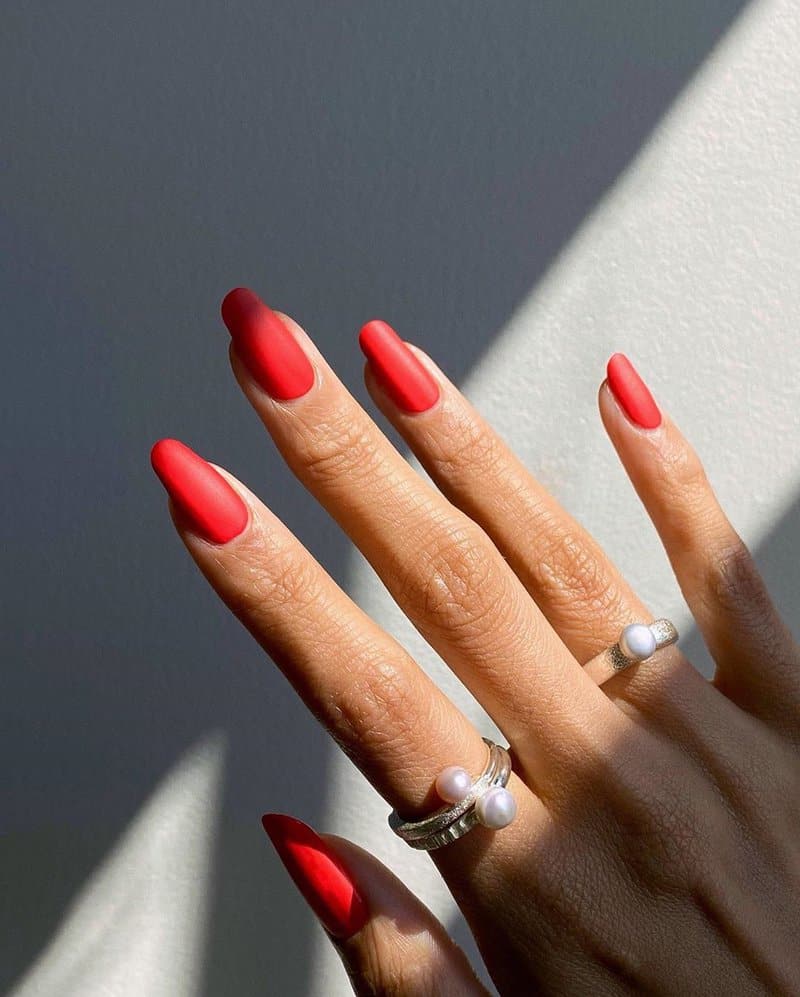 View this post on Instagram

Red matte manicure, like scarlet lipstick, ─ a constant companion of autumn bows. With a velvet finish, this color looks especially great on any nail length and shape.
Blue
View this post on Instagram

Matte blue manicure will be more popular than ever in the fall-winter season, because it is still the main color of the year according to the Pantone Institute. Add some animal motifs or mixed designs to add some style to your style.
Beige
View this post on Instagram

For everyday wear, a beige matte manicure will, of course, be a safe bet. It does not make you bored and suits absolutely any outfit – wear it to the office or on a date.
Burgundy
View this post on Instagram

Another fall classic is wine-colored nails. A burgundy matte manicure is a great alternative to traditional red and a great addition to your cozy sweaters.
Terracotta
View this post on Instagram

Adapting to the coolness with warm brown shades. Manicure in the most popular color of fallen leaves is the perfect solution for the golden age.
Green
View this post on Instagram

The idea is traditional, the color is different. Try this yummy shade if you want a matte manicure for short nails. It will only emphasize their miniature and beauty.
Abstract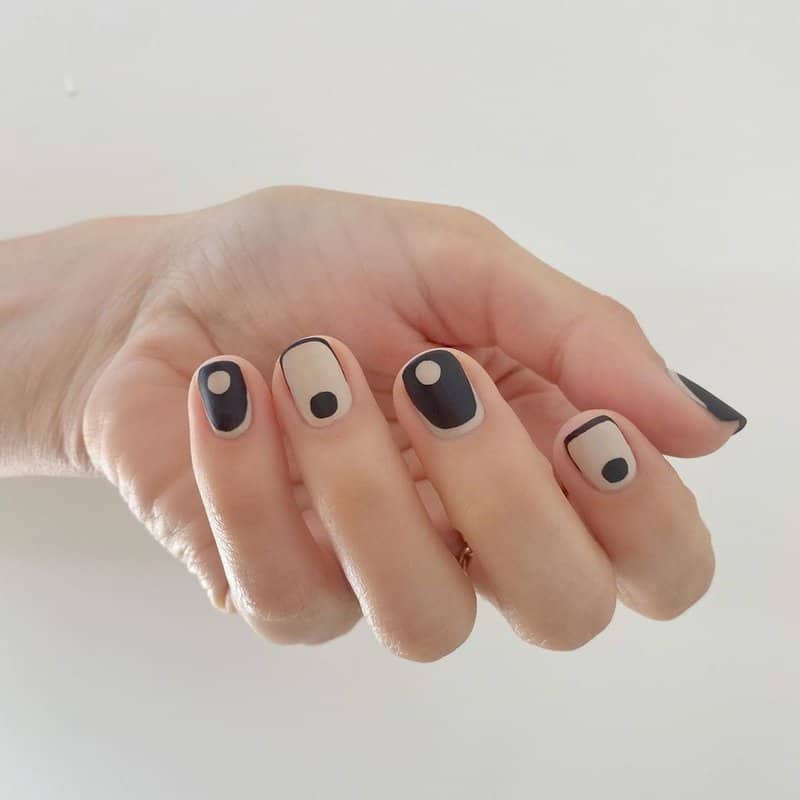 Fashionable abstractionism has been breaking all records in popularity in beauty salons for the second year in a row. If you want a beautiful and stylish manicure in the best traditions of Pinterest, choose this option.
Multicolored
If autumn would express itself in shades. "Dress" them in the colors of the autumn palette to try the funnest trend of this season – multicolored nail-art…
The black
View this post on Instagram

Only a black matte manicure can become a competitor to the red and burgundy color in the fall. But so that it doesn't look too mournful, decorate it with striped stamping stamps.
Multicolor
View this post on Instagram

Remember Kylie Jenner's acclaimed multi-colored manicure with different abstract designs? Ten nail plates – ten designs. This is the ideal scheme for those who can never decide on the choice of coating and print. The main thing is that such nail art does not get boring.
Colored French
View this post on Instagram

A multi-colored jacket is appropriate not only in summer, but also in autumn. Bright fiery shades will certainly not let you be depressed in gray and rainy weather outside the window.
Combined
Another solution for those who cannot choose only one varnish color is the combined design. Red and blue in combination with a white matte manicure looks super good.
Leopard print
The most popular animal print is reborn every time autumn comes. In the design of nails, by the way, it is again relevant. So feel free to take note of these matte manicure ideas.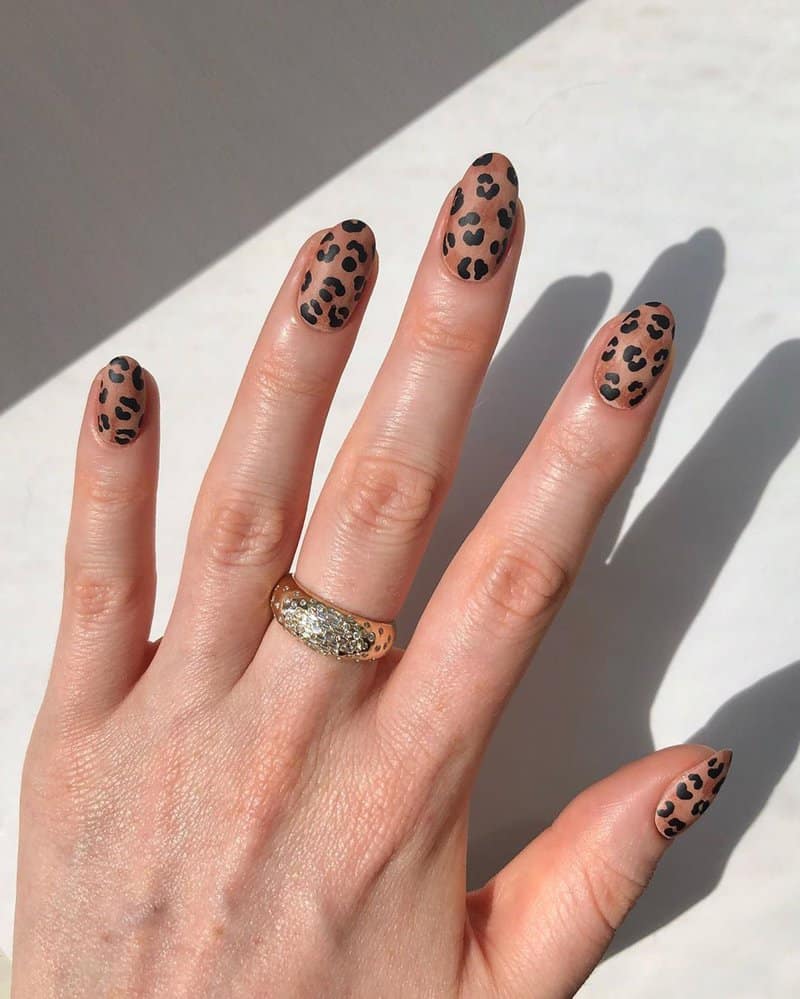 Leopard + Zebra
View this post on Instagram

You can combine not only your favorite shades of varnishes, but also fashionable patterns. If you don't know which animal side is closer to you, put them together on the fingers of one hand.
Gradient
View this post on Instagram

A fiery ombre manicure is perfect for when you want to stay fashionable and not blend in with the gray crowd in cold rainy weather. You simply cannot go unnoticed with such a striking nail design.
Geometric
View this post on Instagram

Nail design in the style of minimalism – with geometry and restrained shades – will also be an uncommon solution for this fall. Simple, beautiful and perfect for every day.
READ: LOOK LIKE A FILM STAR! THE BEAUTY SECRETS OF THE INCREDIBLE SOPHIA LOREN
Floral
View this post on Instagram

With the passing of summer, the flower period could end anywhere, but not in nail art. Nice manicure with flowers and floral patterns will create a gentle and romantic mood, despite the dullness outside the window.
Points and strokes
View this post on Instagram

Strokes and dots have been trending for the second year. This manicure idea can be done in completely different interpretations and you can choose any colors. In the fall, bright and deep shades will do.
Featured image credit: @paintboxnails
Follow Furilia on Instagram and Pinterest!