History is silent about who first decided to fry the cheese. But he was truly a genius! Of course, cheese is not fried in a pan, this method would be more correctly called "deep-fried" or "breaded". The recipe for fried cheese can be summarized in a few words: take a hard cheese of the lowest possible fat content, dip in milk, bread in flour and fry in a very preheated dry frying pan. You can experiment endlessly with breading and cheese varieties.
Fried cheese is a favorite dish of famous writer Charles Dickens. His wife, Catherine Dickens, often served this snack for him with his morning coffee, or for dinner, along with mashed potatoes. And it's not surprising that he mentioned this dish in his first novel, The Pickwick Papers.
However, after living for many years in marriage and having produced 10 children, the couple decided to leave. One of their joint creative fruits was the book "What do we have for lunch?" The foreword was written by Charles Dickens, and the text by his wife Mrs. Catherine Dickens.
Unfortunately, after 16 years of marriage, family happiness ended. The work of the writer's wife was reprinted several times, but after the divorce, Catherine vengefully removed from new editions one of Charles' favorite dishes – fried cheese. Here's a culinary revenge.
What recipe was used to prepare fried cheese in Dickens's house, we no longer know. We can only fantasize. There are many ways to make grilled cheese, but the main options are in front of you
Fried cheese in english
Ingredients:
80 g soft pickled cheese
10 g bread crumbs
10 g butter
parsley
Cooking method:
Cover thick slices of soft cheese in breadcrumbs, place in a hot skillet with melted butter and quickly fry over high heat.
Place on a plate and sprinkle with chopped parsley leaves if desired.
READ MORE: REAL FRYING PANS THAT LOOK LIKE ALIEN PLANETS
Tip: Hard cheese should be pre-moistened with milk to make the breading stick better.
Fried cheese in sesame breading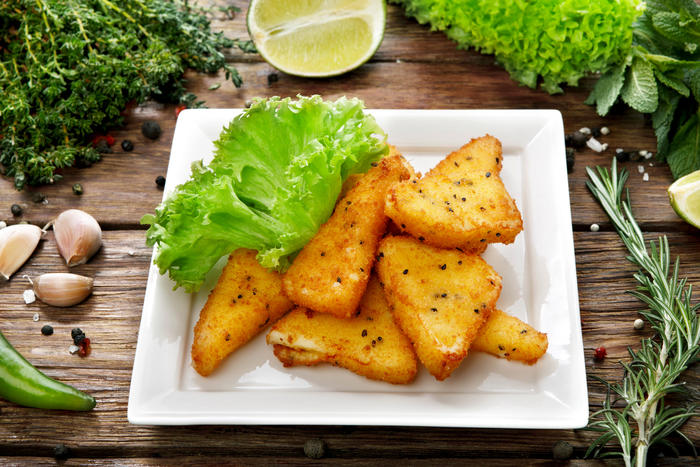 Ingredients:
120 g of Adyghe cheese
15 g bread crumbs
7 g sesame seeds
1 egg, vegetable oil
leaf salad
Cooking method:
Cut the cheese into cubes, dip in beaten eggs, roll in a mixture of rusks and sesame seeds, place on a plate and refrigerate for 3 hours.
Heat enough oil in a deep skillet to a high temperature.
Using tongs, dip the cheese in the butter and fry quickly until the breading is golden brown.
READ ALSO: EASY CROQUE-MADAME (HAM AND GRILLED CHEESE SANDWICH WITH FRIED EGG) RECIPE
4. Remove the fried cheese from the butter with tongs, pat dry on a paper towel, cool slightly until it is pleasant to eat, and place on a plate on a lettuce leaf.
Bon Appetit!
Follow Furilia on Instagram and Pinterest!
READ MORE: HOW TO COOK FONDUE AT HOME