Almond soup is very popular in Spain and Turkey. Unlike the Spanish and Ottoman versions, almond soup in England was prepared with meat: in a country with a cool climate and always chilly weather, it is quite difficult to live without meat.
Anecdote in the subject
"And the toast in our restaurant is called crouton. This is exactly the same toasted piece of bread, only a toast cannot cost $ 8, but a crouton can".
But even without meat, it is very tasty cooked in meat broth. It is noteworthy that almond soup is known in two versions: cold and warm. It is best served cold in summer and hot in winter. But in both versions, almond soup retains its unique Spanish flavor.
Ingredients:
almonds (raw) – glass
meat broth – 3 glasses
bran bread – 3 slices
garlic – 3 cloves
parsley – bunch
turmeric – a quarter teaspoon
spicy herbs – a teaspoon
olive oil to taste
salt to taste
ground black pepper – to taste.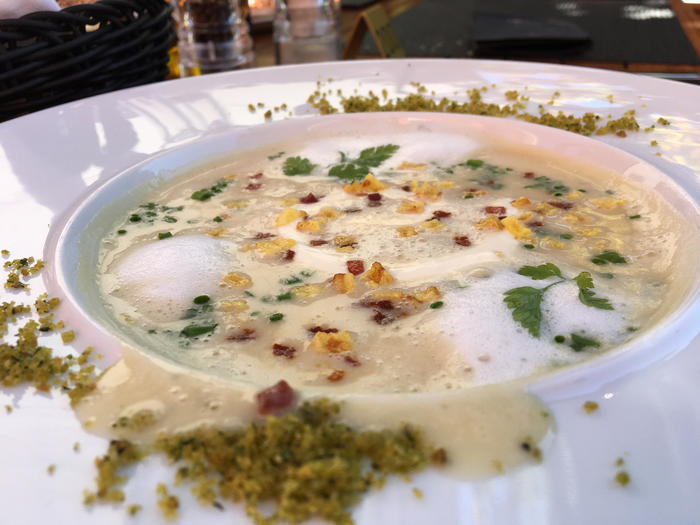 Preparation:
1.Cut the crusts from the bread and cut into cubes.
2. Heat a small amount of olive oil in a frying pan, add the bread cubes and fry on both sides until golden brown.
3. Grind a third of the almonds in a blender.
4. Peel and chop the garlic too.
READ ALSO: YUMMY WARM BELLA SALAD WITH CHICKEN BREAST AND APPLES RECIPE
5. Fry the remaining almonds with garlic in a preheated skillet in a large amount of olive oil for about 2 minutes.
6. Add parsley to the hot broth and send the saucepan to the stove, bring to a boil.
7. Add almonds with garlic, dry herb mixture, turmeric, salt, pepper and cook until cooked for another 20 minutes.
8. Place some croutons on the bottom of the dish.
9. Pour the soup into a bowl and garnish with the remaining croutons on top.
Enjoy your meal!
Featured image credit: unsplash.com
READ MORE: IRRESISTIBLE ITALIAN HOT CHOCOLATE RECIPE FOR COLD DAYS
READ: HOW TO STAY WARM IN ICY COLD WEATHER
DON'T MISS: TOP 5 DELICIOUS SOUPS THAT ENERGIZE