This rating of warming soups recipes will diversify your vitamin autumn / winter menu and help you gain energy on cold days.
meat Soup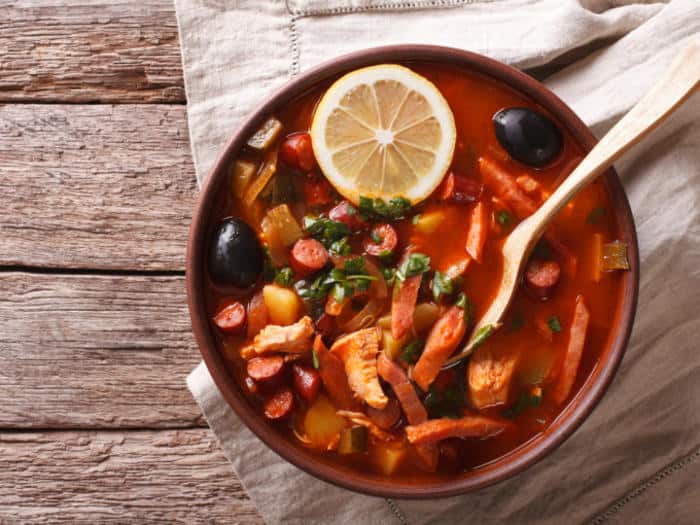 You will need 250 grams of turkey fillet, 450 grams of uncooked smoked sausage, 2 liters of water, carrots, 3 cloves of garlic, 400 ml of canned tomatoes, 200 grams of pickled cucumbers, half a bell pepper, 2 bay leaves, 18 olives, half a lemon, salt and sour cream each taste.
Boil the turkey fillet in broth with bay leaf and carrots. Peel the onion and cut into half rings, fry it in vegetable oil. Add chopped garlic, peppers and peeled tomatoes to the onion, simmer for 10 minutes.
Remove the meat and carrots from the broth, cut the fillet, sausage, ham, cucumbers into strips and send to the broth, boil for 10 minutes and add the frying with tomatoes. Cook for another 5-10 minutes. Serve the soup with a slice of lemon, olives and sour cream on a plate.
Soup in a bread pot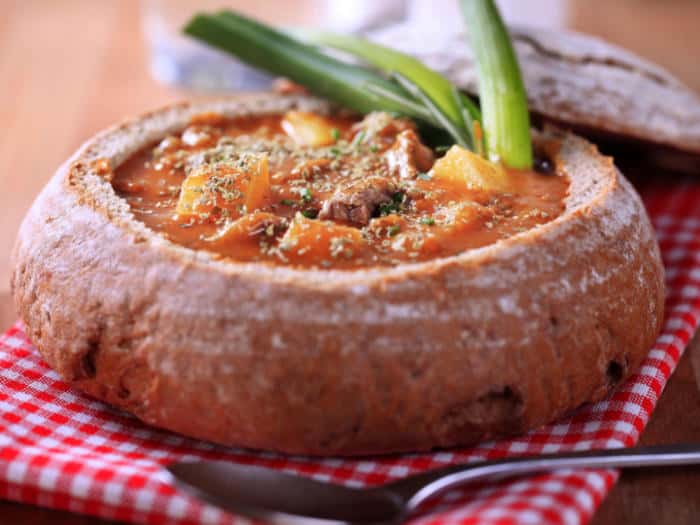 Take 2 round small loaves of bread, 200 grams of braised pork, 200 grams of smoked sausages, an onion, 2 potatoes, 2 tablespoons of tomato paste, an egg, 2 tablespoons of vegetable oil, salt and pepper to taste, 3 tablespoons of flour, herbs and chunks bread for decoration.
Fry the chopped onion in vegetable oil, add the chopped sausage to it, add flour and mix, add the tomato and simmer for a few minutes. Boil water, add diced pork and potatoes, season to taste. When the potatoes are boiled, add the sausages. In loaves of bread, cut off the tops and remove the pulp, beat the egg and grease them inside, bake in the oven for 10 minutes at 220 degrees. Pour the soup into pots, garnish with herbs and toasted slices of bread.
Winter bean soup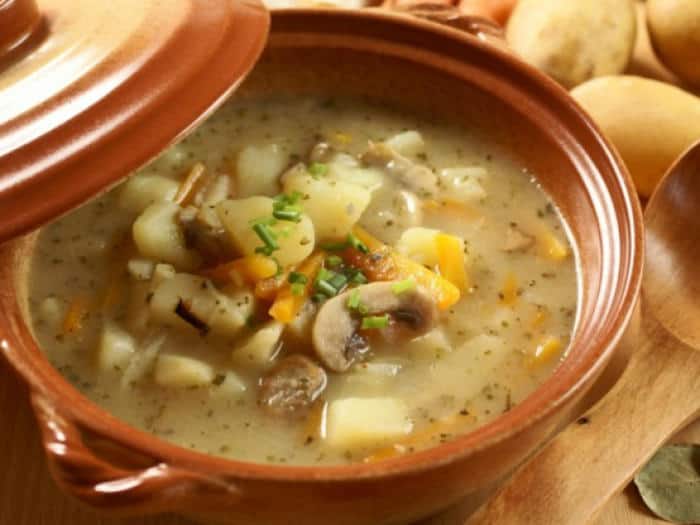 Prepare 100 grams of white beans, 2 pieces of chicken fillet, 450 grams of canned tomatoes, 2 liters of broth, onion, 2 carrots, 2 cloves of garlic, herbs, salt and pepper to taste.
Soak the beans overnight. The next day, boil over low heat, drain and rinse. Add chopped onions, dill, carrots, garlic, parsley and peppers to the beans, pour in the prepared broth, bring to a boil. Put chicken breast and tomatoes in a saucepan, cook for half an hour under a closed lid.
Pea soup with smoked meats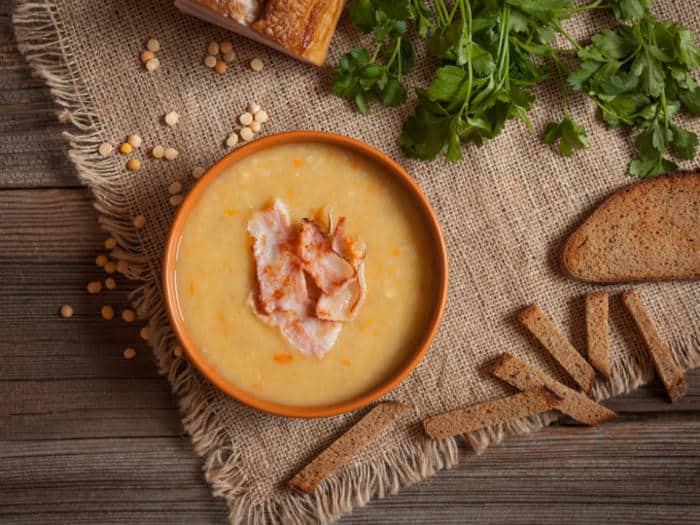 You will need 300 grams of dried peas, 300 grams of smoked brisket, 4 potatoes, an onion, a carrot, 3 liters of broth, 2 tablespoons of vegetable oil, salt, pepper and herbs to taste.
Soak peas overnight, rinse in the morning. Boil it in broth for an hour and a half. Add chopped potatoes and salt to it. Fry the onions and grated carrots in vegetable oil, send the frying to the soup when the potatoes are boiled. Cut the breast into thin strips, fry them in a dry frying pan until a crust forms. Serve the brisket and herb soup.
Cheese soup with salmon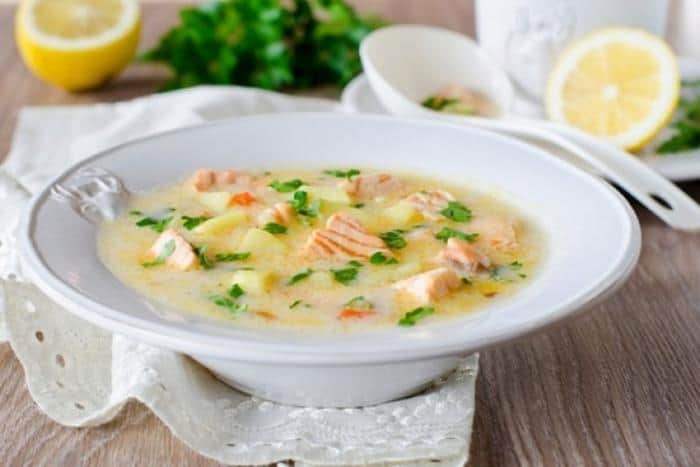 Take 3 processed cheese, 400 ml of chicken broth, 25 ml of white wine, 30 grams of broccoli, 70 grams of salmon fillet, rosemary, garlic and olive oil, 50 ml of cream, salt, pepper and croutons to taste.
Add melted cheese to the heated broth, it should dissolve. Marinate the fish in rosemary, salt, pepper and olive oil. Grill after 15 minutes. For croutons, rub slices of white bread with a mixture of olive oil and crushed garlic, then dry in the oven. Season the soup with white pepper, wine and cream and bring to a boil. Chop the broccoli and place in a serving plate. Strain the soup and pour into bowls. Put the fish on top and sprinkle with croutons.
Follow Furilia on Instagram and Pinterest!
READ MORE: SIMPLE FOODS FOR BEAUTIFUL BREASTS!
READ ALSO: YUMMY WARM BELLA SALAD WITH CHICKEN BREAST AND APPLES RECIPE