Japanese cotton cheesecake – airy, light, weightless, with a porous and delicate structure, it just melts in your mouth! It got its name "cotton" precisely for these properties.
Japanese cheesecake ("cotton cheesecake", "souffle cheesecake") is a cake invented in Japan in 1947. Traditionally made with cream cheese, butter, sugar, cream and eggs in a water bath. It is lower in sugar and calories than traditional cheesecake, and has a texture somewhere between biscuit, cheesecake and soufflé. The characteristic "fluffy" structure of the cake is due to the fact that the whites and yolks are whipped separately, and the dough is passed through a sieve in the intermediate stage. Japanese cotton cheesecake is very popular both in Japan and abroad. But in the land of the rising sun, the concept of "Japanese cheesecake" does not exist.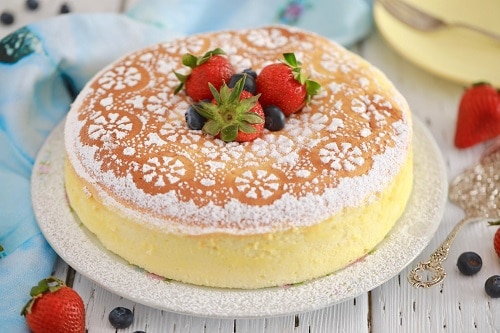 Japanese cheesecake is very different from the usual American cheesecakes in both the preparation method and the structure. Japanese cotton cheesecake is very delicate, light and airy, and it is also delicious. By its consistency, it reminded me of a baked omelet, only without the pronounced taste of eggs and with a slight sweetness. If you're looking for new flavors and are not afraid to experiment, be sure to try this cheesecake. Cooking is not difficult, just follow all directions in the recipe steps.
Ingredients:
Eggs – 6 pieces
Sugar – 70 g
Philadelphia Curd Cheese – 300 g
Butter – 60 g
Milk – 100 g
Lemon juice – 2 tbsp.
zest of one lemon
Flour – 60 g
Corn starch (can be potato) – 20 g
Salt – a pinch
Lemon juice (or tartar) – about 1 tsp.
Cooking method:
Eggs (they should be at room temperature) divide into proteins and yolks.
Pour hot water and boiling water into a large container. Put a bowl of cottage cheese like Philadelphia. In this water bath, whisk the cheese with a whisk, it will gradually warm up and its texture will become soft, somewhat similar to sour cream.
Add the yolks little by little and mix until they are completely dissolved, until a homogeneous mass is obtained. It is best to add the yolks three to four times, each time thoroughly mixing.
Pour in sugar and mix a little.
Take the milk and add the butter to it. Heat together to melt the butter. A microwave is available.
Pour into the dough. Add a little salt, the zest of one lemon (you need only a thin yellow layer in which there is a bright, rich, citrus flavor). Squeeze out a little lemon juice.
Mix everything.
Remove the bowl of hot water, it will no longer be needed.
Sift flour and corn starch. Stir until a homogeneous, batter without lumps forms.
Then whisk the whites first with a mixer at a low speed, and then, when foam is formed from large bubbles, add sugar and continue whisking, at which point the speed can be increased to maximum. Toward the end of the whipping, when the foam has condensed, add a little lemon juice.
Pour the previously prepared dough to proteins. With a whisk, mix it very gently with wrapping movements, while doing this on one side of the container and then interfere with the untouched proteins. The result is a homogeneous air dough.
Take a baking dish, lay a sheet of parchment on the bottom and also around the edge.
Pour in the dough. From an already heated oven, remove a baking sheet with poured, very hot water. Place a small cloth and place a mold on it so that there is no direct contact with the heating surface. Send to the oven. The oven temperature is 155 degrees, it will take about 80 minutes to bake a cheesecake.
After baking, you cannot immediately get the cheesecake out of the oven, you need to open the door for 30 minutes and let it cool slowly, otherwise it will settle, deflate like a ball. Next, remove the cheesecake from the pan and remove the baking paper.
To decorate from paper, you can cut various stencils through which to sprinkle with powdered sugar, or you can leave it in its original form.
READ MORE: DISCOVER OREO CHEESECAKE RECIPE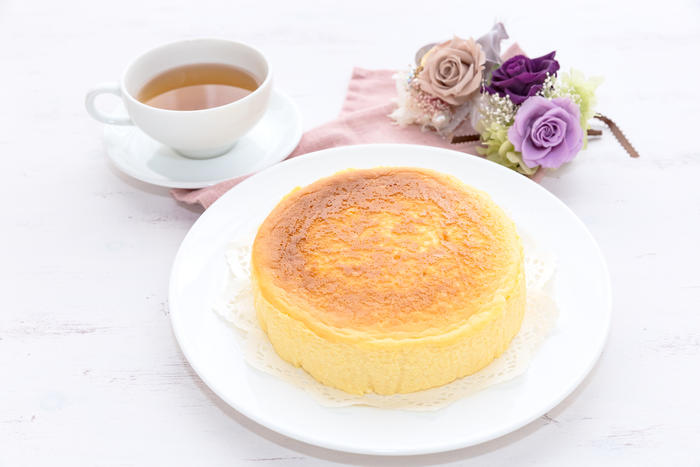 Trying the first slice is best when the cheesecake cools well in the refrigerator for 3-4 hours.
Tip. For baking Japanese cotton cheesecake, it is better to use a mold with a diameter of 18-20 cm. A diameter of 23 cm is also suitable.
Enjoy your meal! Make your family and friends happy.
Follow Furilia on Instagram and Pinterest!
DON'T MISS: MYTHS ABOUT CHEESE. WHERE IS THE TRUTH AND WHERE IS THE LIE
READ ALSO: RAINBOW JAPANESE DESSERT RECIPE WITH JUST 5 INGREDIENTS