This decadent cloud of chocolate cake may be one of the best chocolate desserts I've ever had! Everyone, please meet fallen chocolate cake.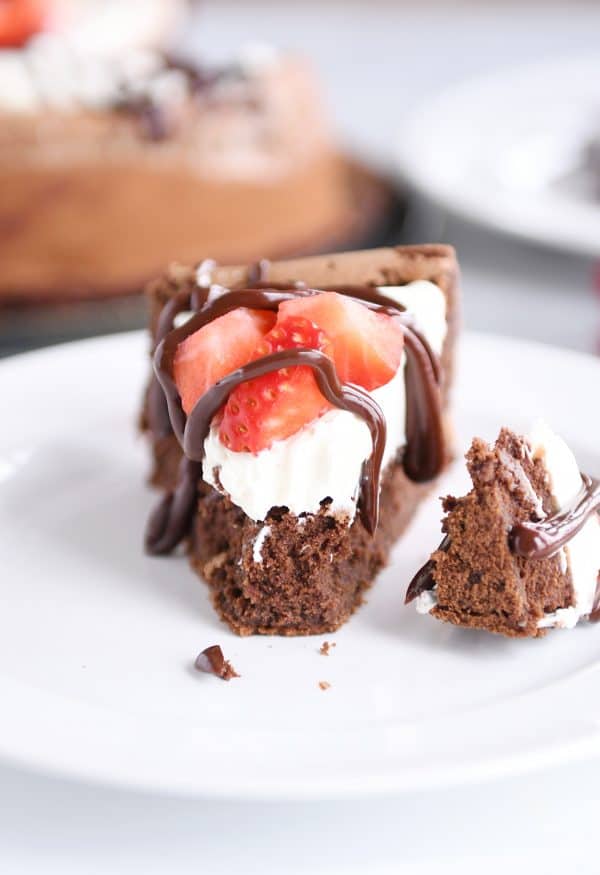 No plans. I had no plans to post this decadent, amazing fallen chocolate cake this week. My brother, Nate, is kind of responsible for the whole thing; he has raved about this cake to me for ages but I've put it off until now.
When deciding what recipe to make for my Bake with Mel IGTV series this week (details how to watch below), I thought "hey, let's go with that fallen chocolate cake Nate keeps bugging me about." It's totally gourmet. It seems intimidating (spoiler alert: it's actually not at all). It has a ton of hype surrounding it. It seemed like the right time to figure out if it would live up to its reputation.
Even while shooting the video, I was pretty sure I'd post the video without posting the actual recipe. Until I actually tasted this chocolate cloud of wonder. It is easily one of the best chocolate desserts I've ever made or eaten. And it's way, way simpler than it looks.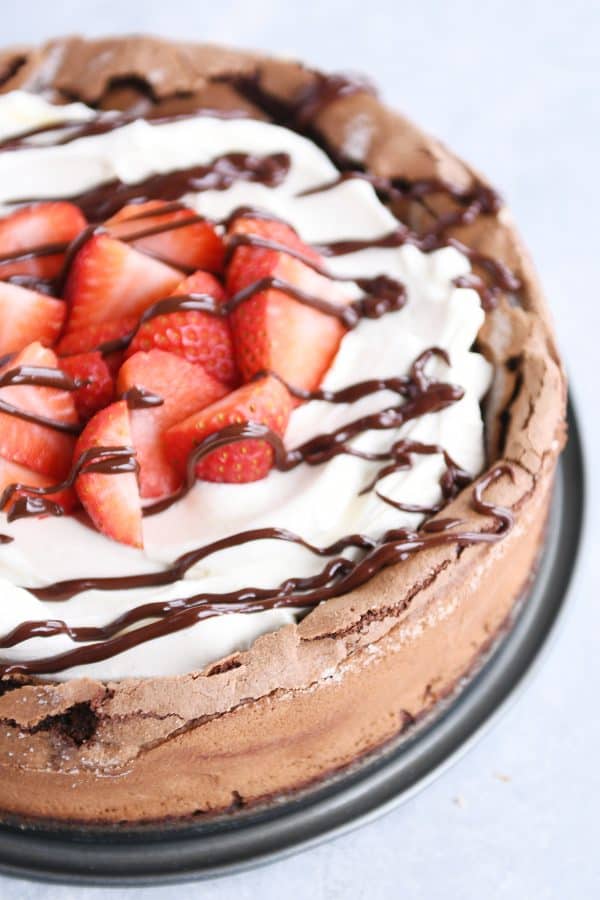 You can see all the ins and outs of making this amazing flourless chocolate cake on the video (you'll also see me shouting at my naughty kids and hiding in my pantry to actually get a bite of the cake that turns out I didn't want to share).
Two ways to watch the video: 1) you can head over to Instagram and watch on IGTV or 2) I've also started posting these quick and totally real-life videos here on the blog for those of you who don't have Instagram accounts.
But if you're here just for the recipe, it's all yours. And if you haven't quite decided on The Recipe to make for Valentine's Day (yes, making it for just yourself is totally acceptable), you are really in luck.
Not only is this fallen chocolate cake totally stunning in the looks department, it is really, really easy to make. Don't let the recipe intimidate you. You melt some chocolate and butter, whisk in some egg yolks and sugar, whip a few egg whites and then fold those in to the batter. I promise. It's easy.
I've made and tested and eaten more flourless chocolate cakes than should be socially acceptable, and this one is heads and tails above the competition. In flavor, in texture, in everything.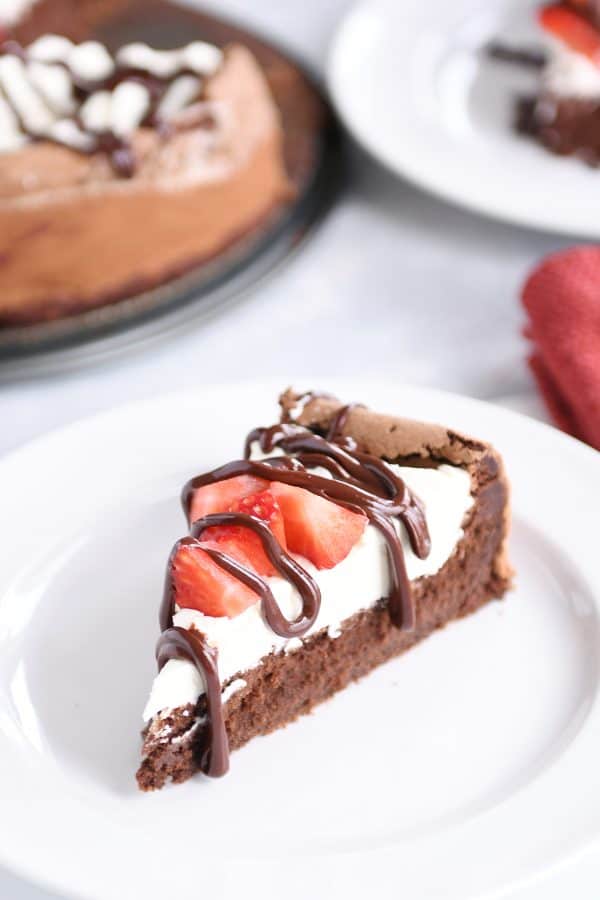 Thanks to the special separated treatment of the eggs in this fallen chocolate cake, the texture of the baked cake is soft and ethereally light while still having a substantial oomph of dense chocolate decadence. And the crust. Oh dear, that crust. It's papery thin all over the top and sides with a delicious crackle that is the best kind of surprise for such an over-the-top rich chocolate cake.
A little sweetened whipped cream offsets the richness of the cake…and fresh berries really should be mandatory. However, my brother Nate, connoisseur of the fallen chocolate cake, says it's out of this world amazing with a dollop of whipped cream and followed up with some serious drizzling action of caramel and chocolate.
This cake doesn't have to be made in advance (I have a sneaking suspicion eaten warm it would resemble a ridiculously yummy albeit slightly firmer molten lava cake), but it can be made 1-2 days ahead of time which is awesome if you want a smashing dessert without any fuss the day-of.
Totally next-level, it's right up there with this double chocolate mousse torte in terms of a total showstopper of a dessert that kills it in the taste department, too.
Yield:
9-inch cake
Prep Time:
25 minutes
Cook Time:
25 minutes
Additional Time:
2 hours
Total Time:
2 hours 50 minutes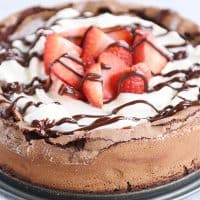 Ingredients
For the pan:
1 tablespoon softened butter
1-2 tablespoons granulated sugar
For the cake batter:
1/2 cup (1 stick, 4 ounces) butter, cut into tablespoon-size pieces
2 tablespoon vegetable, canola, avocado or grapeseed oil
10 ounces (about 1 2/3 cups) semisweet chocolate chips or chopped chocolate (see note)
6 large eggs
2 tablespoons natural unsweetened cocoa powder
3/4 cup + 2 tablespoons granulated sugar, divided (you'll use 1/4 cup in the batter, 1/2 cup in the egg whites and 2 tbsp on top of the batter)
1 teaspoon vanilla extract
1/4 teaspoon salt (I use coarse, kosher salt)
Toppings:
Sweetened whipped cream
Fresh berries
Hot fudge sauce or chocolate ganache drizzle (see note)
Instructions
Preheat oven to 350 degrees F. Lightly butter the bottom and sides of a 9-inch springform pan. Dust with 1-2 tablespoons granulated sugar and shake to lightly coat the bottom and sides; tap out any extra sugar.
In a medium microwave-safe bowl, combine the butter, oil, and chocolate. Microwave for 1-2 minute intervals at 50% power until the mixture is melted and smooth (don't overheat!). This can also be done in a heatproof bowl set over a pan of simmering water. Set aside to cool to room temperature.
Separate 4 of the eggs, placing whites and yolks in separate medium size bowls. Make sure not to get any bits of yolk or shells into the egg whites or they won't whip to stiff peaks.
To the egg yolks, add the remaining 2 whole eggs, cocoa powder, 1/4 cup granulated sugar, vanilla, and salt. Whisk until the mixture is well-combined. Pour the egg yolk mixture into the bowl with the melted chocolate/butter mixture and whisk until smooth.
Using an electric mixer on high speed, beat the egg whites until foamy, about 30 seconds. With the mixer running, gradually add 1/2 cup granulated sugar and continue mixing until stiff, glossy peaks form (the peaks should hold their shape as the mixer is lifted out of the egg whites).
Add half of the egg whites to the chocolate batter and fold gently with a rubber spatula until partly combined (a few streaks is fine; don't whisk or mix too vigorously or the egg whites will deflate). Add the remaining egg whites and fold gently until just incorporated and no white streaks remain.
Scrape the batter into the prepared pan and smooth the top. Sprinkle the top with 2 tablespoons granulated sugar (optional).
Bake the cake until the top is puffed and starting to crack and the cake is pulling away from edge of pan just slightly, 25-30 minutes. Don't overbake! Let the cake cool completely in the pan. The middle of the cake will fall as it cools. Serve warm, at room temp or chilled. The cake can be made 1-2 days ahead of time and refrigerated.
Top with sweetened whipped cream, fresh berries and hot fudge sauce or chocolate ganache (see note).
Notes
Good quality chocolate is key here because that chocolate flavor is paramount with such a simple list of ingredients. I would recommend using Ghirardelli, Guittard or Callebeaut semisweet chocolate chips. Bittersweet chips could probably be used, but depending on the %, you might need to add a touch more sugar to the batter.
For the sweetened whipped cream, I add 1 1/4 cups heavy whipping cream + 2-4 tablespoons powdered sugar to my blender and mix until thick and creamy (can use an electric stand or handheld mixer).
For the chocolate drizzle, this hot fudge sauce would work great, but for a simpler version, combine 1/2 cup chocolate chips + 1/2 cup heavy cream in a microwave-safe bowl and heat just until warm. Let sit for a minute or so and then stir to combine until smooth and glossy (for a thinner consistency, add 3/4 cup cream to start).
Recommended Products
As an Amazon Associate and member of other affiliate programs, I earn from qualifying purchases.
Recipe Source: adapted slightly from Bon Appetit (inspired by Richard Sax)
READ MORE Healthier Rich Homemade Donuts for Kids Recipe
READ ALSO Irresistible Italian Hot Chocolate Recipe for Cold Days
An All-occasion Apple Cake Recipe
First appeared on melskitchencafe.com