It is worth admitting that it is unbearably difficult to get out of the usual sweatpants and sweatshirts. After all, working remotely, there is no need to look "decent". We quickly get used to everything, including the gained several kilograms and stretched T-shirts. Even if you play sports and go jogging, it will be useful to find out what life hacks can be used to visually reduce the silhouette. Certainly not the whole size. But half for sure.
1. Rectangular cutouts
View this post on Instagram

Outfits with rectangular cutouts are not only considered fashionable and modern, but very flattering to the female figure. They visually lengthen the neck, thereby creating the effect of perfect proportions. Where the proportions are ideal, there are no extra pounds. In this case, it is better to refuse jewelry, but if you really want to, a thin chain with a miniature pendant will be very useful.
2. Sweatshirts are NOT oversized
View this post on Instagram

Not very pleasant information, but it's time to already know that voluminous sweatshirts actually go exclusively to models. Not only because they are usually slim, but also because of their height. A huge, even the most fashionable sweatshirt turns all other girls into a shapeless figure, while the legs, alas, visually look shorter. In general, it's time to tie up with everyday over sized clothing in favor of no less practical, but still adequate in cut. You will see the difference and never go back to boyfriend outfits again.
3. Trousers with arrows
View this post on Instagram

It's time to get out of your sweatpants and learn to wear classics again. For example, trousers of an elegant "office" cut, which are able to visually correct the figure, narrow the hips and lengthen the legs. For girls with wide ankles, elongated options that hide the shoes are suitable. The shortened version should be chosen by those who are lucky enough to have thin ankles. In summer, these trousers do not have to be worn with formal shirts or jackets. If you like stylish outfits, pair them with simple jersey tees.
4. V-neck and open top buttons on blouses
View this post on Instagram

Sometimes it is enough to unbutton a couple of top buttons to "free" the neck. In general, the V-neck perfectly corrects both the fullness of the face and the whole figure as a whole. The effect is achieved by lengthening the neck and emphasizing the collarbones, which makes a woman especially fragile and feminine. So think twice before you button up.
5. Wrap dresses
View this post on Instagram

The legendary wrap-around dresses, which Diana von Furstenberg once invented, flatter the female figure no worse than fasting days. The diagonal line created by the wrap visually stretches the silhouette, making it more sophisticated. For everyday looks, dress-gowns are suitable, and for the exit it is better to choose dresses made of silk or with draperies in combination with elegant shoes.
DON'T MISS: KNITTED VEST NEW AUTUMN MUST-HAVE!
6. Vertical stripe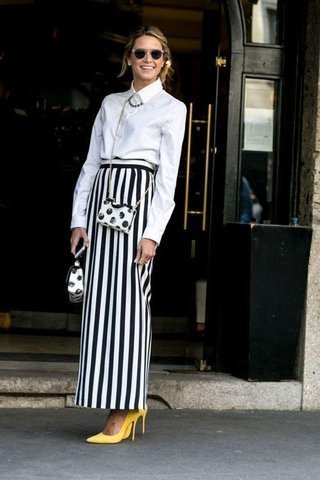 Another fashion axiom: a vertical stripe is much more advantageous than a horizontal one. You can laugh at the classic and seemingly hackneyed technique, or you can make sure by your own example that it really works. Of course, we do not urge you to dress in striped clothes from head to toe in the hope of somehow smoothing out the situation with the problem areas of the figure, but we still recommend paying attention to the cherished "stripes" while shopping.
READ ALSO: HOW TO VISUALLY LENGTHEN YOUR NECK. SENSUAL NECKLINE