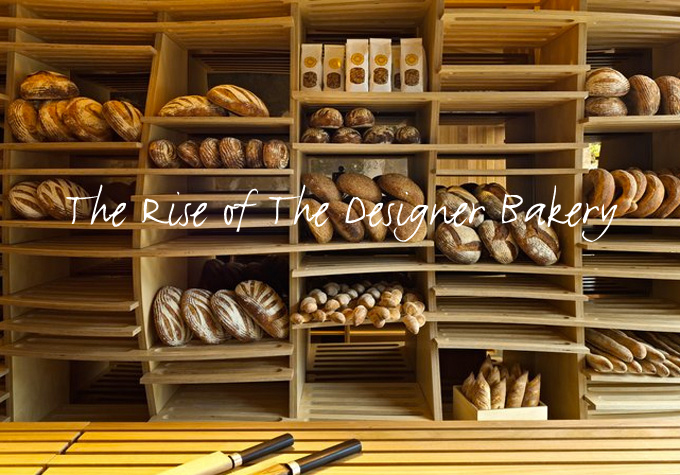 Is there anything more basic, homey and familiar than a loaf of great bread? Yet it has become a luxury. More and more of us are sick of (literally and figuratively) the white, never-to-stale sliced bread in its never-to-biodegrade plastic bag.
We crave for fresh artisanal breads, natural ingredients, heritage grains, organic everything. Those who value great-tasting, healthy bread will pay for quality.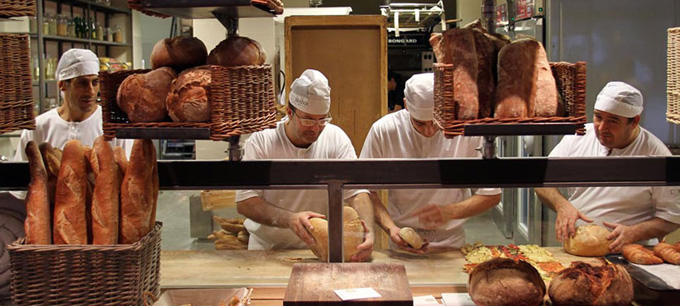 And with that quality and premium price comes the notion of design. Why should we buy that wonderful, healthy loaf at a horrible-looking bakery?
Hominess and hearty fare are great, but does the environment have to look so 'homey,' too? Not any more. We are seeing more and more cool bakeries around the world.
Our fans and followers helped us track down a few examples that meet the requirements at least visually. If the loaves and other baked goods created at these establishments remain consistently as great as their environments, you can count us in as fans.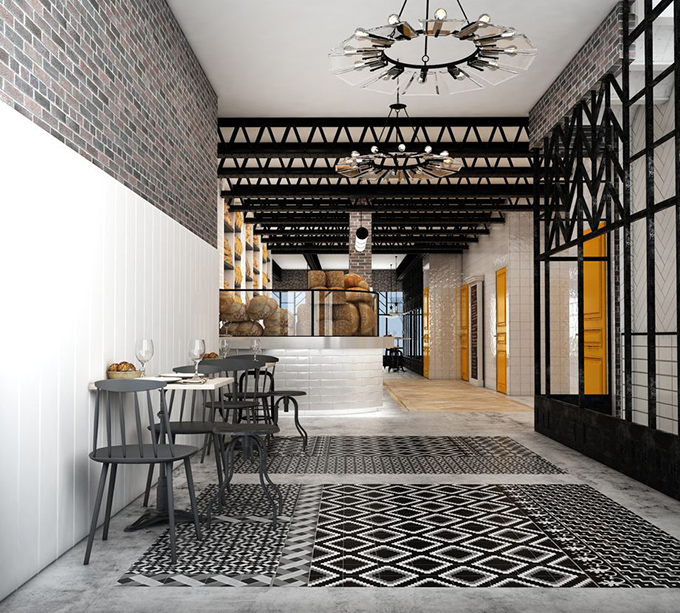 Praktik Hotels has again engaged their go-to designer, Lazaro Rosa Violán, to create their latest hotel, Praktik Bakery in Barclelona. It is a cool 74-room designer hotel where the bakery is not just a branding gimmick but the real soul of the hotel.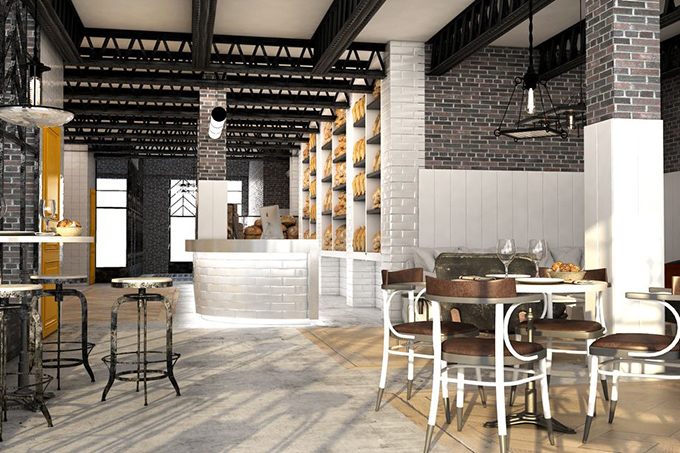 Forn Baluard at the Praktik Bakery is run by Anna Bellsolà, second-generation artisanal baker known for the family bakery located at the working-class seaside district of Barceloneta.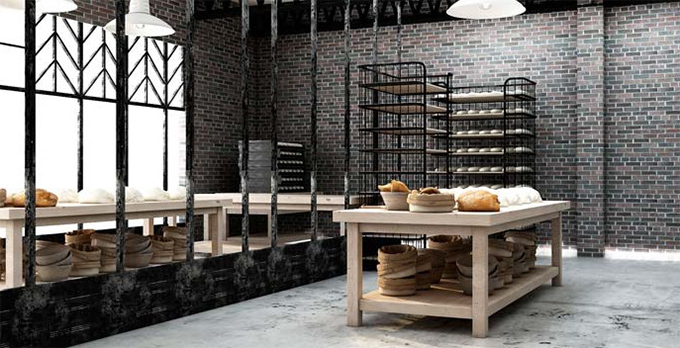 The bakery lets the hotel guests feel at home as the scent of fresh bread greets them in the lobby. It is also a visual feast as the baking takes place in full view. The bakery interior is rather grandiose, not a tiny hearth stuck in a corner, and it has that air of a busy urban bakery where people come and go throughout the day. The bakery/lobby/café is a living and lively place void of that mausoleum-like chilly emptiness still so prevalent in hotels.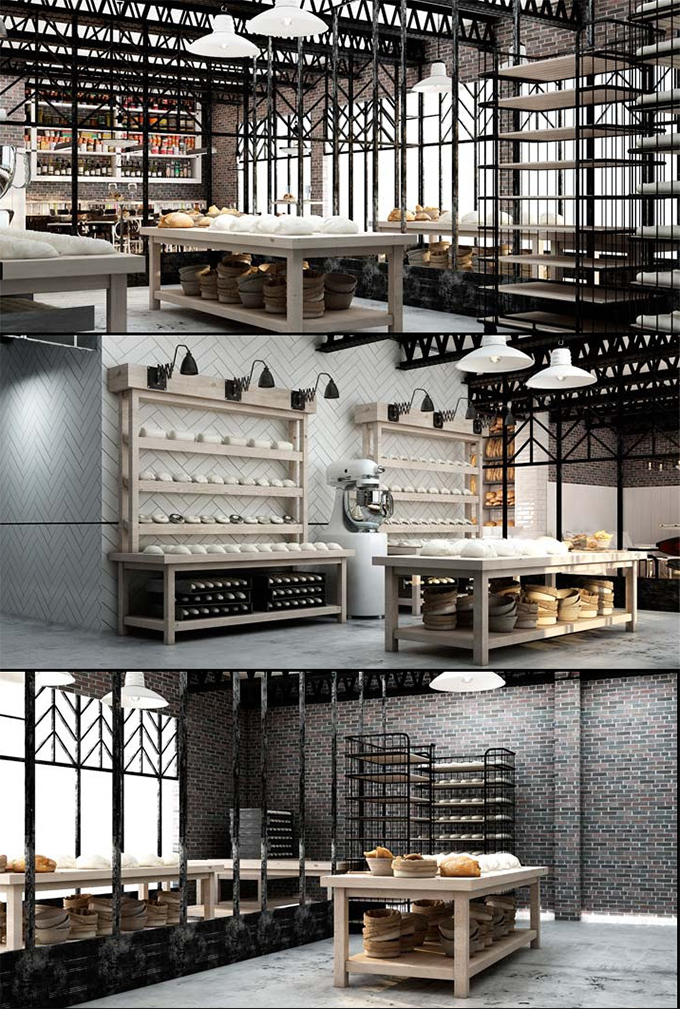 As always, we love the clean lines, the textured surfaces and the minimalist color-scheme. And of course we love bread and bakeries. Doesn't everyone?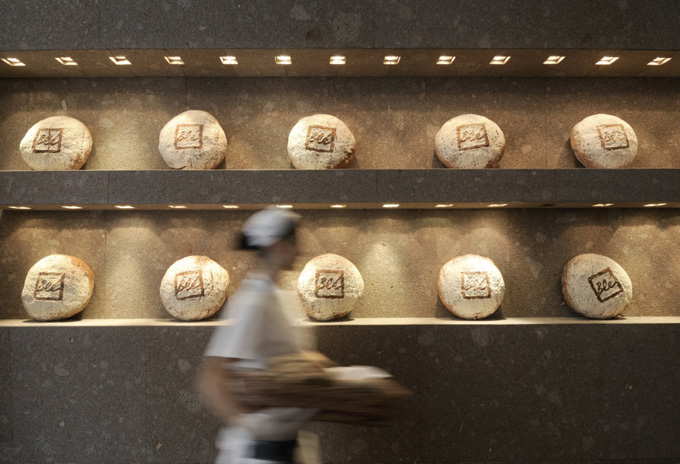 Blé, Thessaloniki, Greece
Blé Bakery on Agias Sofias in Thessaloniki, Greece, most certainly fits the bill. It was designed by the minimalist architects at Claudio Silvestrin Giuliana Salmaso (London & Milan). It has the world's largest wood oven – gigantic, at 12 meters (almost 40 feet) tall!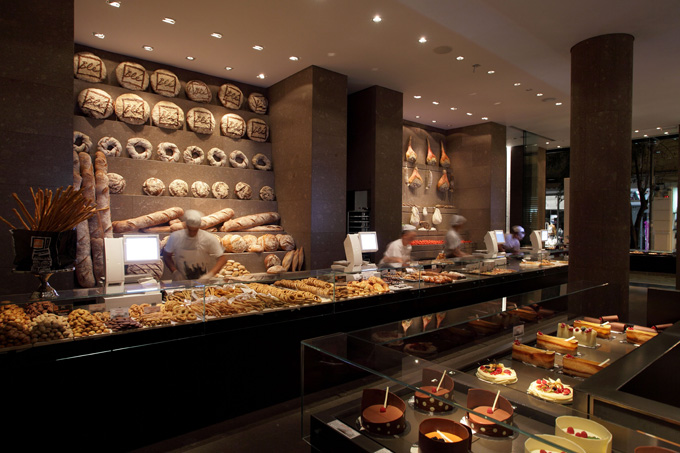 And the bakery is built from cob made of white clay from Crete and Milos, plus sand and straw. Blé's four floors house a patisserie, bakery, delicatessen and a wine and mozzarella bar.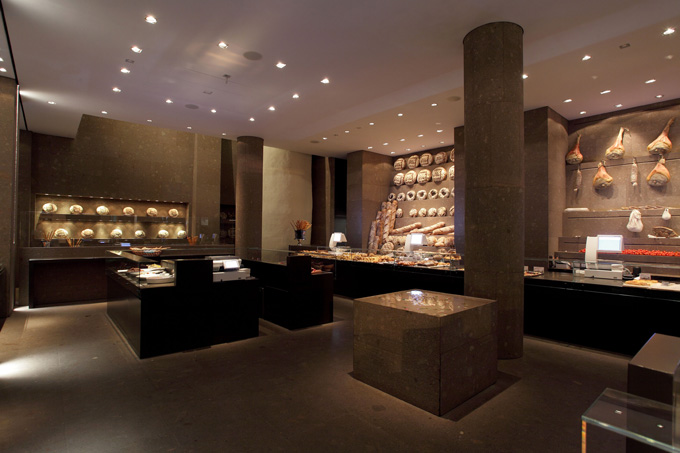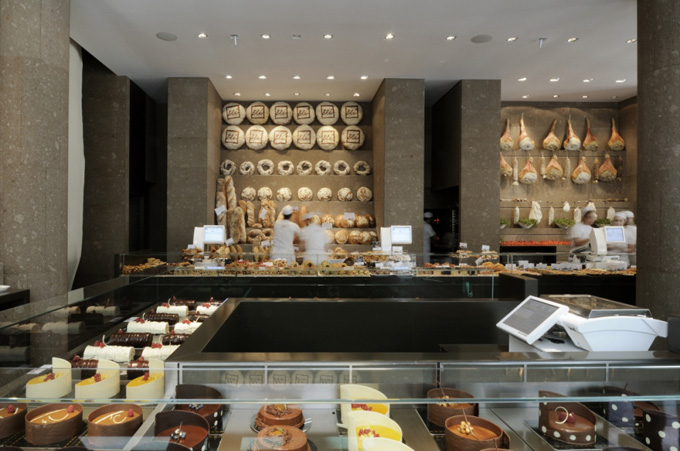 Electra, Edessa, Greece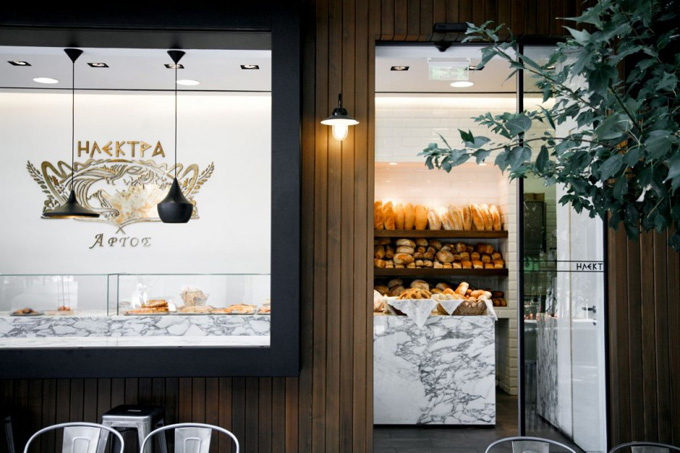 Another cool bakery in northern Greece is located about two hours' drive form Thessaloniki in a town called Edessa. This central Elektra Bakery location is a prototype redesign of the family-run bakery chain's stores.
The open, minimalist design by Edessa-based Studioprototype Architects helps to disguise the tiny space of 35 square meters (376 square feet) at a busy intersection.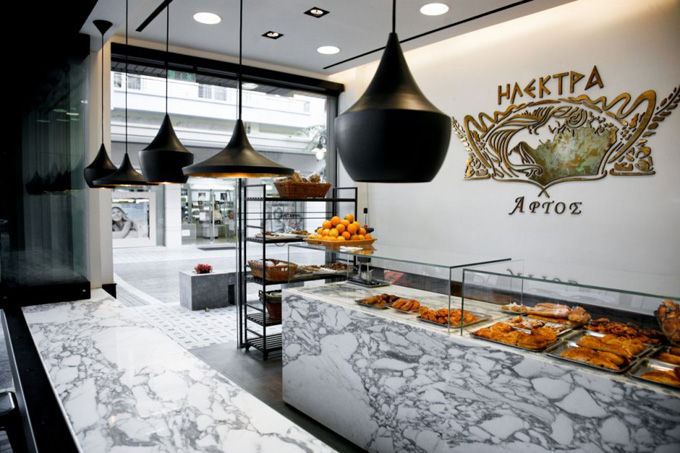 The large outdoor seating area adds to the appeal, and glass walls link the indoors and outdoors to each other. Furniture by Xavier Pauchard and lighting by Tom Dixon.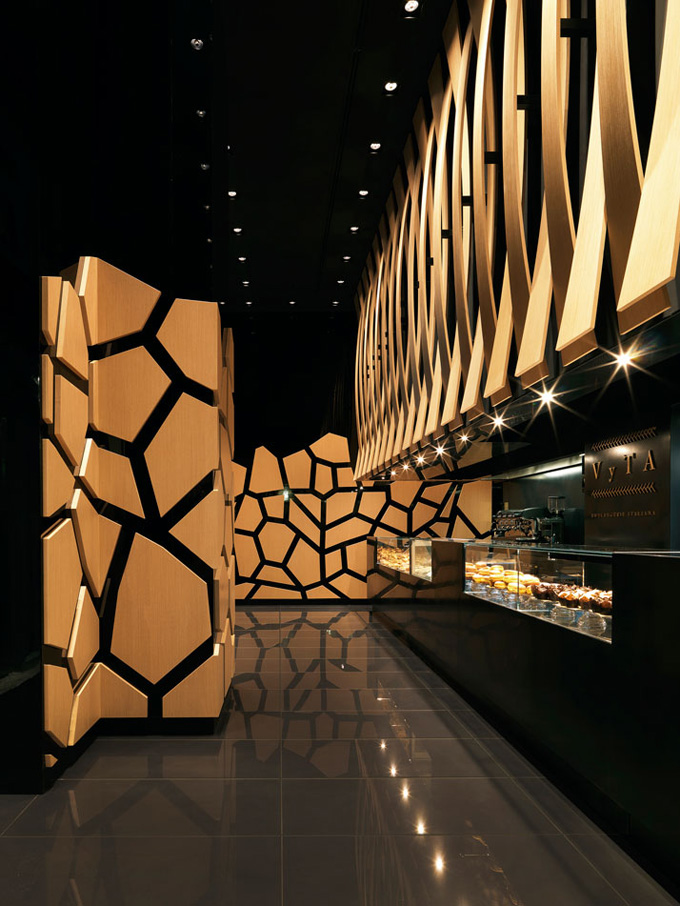 VyTA Boulangerie Italiana, Turin, Italy
In Italy, the drama never ends. Not even in a bakery. VyTA Boulangerie, designed by Rome-based architect Daniela Colli, is located at the epicentre of busy urban life, the Porta Nuova train station in Turin.
With its contrasting light oak and black polymer surfaces the shop resembles a high-end fashion boutique or bar much more than it does a bakery steeped in tradition or natural ingredients.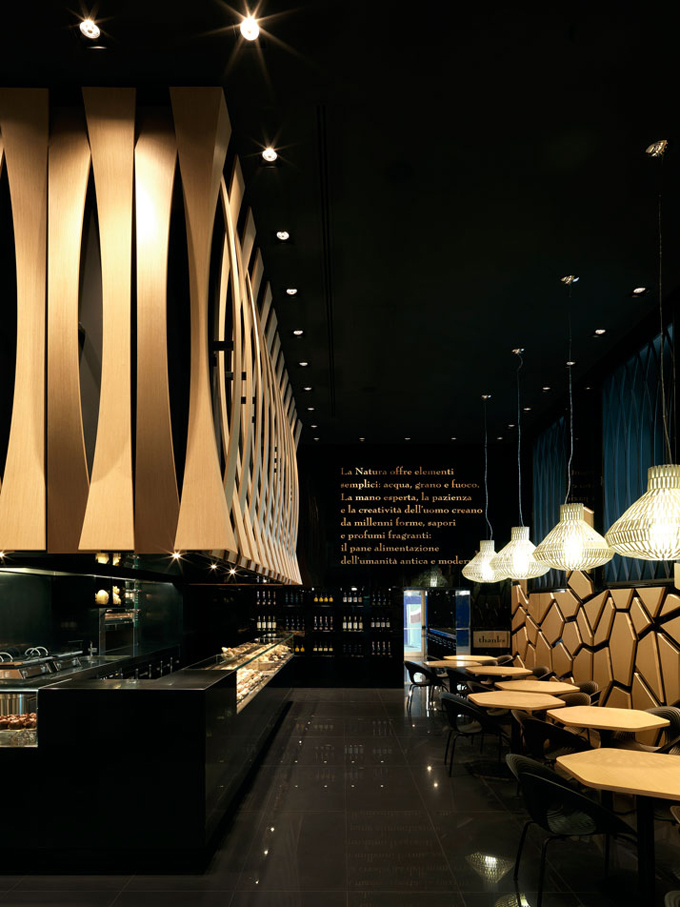 Yet, it is an engaging environment with its large L-shaped counter, the stylized natural-oak 'hood' over the pastry displays, and the hexagonal beehive detailing. VyTA Boulangerie has stores in Rome, Milan, Turin and Naples.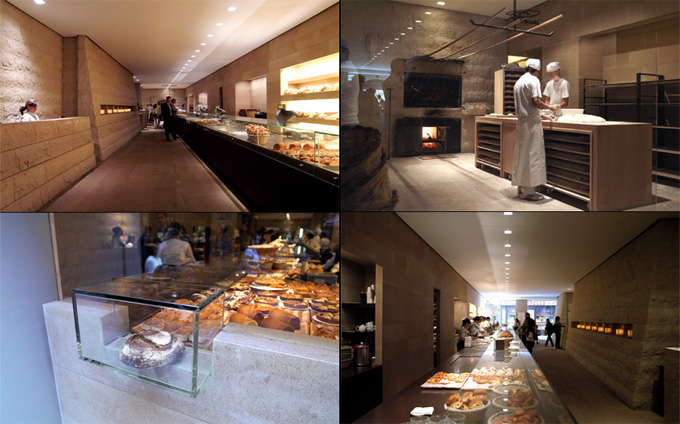 Princi, Milan, Italy
Of course, the dramatic dawn of the designer bakery took place in Milan. Princi, also designed by Claudio Silvestrin, offers organic breads and other goodies made according to traditional recipes. And it is open 24 hours a day and even on Sundays.
Owner Rocco Princi opened his first bakery in 1986. He now has four stores in Milan and one in Soho, in London.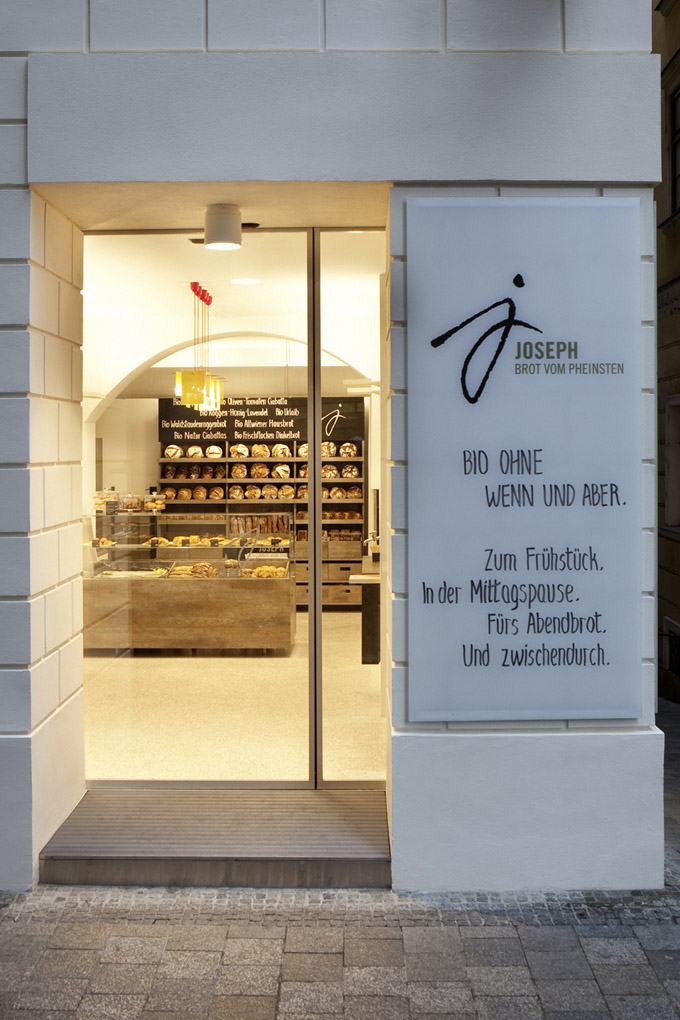 Joseph – Brot vom Pheinsten, Vienna, Austria
In Vienna, Austria, the latest cool destination for lovers of organic bread is Joseph – Brot vom Pheinsten (Translation: Joseph – Finest Bread), located in the 1st district at Nagelgrasse 9.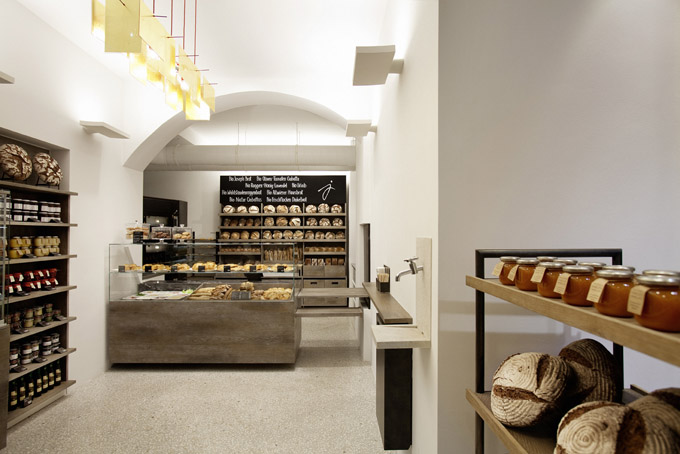 This is the first retail store for owner Josef Weghaupt and master baker Friedrich 'Fritz' Potocnik whose Joseph delicacies are also available at the city's finest cafés restaurants, delis and shops. Corporate and graphic design by Martin Dvorak.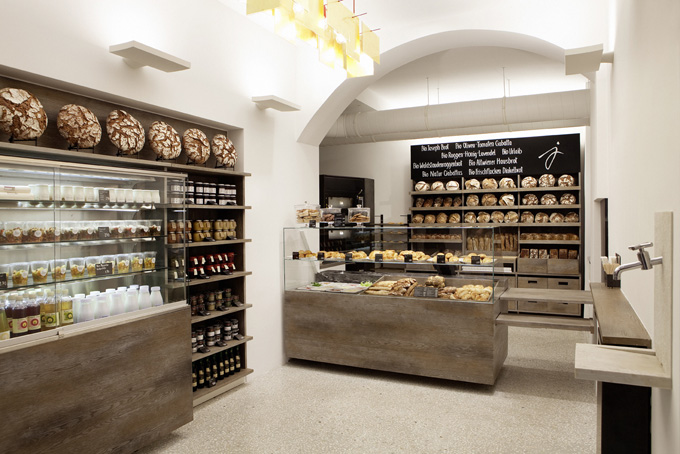 Baker D. Chirico, Melbourne, Australia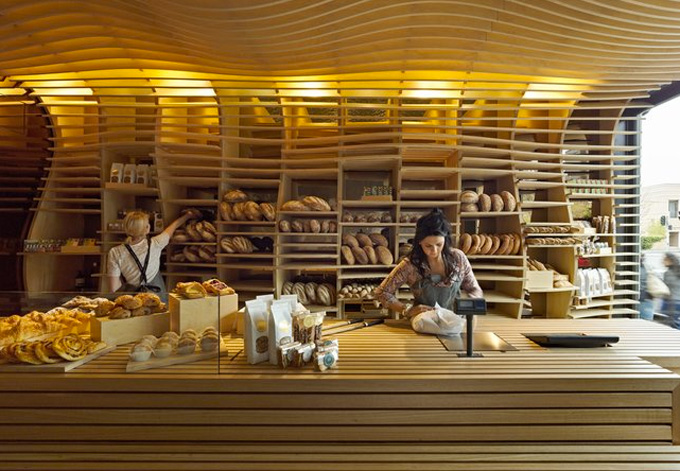 In Melbourne, Australia, cravings for chic design and amazing bread will be satisfied at two shops owned by Daniel Chirico. In celebration of the artisan baker, his second Baker D. Chirico store in Carlton, unlike the first one in St Kilda neighbourhood, has no coffee machine, deli or other distractions.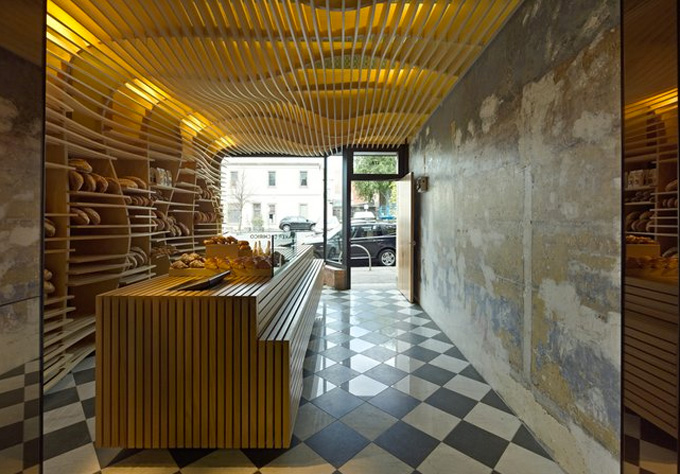 It is all about bread. And of course, about design, wonderful curving wood slats infusing light and warmth into the tiny space. Created by March Studio, also responsible for a number of Aesop store interiors.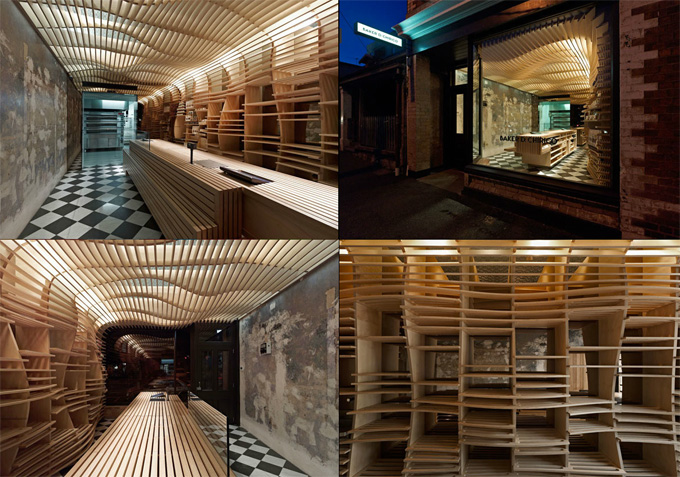 Bécasse Bakery, Sydney, Australia
The chic, French-inspired Bécasse Bakery is located in the new Westfield Shopping Centre in Sydney, Australia.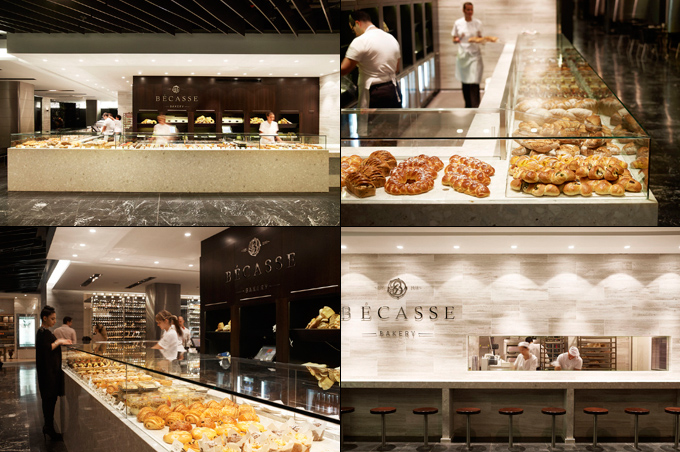 It is part of a group of establishments, all located on the fifth floor of the centre and all owned by Justin and Georgia North: Quarter Twenty One restaurant, store and cooking school, plus Bécasse Restaurant and Bécasse Bakery.
The bakery was designed by Sydney-based Mima Design with principals Mark McConnell and Micheline Li Yoo Foo.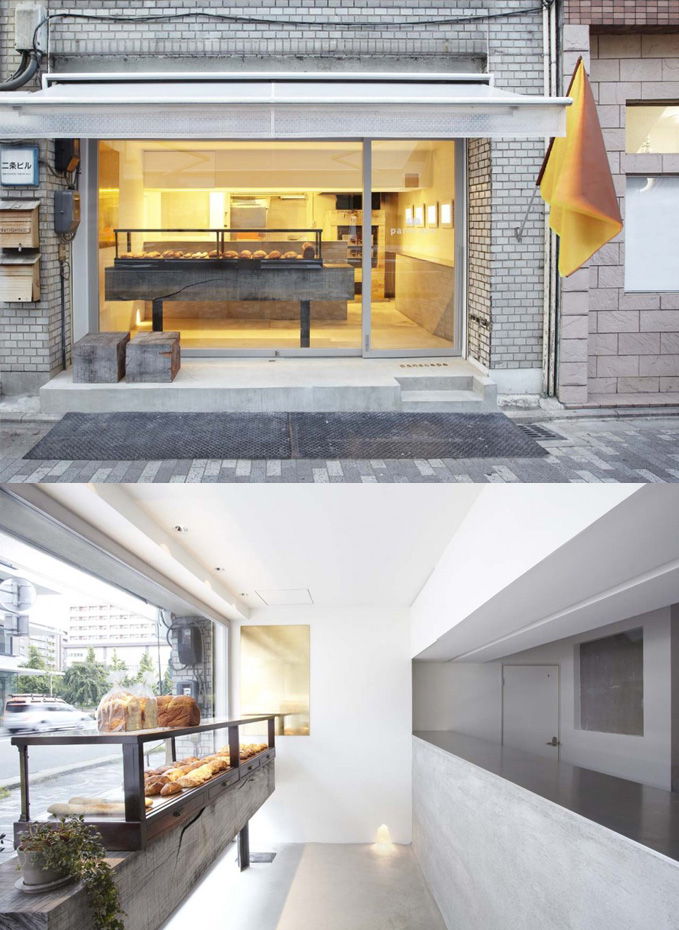 Panscape Bakery, Kyoto, Japan
In Kyoto, Japan, Panscape bakery represents the new look of bakeries. The tiny space, just over 26 square metres (280 square feet), looks sleek and clean in the understated, minimalist way the Japanese master so well.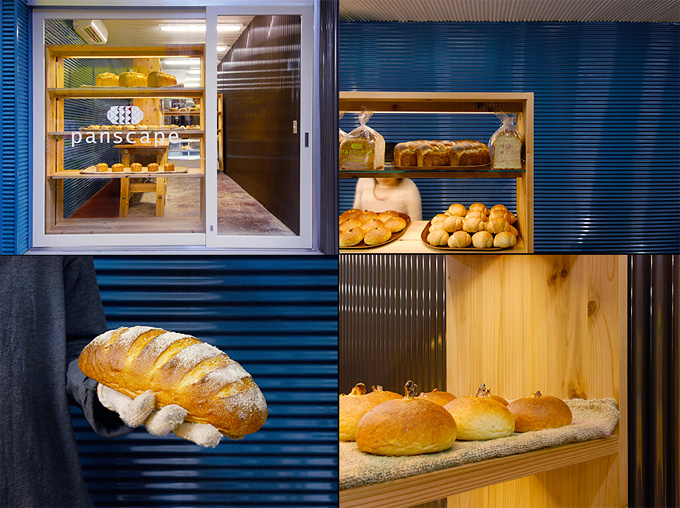 Yet, with its select, massive components of cement and aluminum plus a half-tonne log, the space also exudes solidity and strength.
The concept, architecture and interior are by Osaka-based Hiroki Kawata Architects: ninkipen!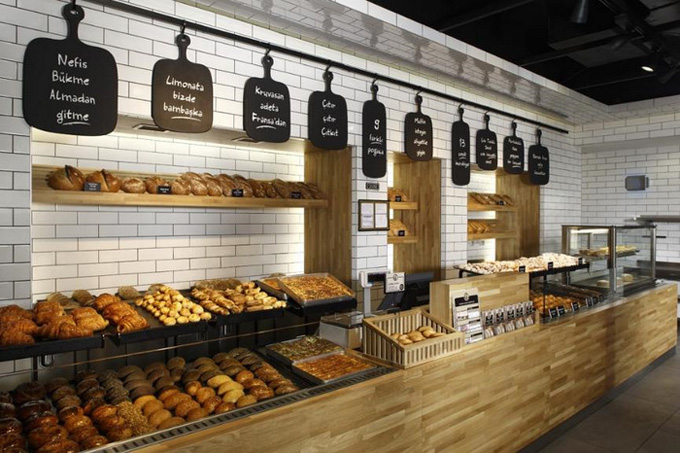 Komsufirin, Istanbul, Turkey
In its fewer than five years of existence, Komsufirin has grown to some 60 stores in Turkey and it sells predominantly pre-baked products, so it is by no means an artisan boutique enterprise, but we like the clear, minimalist interior, redesigned by Istanbul-based Autobahn.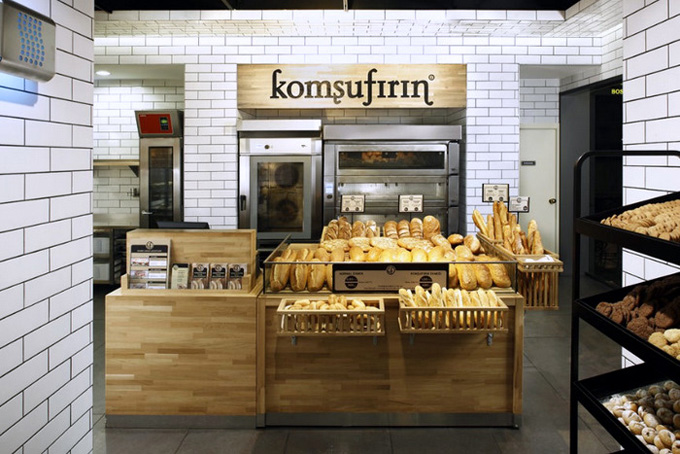 The store name translates as "the oven in the neighborhood" and Autobahn principals Seyhan Özdemir and Sefer Cağlar used natural oak and white tiles to create a modern and visually spacey environment as a backdrop for the ancient process of baking.
Komsufirin is operated by the Doruk group and it is growing at a breathtaking pace, aiming for 350 stores by 2013 and 1,000 stores by 2020.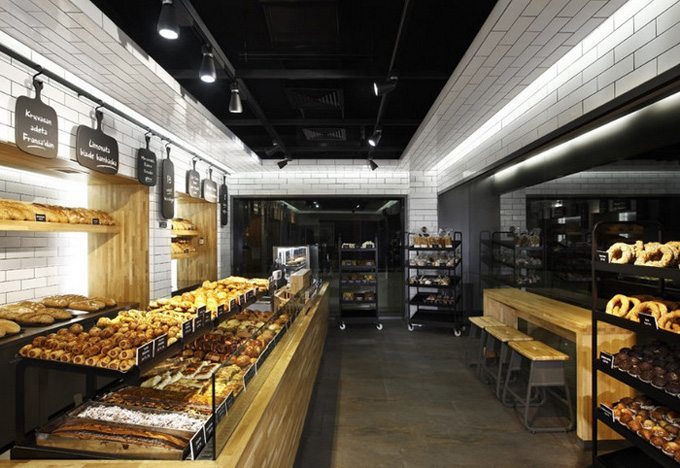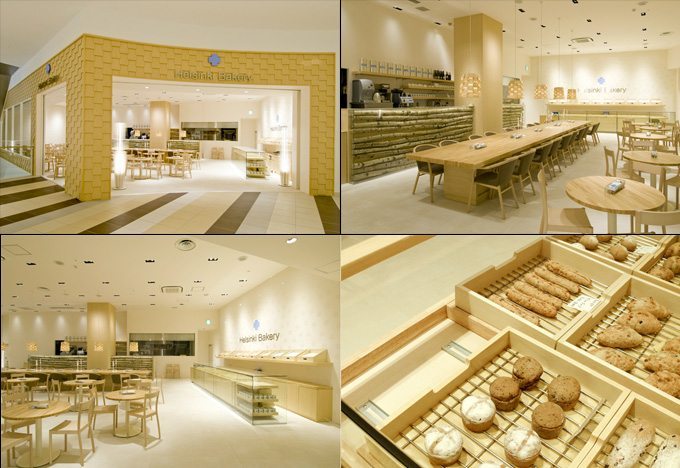 Helsinki Bakery, Osaka, Japan
One would expect to find Helsinki Bakery in Finland, but no, this one is located in Osaka, in the three-year-old Hankyu Nishinomiya Gardens shopping mall.
And not just the name, but also the white and natural-wood design have direct connections to Finland.
The store's Japan-born designer Arihiro Miyake is based in Helsinki-Finland, and has studied in both Japan and Finland.
Simple, healthy and natural are the key words of the bakery and the Scandinavian design supports those notions perfectly.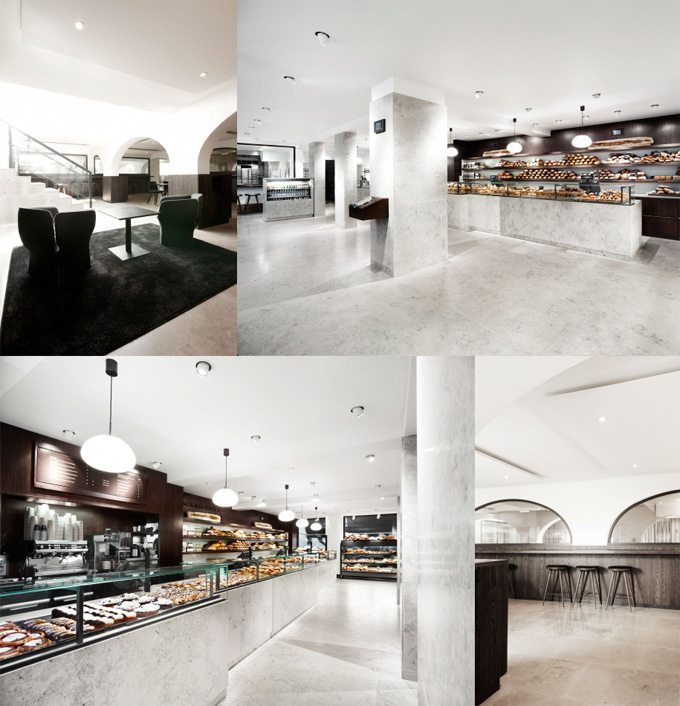 Lagkagehuset Bakery, Copenhagen, Denmark
Lagkagehuset Bakery's name translates as "pie house" but there is definitely no homey pie atmosphere in this location, designed by SPACE Copenhagen.
Lagkagehuset's principals, Steen Skallebæk and Ole Kristoffersen, have been baking independently of each other since the early 1990s. But in 2008, they combined their successes in and started Lagkagehuset that now has 18 locations in Denmark. – Tuija Seipell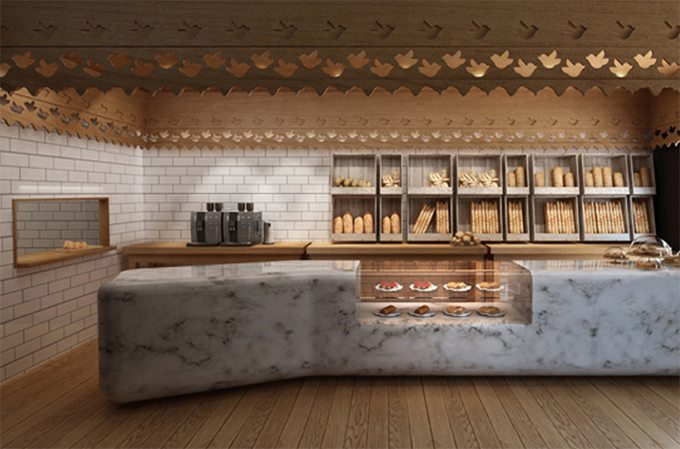 Discovered any new designer bakeries we should know about?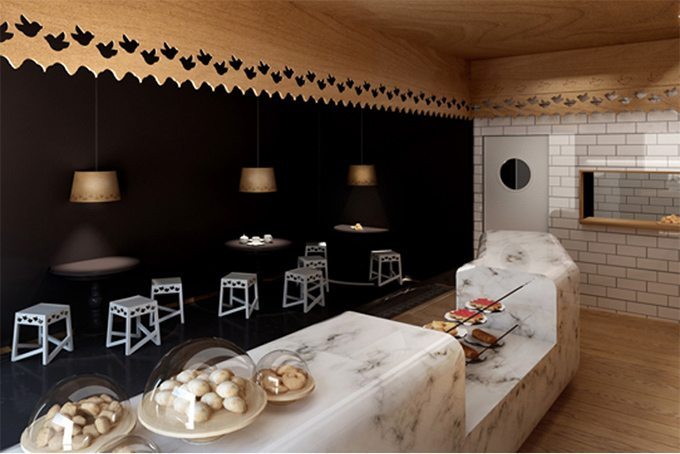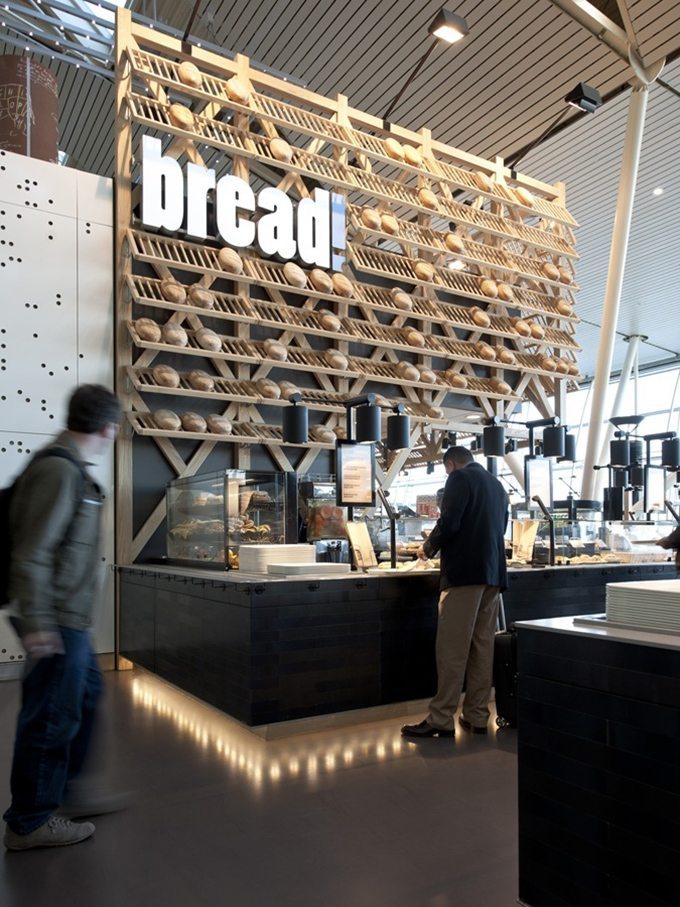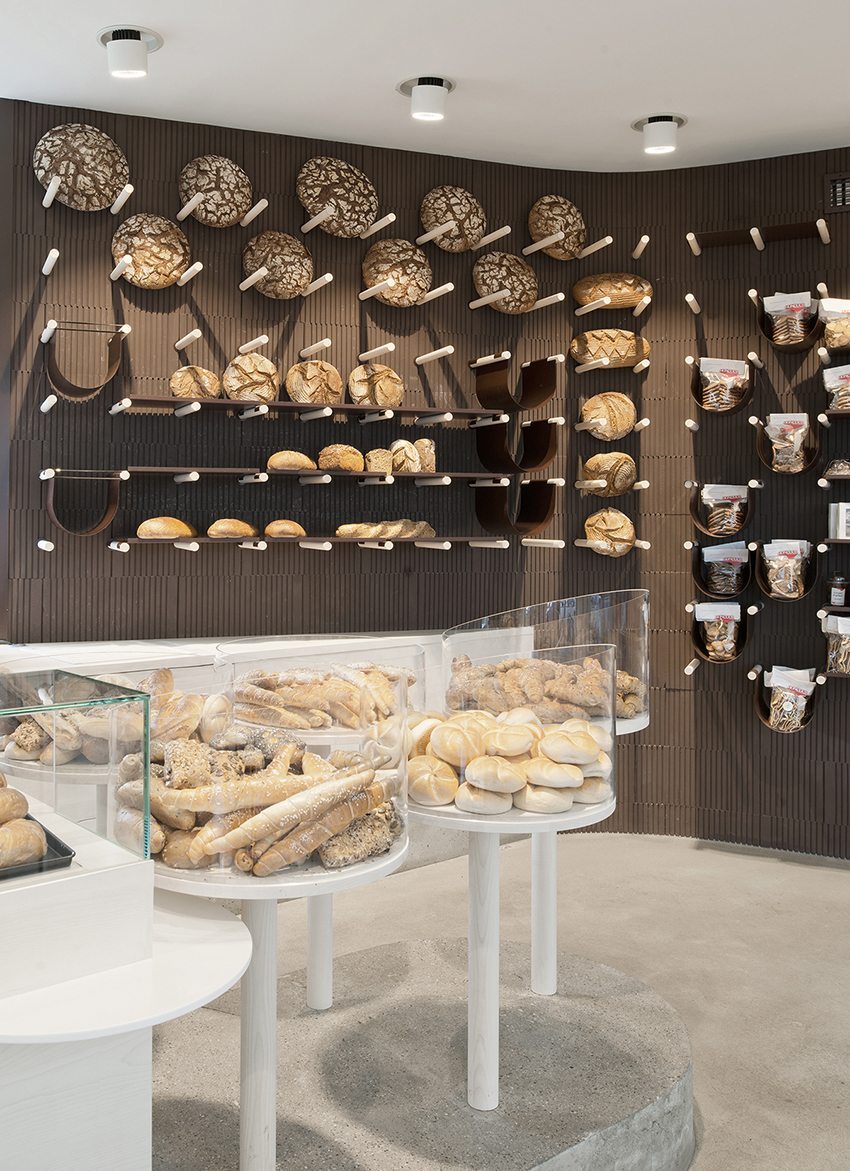 The third store of Madrid-based bakery Pany Y Pasteles looks very different from the first two, although all were designed by local architectural studio Ideo Architectura, founded by architect and designer Virginia del Barco.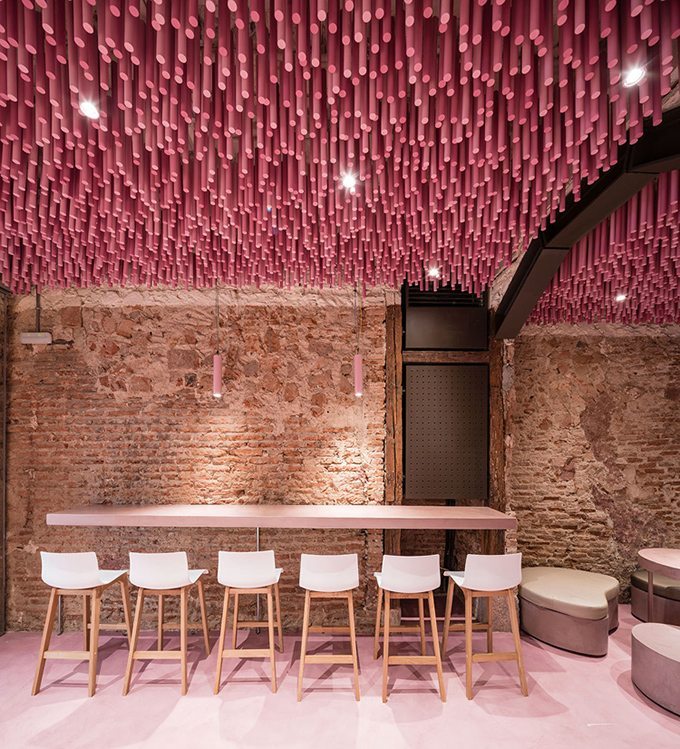 The first two are clean and modern and sleek with the corporate pink colour prominent in both. But the third store is located on the ground floor of a historical, 150-year-old building in Madrid's historical hear, Alcalá de Henares. When the demolition revealed old brick walls full of texture and character, del Barco knew she had her key element.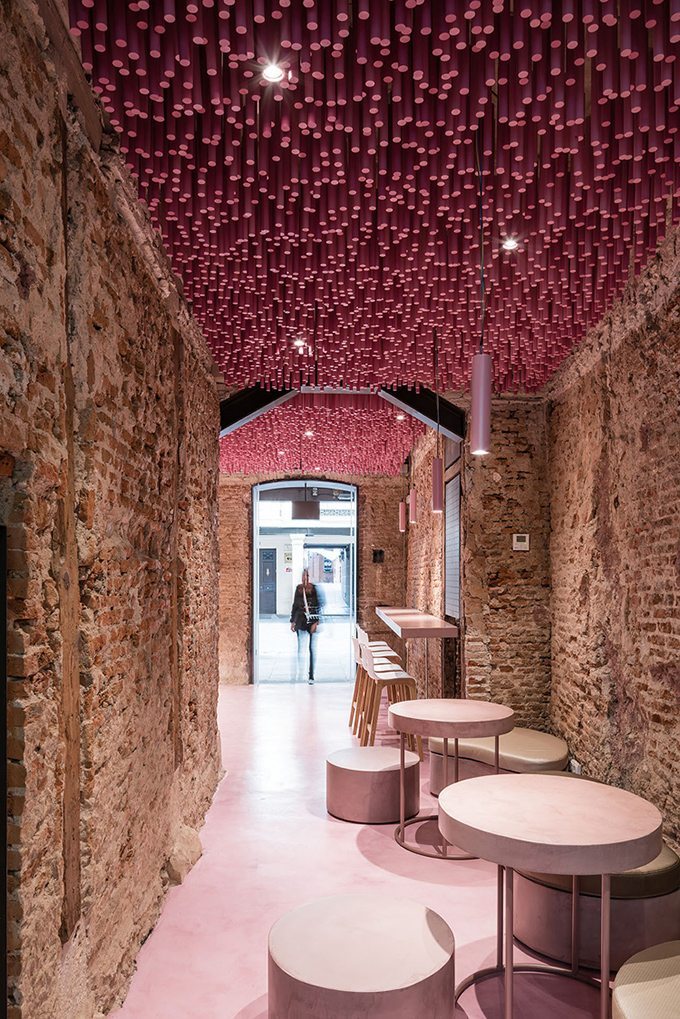 She brought in a strong modern touch and the corporate pink colour by installing an eye-catching ceiling made of 12,000 pink wooden bars of various lengths hanging above the guests.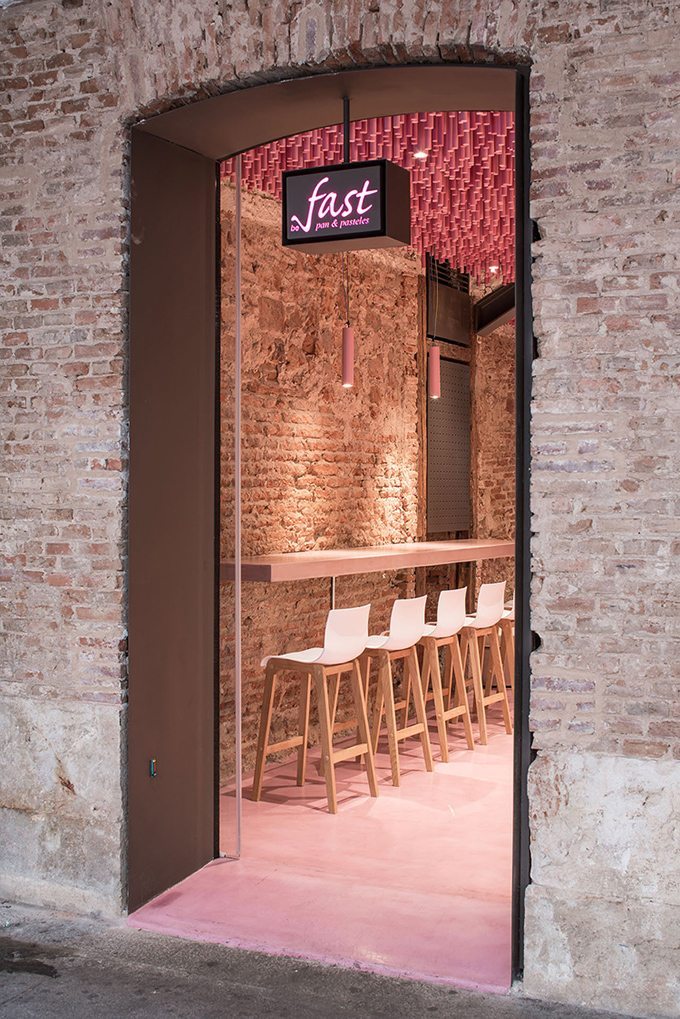 Ideo Architectura also designed the lighting, tables, stools, shelves and bar counters.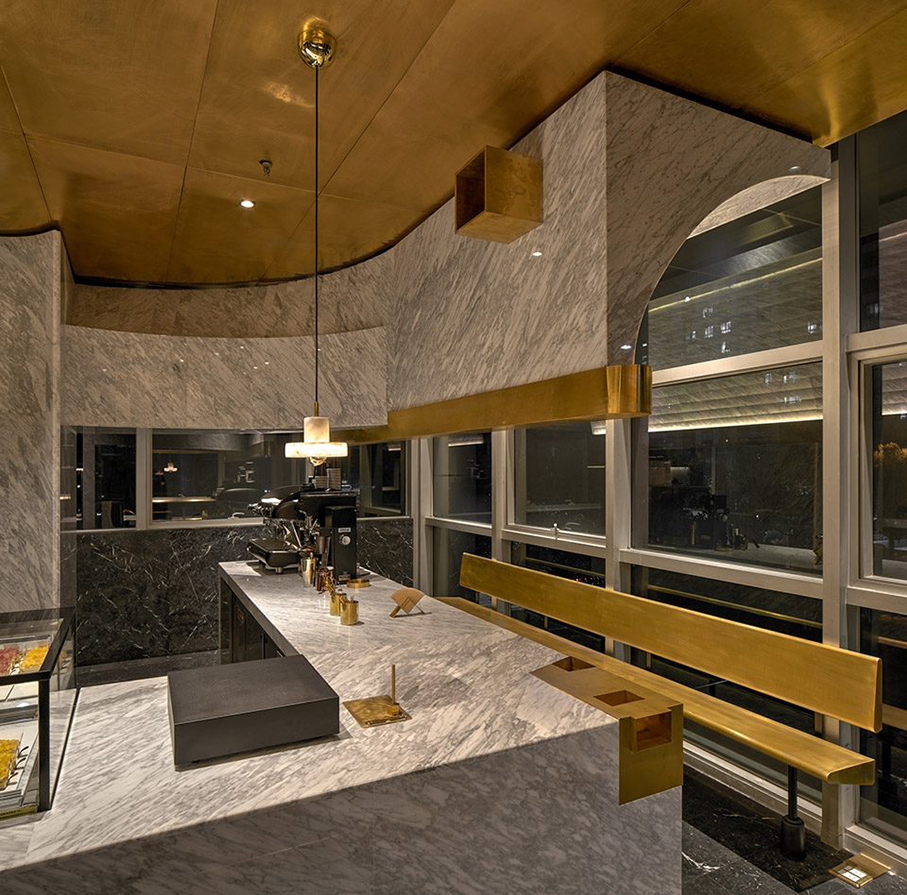 In 2016, Hangzhou, China-based AN Interior Design created an all metal bakery for the Kerry Centre (Hangzhou) store of the Mr. Maimai chain of cafes and bakeries.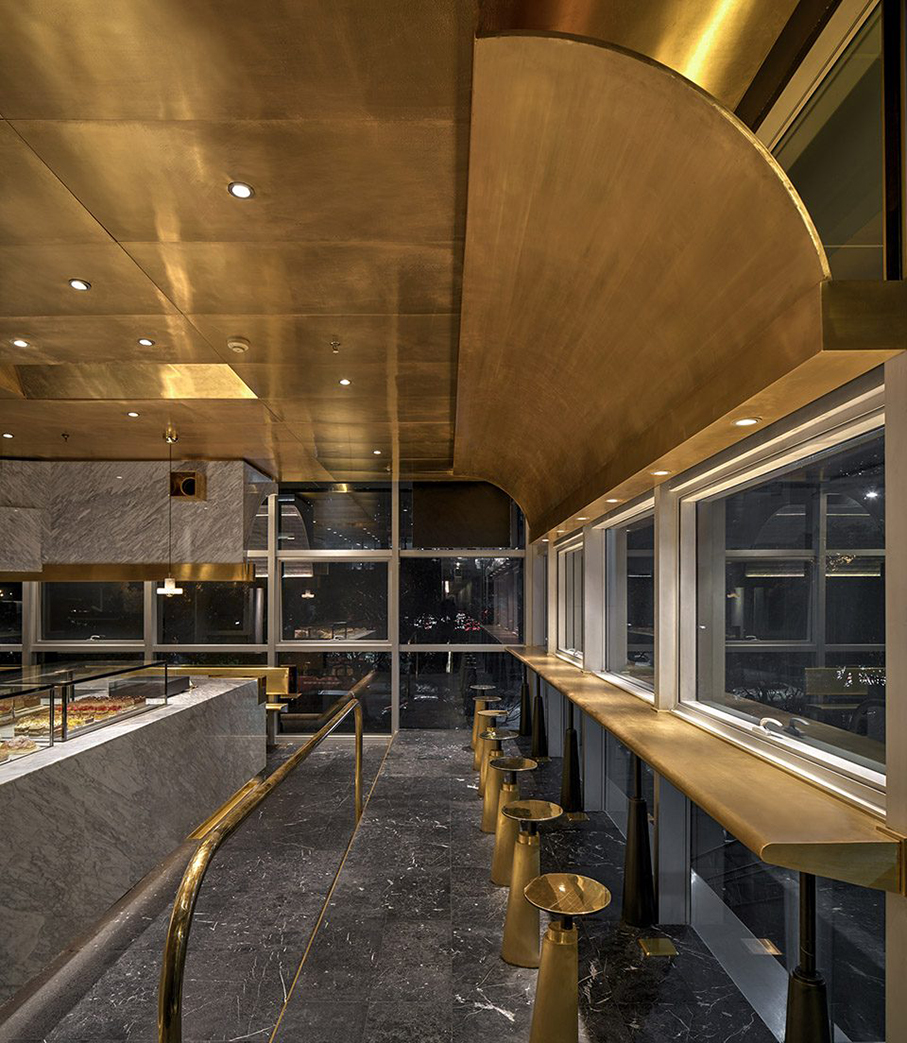 In 2017, creating another 60 square-metre (645 sq.ft) store for the same Mr.Maimai chain in Hangzhou, the designers moved away from the all-metallic extreme toward a slightly more friendly iteration.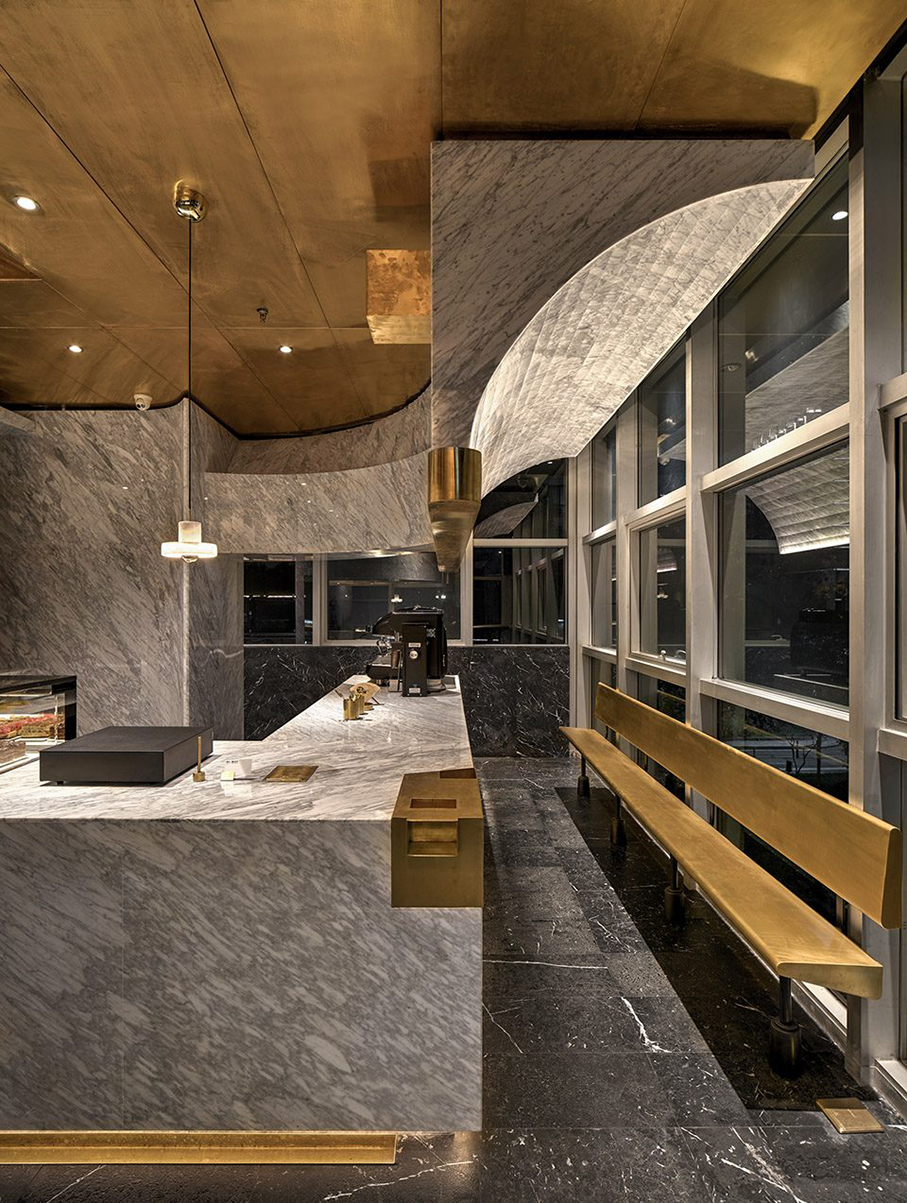 This store is still impressive and formidable in its brass, glass and marble shine, yet it has a more welcoming feel.
Mr. Maimai store is located on the second floor of an office building and its goal is to give the office workers a tranquil and peaceful oasis to stop during the busy day for a coffee and some lovely bread and baked goods.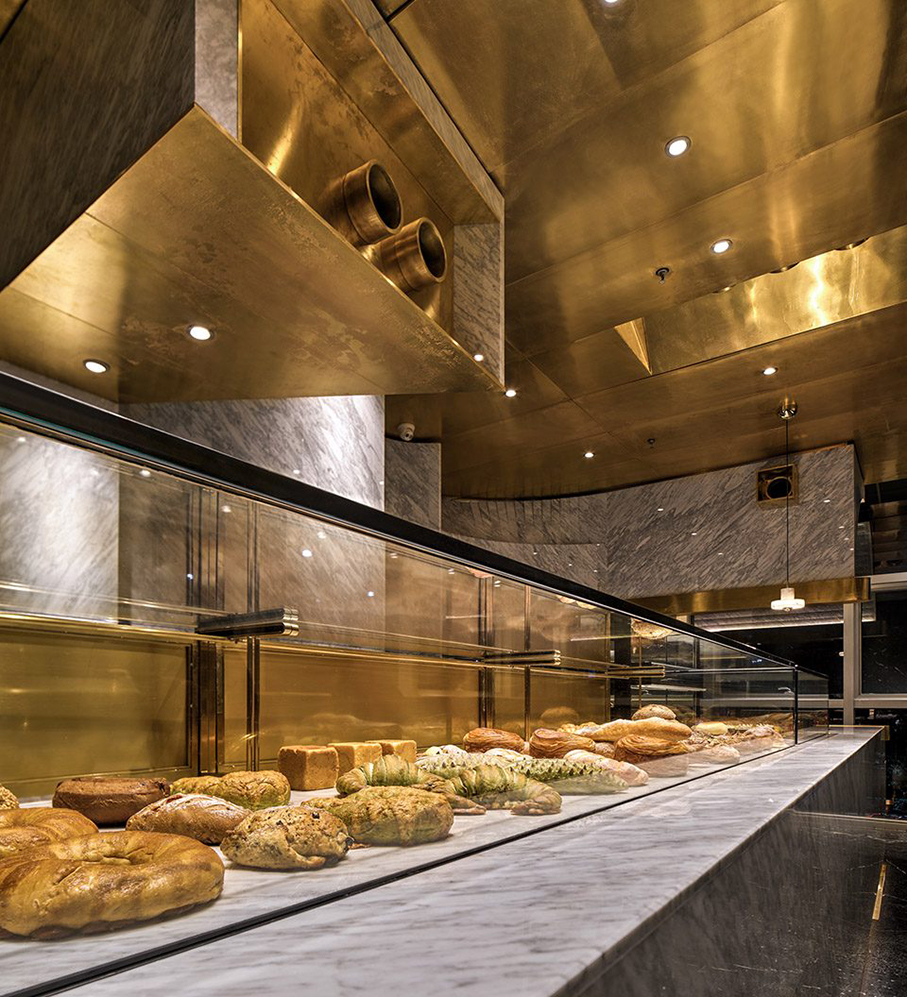 The initially square-shaped store now has nooks and seemingly separate areas through the use of curving brushed-brass dividing elements – ceiling features that guide the eye to different segments and help cut the sightlines.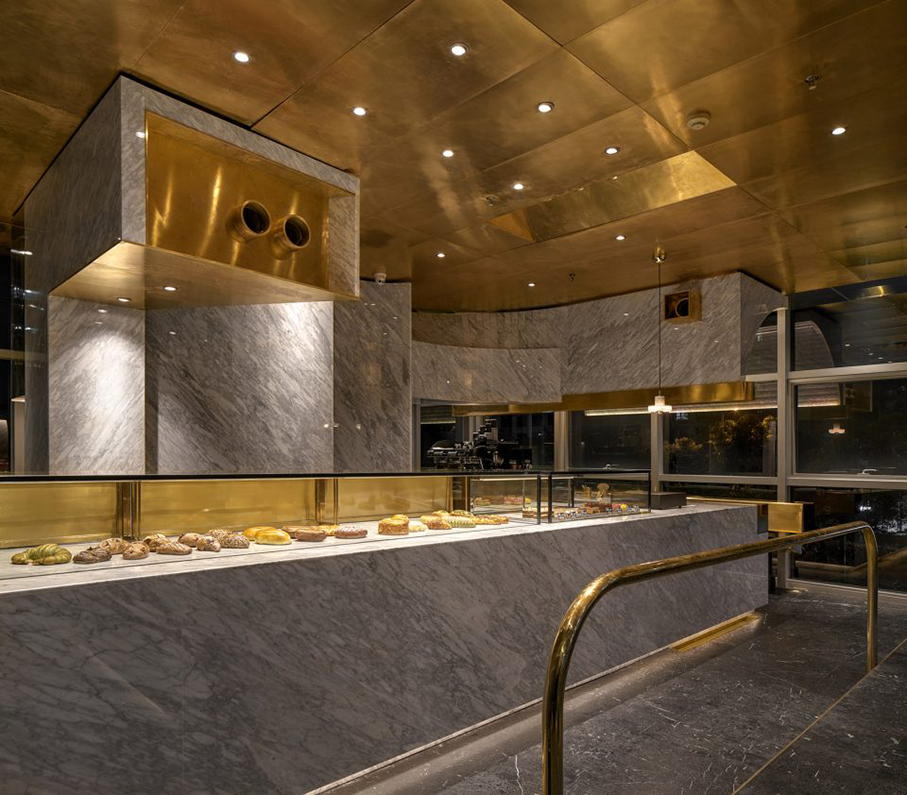 The curved shape is also used as a softening element in the railings that divide the line-up area.
The candle-stick-like little stools , curved edges of the bar counter and the lovely little hanging lights give the otherwise rather grandiose space a warm feel.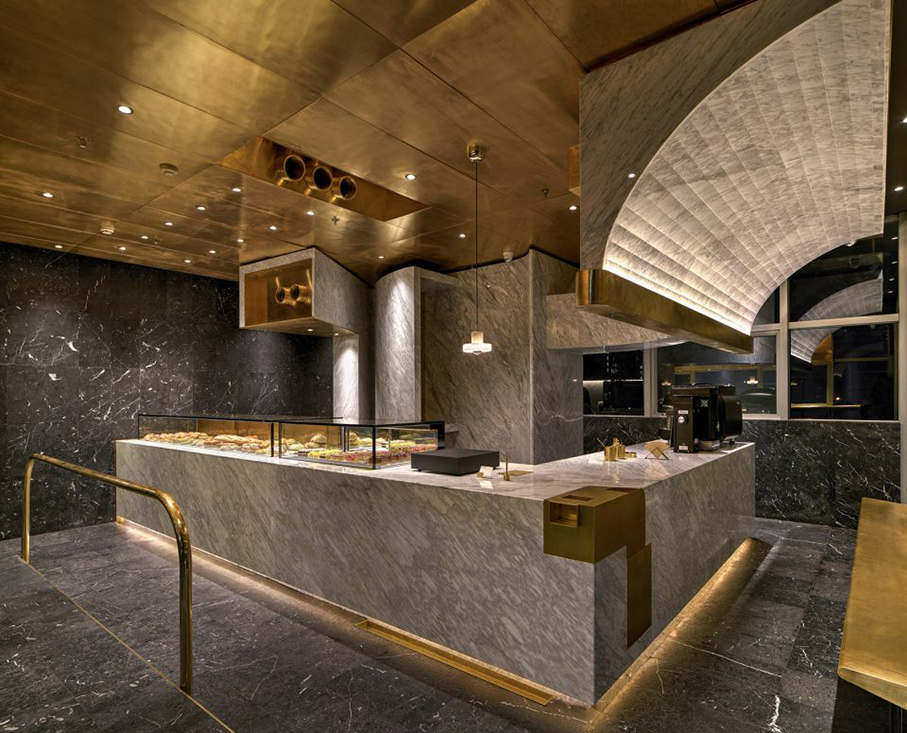 To further mitigate the hardness of the materials, the brass is nicely brushed and uneven and the marble surfaces are varied in tone and roughness.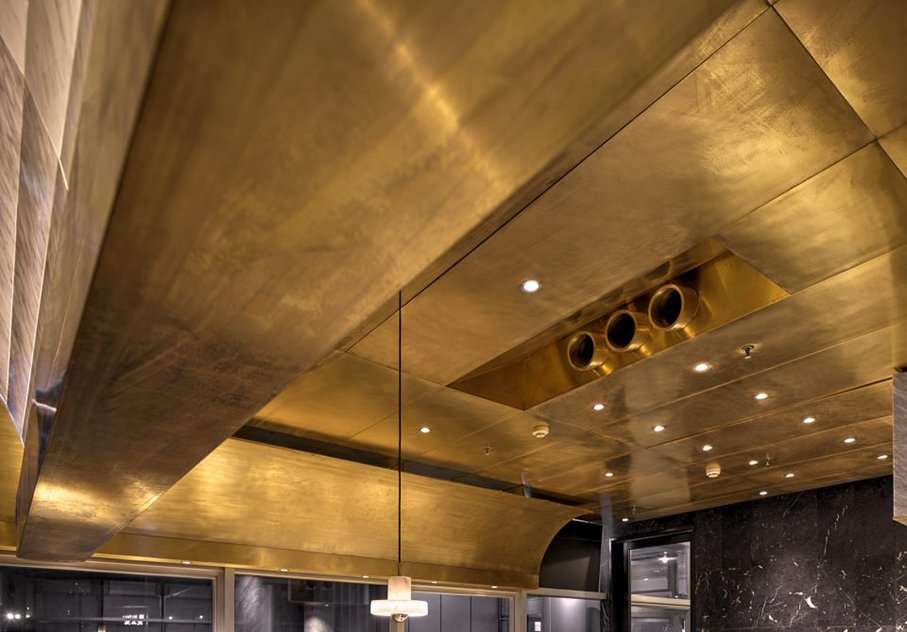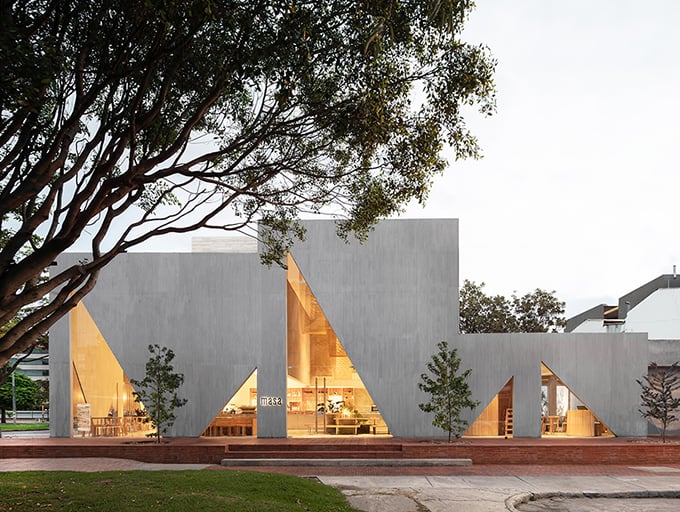 Masa Bakery, Bogotá, Colombia
Global trends and tastes affect every corner of the world. Tastes in food and in the environments in which we enjoy them are changing rapidly. What might have sufficed even 10 years ago in a city far from the capitals of the design world, is no longer good enough.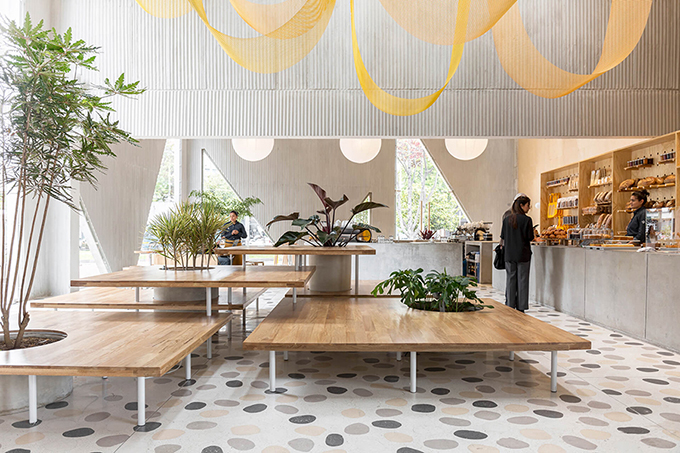 Taking this into account, Colombian-born architect Benjamín Cadena, founder of Brooklyn and Bogota-based Studio Cadena, created the Masa bakery in Colombia's capital city of Bogotá.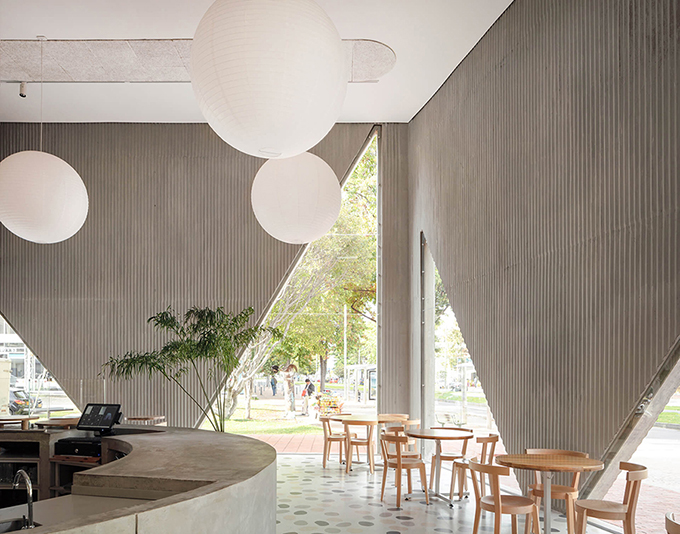 Cadena's global design approach was informed by his understanding of the regional climate, his knowledge of local customer preferences and his expertise in coffee (he is a former coffee taster for coffee exporters).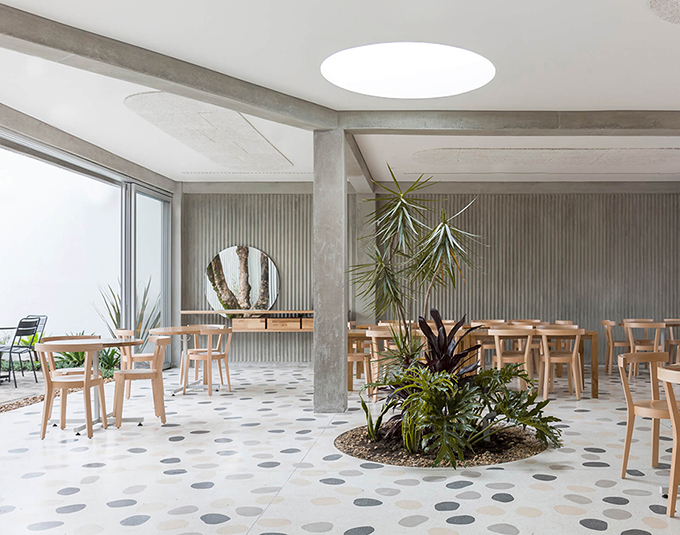 This battery of insight has resulted in a refreshingly breezy bakery-cafe environment where Bogotá's unpredictable and ever-changing climate is not allowed to prevent patrons from enjoying their beloved coffee and a wide selection of bakery goods in a year-round al fresco feel.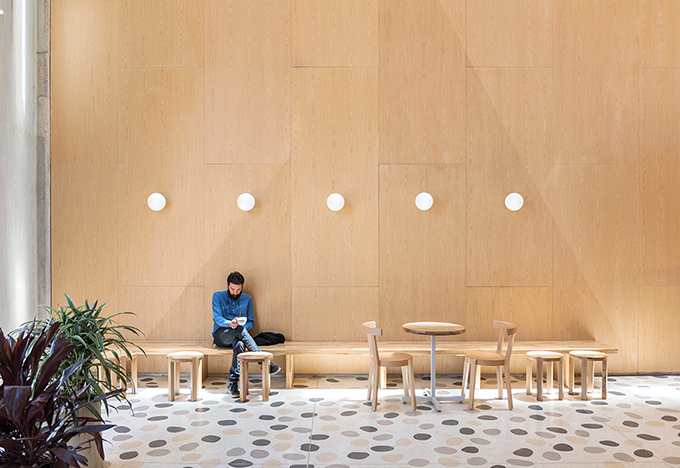 The 7,500 square-foot (697 square metre) space seems open to the outside from every angle as daylight pours in through wide sliding doors, a singular large round window and a series of triangular windows.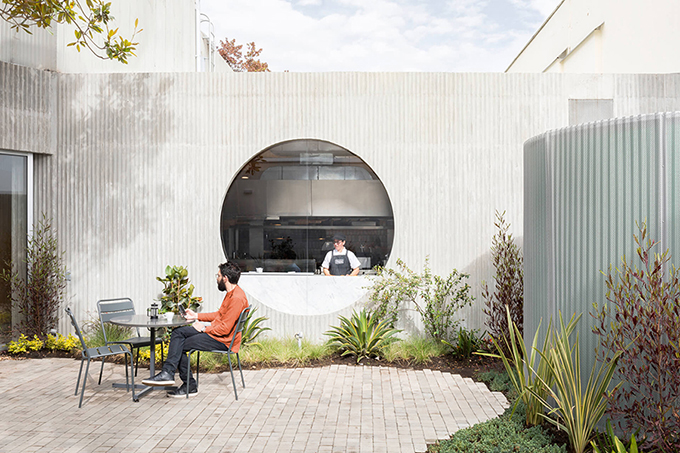 At the same time, the indoor space is visible from the outside creating the connection Cadena was aiming for. We, of course, love the minimalist openness, the sparse materials, the wood slats and furniture, and the recurring rounded form that softens the angles and the hard materials.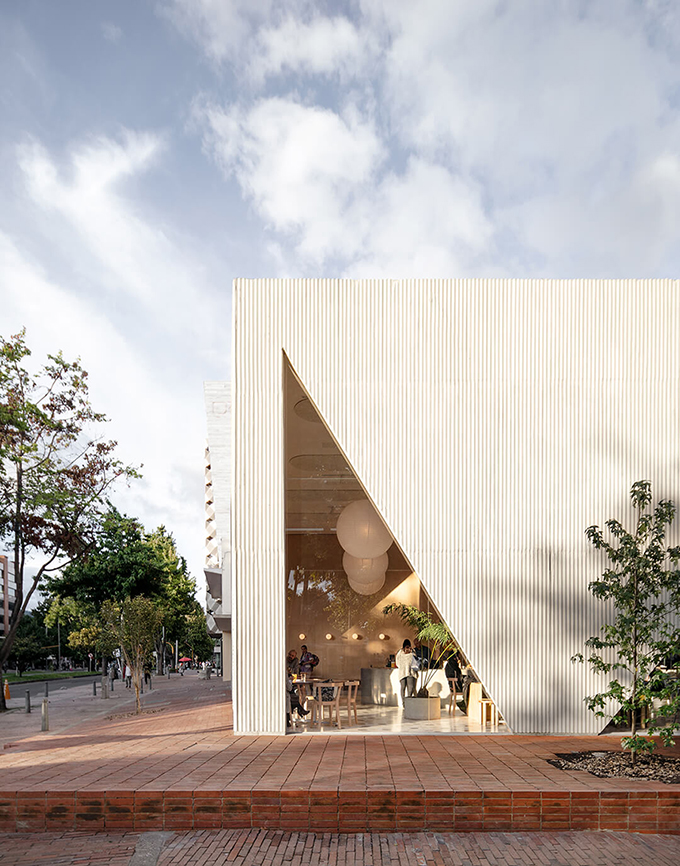 Masa – the word means dough in Spanish – is located in Usaquén, the historic centre that is now a funky hotspot neighbourhood of cafes, restaurants, antique shops, art galleries and local boutiques plus the popular Sunday market with its new Mercado Buendía Usaquén section of local artisan products.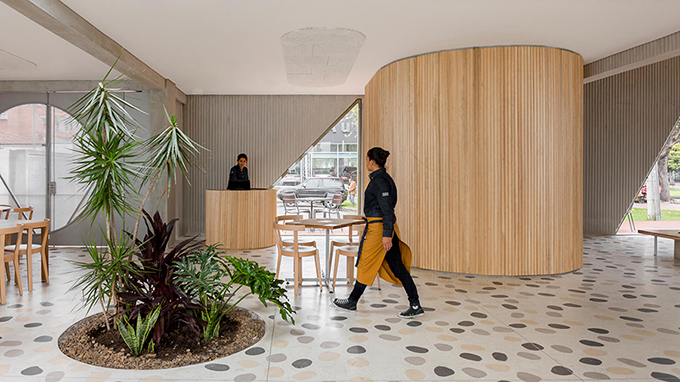 The exact address of Masa is Cl. 105 #18A-68, Bogotá.
READ MORE Simple Pecan Pie Recipe!
First appeared on thecoolhunter.net