How to cook Delicious Thai Tom Yam Soup Recipe (with replacement of ingredients). Tom Yam Soup is a Thai national dish. It is prepared on the basis of meat broth with shrimp and has a pronounced individual sour-spicy taste. There is no single recipe for the soup, depending on the cook's imagination, it may contain seafood, chicken and fish. Tom Yam is considered the spicy soup in the world.
Tom Yam is not only very tasty, but also incredibly healthy. Its ingredients and spices are a means for the prevention of cancer and diseases of the gastrointestinal tract.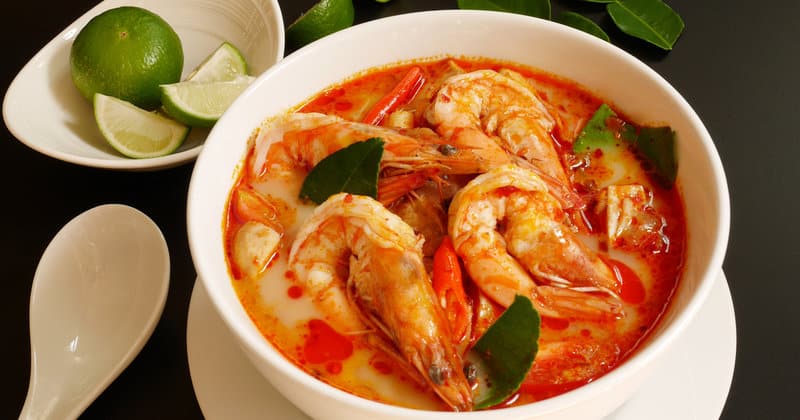 Due to the specific ingredients, such as lemongrass, galangal, kaffir lime, making a classic soup at home is difficult. But on the shelves of supermarkets appeared ready-made freeze-dried soup in the form of powder or paste, and if desired, you can cook Tom Yam from this preservative. And you can use the classic recipe, but substitute alternative products for the rarest of the ingredients.
Classic recipe Tom Yama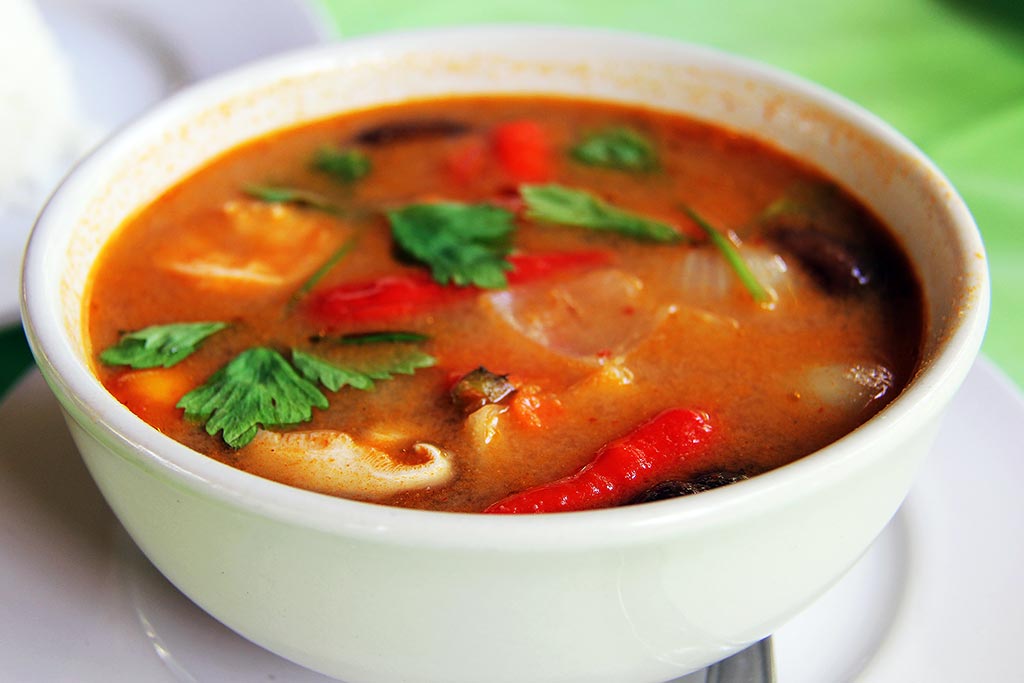 Ingredients:
chicken meat broth – 0.5 liters
king prawns – 50-70 grams
royal oyster mushrooms – 30-50 grams – can be replaced with champignons
bow – a large head or 2 small
fleshy tomato – one large
chili paste – tablespoon
lemongrass – 3-4 stems
Thai pink ginger (galangal) – 3-4 pieces – can be replaced with plain ginger
fresh or dried chili peppers – 1-3 pieces
fresh cilantro or coriander – a bunch
a pair of kaffir lime leaves
lemon or lime juice – half a citrus
fish sauce – a tablespoon
sugar – a teaspoon.
Cooking:
2. During the cooking process, add the washed heads and shrimp shells to the broth.
3. Chop thin slices of lemongrass, pink ginger and chili.
4. Tear the kaffir lime leaves.
5. Add ingredients to boiling broth and boil for 5 minutes.
6. Add a tablespoon of chili paste.
7. Mushrooms and tomatoes cut into four parts, and the onion in half.
8. Rinse the peeled shrimp and remove the intestines.
9. Put onion with mushrooms in a pot with soup, simmer for 5-10 minutes. Do not let the soup boil.
10. Add shrimp, tomato, fish sauce and sugar, stir and turn off the heat.
11. When the soup stops boiling, squeeze half a lemon or lime into a saucepan, sprinkle with cilantro or coriander.
12. Season the soup to taste, bring to the desired sharpness and sourness.
13. Remove galangal, lemongrass, and kaffir lime leaves before serving.
Bon Appetit!
Featured image on unsplash.com
READ MORE Exceptional For Health Shrimps! Delicious Shrimps Recipes
READ ALSO 15+ Foods To Help Manage Stress, Depression And Anxiety