Smoothie Bowl Boom: 5 bright smoothie recipes in a bowl. Smoothie Bowl is a new trend in the field of healthy eating, which just burst into the menu of many establishments. But what is it? In fact, this is a smoothie in a plate, where they add topping from berries, fruits, vegetables, nuts and other things. Initially, bowls were popular among vegans – in a deep plate they applied whole grain cereals, vegetables and vegetable proteins.
Nutritionists say smoothies in a plate are very healthy, nutritious and easy for the digestive system. But they warn – despite the fact that the smoothie is almost 80% of the plate, it is very easy to get extra calories if you add a lot of fat.
To understand why everyone is so crazy about bowls, you don't have to go to a cafe, you can easily cook a smoothie at home.
Chocolate Bowl with Banana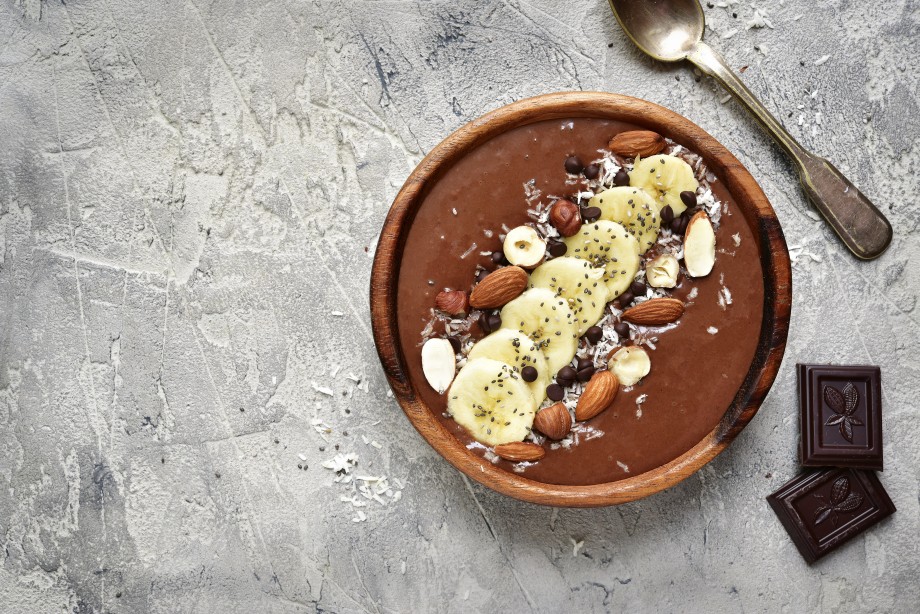 Ingredients:
banana – 3 pcs.
milk – 1/3 cup
cocoa powder – 2 tbsp. l
peanut butter – 2 tbsp. l
nuts, chocolate – for decoration
How to make a bowl:
Mix all the ingredients in a blender.
Pour the smoothie into a deep plate, garnish with chopped banana, chopped nuts and crushed chocolate.
Bowl Vanilla Latte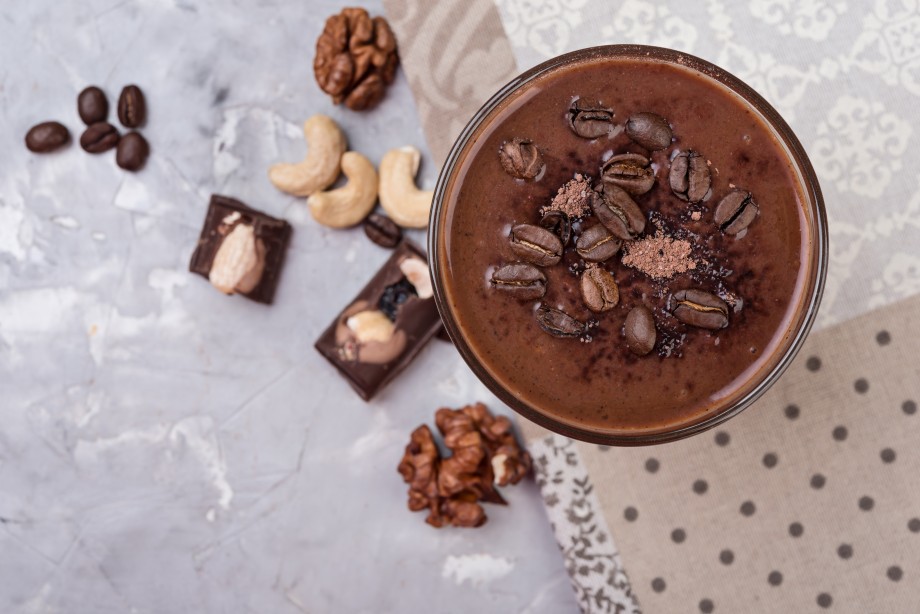 Ingredients:
Almond milk – 1 cup
Espresso – 1 cup
Vanilla – 1 tsp
Banana – 1 pc.
Cocoa Beans – 1 tbsp
Coconut Flakes – 1 tbsp
How to cook:
Mix a cup of almond milk in a blender (pre-freeze it in ice cubes), 3/4 cup unsweetened almond milk, 1 cup espresso, 1 tablespoon vanilla and half a glass of frozen banana slices.
Pour the smoothie into a bowl and sprinkle with cocoa beans and coconut flakes.
You can use non-frozen fruits, but then you have to add ice smoothies.
Buckwheat Bowl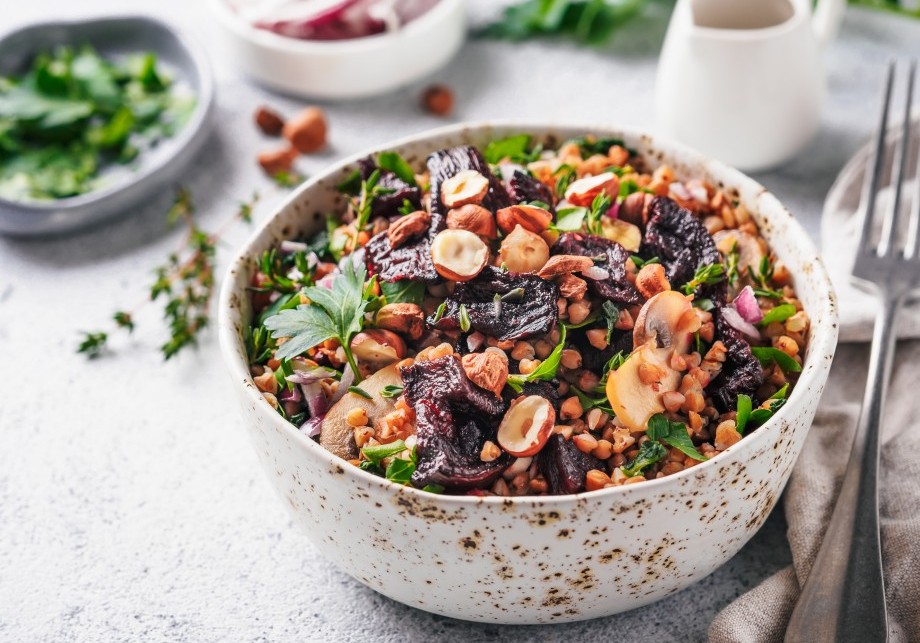 Buckwheat – 1 cup
Sesame oil
Purple cabbage
Soy sauce – 2 tbsp.
String Beans – 350 g
Avocado – 1 pc.
Carrots – 1 pc.
Fresh ginger root – 1 cm
White wine vinegar
Sugar (or honey) – 0.5 tsp.
Sesame (or flax seeds) – 1 tsp.
How to cook:
Boil buckwheat. Thinly cut the cabbage, season it with soy sauce, remember a little and let stand for 10 minutes.
Boil the beans for 2 minutes, throwing them in boiling water (or cook 2 minutes in butter in a pan) to keep it crispy.
Thinly chop the carrots, avocado into cubes.
Mix sesame oil, chopped ginger, sugar and 1 tablespoon for dressing. wine vinegar. Put all the ingredients and season. Sprinkle with sesame seeds or flax seeds.
Couscous and Chicken Bowl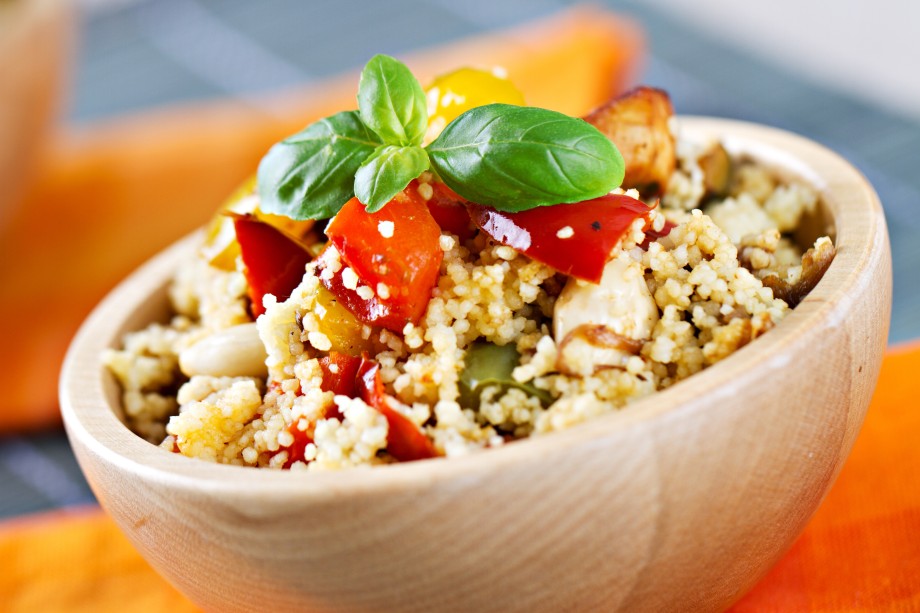 Ingredients:
Chicken fillet
Couscous
Cherry tomatoes
Avocado
Vegetable oil
Salt, pepper – to taste
Salad mix
Lemon – 0.5 pcs.
How to cook:
Pour boiling water over couscous so that two fingers cover the cereal. Wash, dry and season the chicken fillet with salt and pepper.
Send the chicken to a pan greased with vegetable oil, cover with a lid to let the juice drain. When the liquid has evaporated, add vegetable oil and fry the chicken on both sides until golden brown.
In a deep bowl, put the salad mix, cherry tomatoes (you can cut in half) and avocado, sliced ​​into slices. Add couscous, season with salt and pepper, sprinkle with lemon juice and pour a little vegetable oil. Put fried chicken in slices in a bowl.
Quinoa Bowl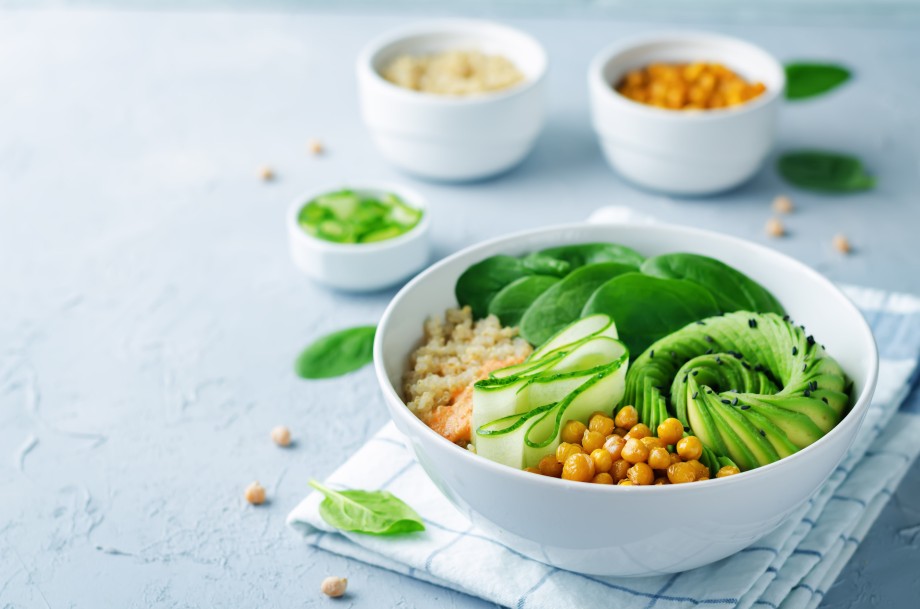 Ingredients:
Boiled Quinoa – 0.5 cups
Avocado – 0.5 pcs.
Kale or Spinach
Radish
Cucumber
Tahini, soy sauce or any other to taste
Sesame
How to cook:
Put the quinoa in a deep bowl and season with lemon juice.
Slice cabbage or dark lettuce, radish, cucumber and avocado. Season the tahini and sprinkle with sesame seeds.
Subscribe to our Facebook and don't miss the most useful materials from Furilia!