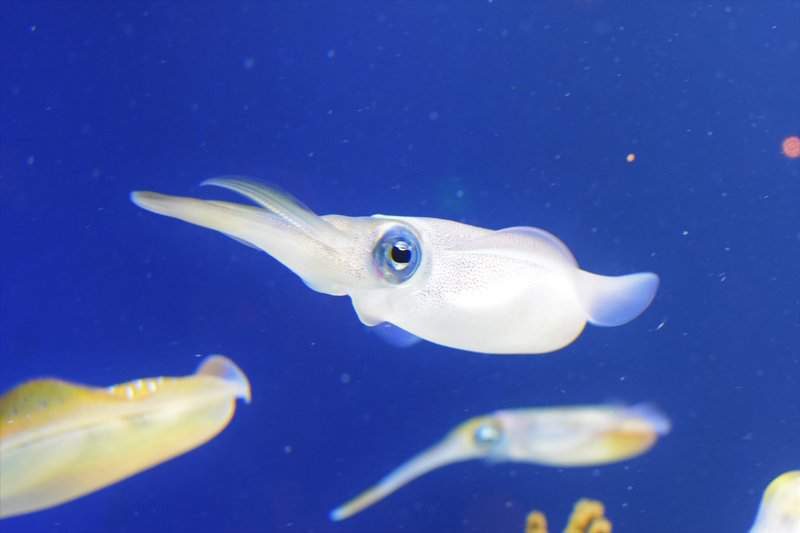 Seafood is a great alternative to chicken breasts and turkey fillets. And if your diet includes a lot of protein, pay attention to squid. 100 grams of squid contains 18 grams of protein, and there are many recipes for cooking with this ingredient. Here is some of them. Squid Salad, Squid Pasta And Braised Squid Recipes!
Squid salad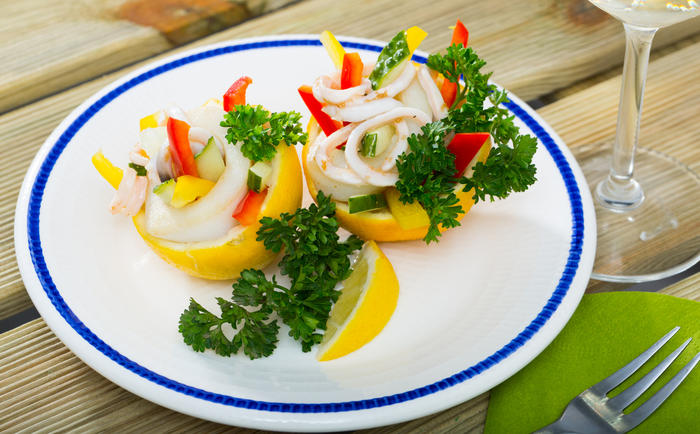 It will take: 500 grams of squid,
half a cup of chopped red bell pepper,
half a cup of chopped celery stalk,
a quarter cup of chopped red onion,
a quarter cup of chopped parsley,
a clove of garlic, juice of half a lemon,
a quarter teaspoon of wine vinegar,
salt and black pepper to taste.
Slice bell pepper and lightly fry. Slice red onions and a celery stalk. Grind parsley and garlic. Combine onion, garlic, celery, bell pepper and parsley in a bowl. Season with lemon juice and vinegar. Salt and pepper. Rinse squid and cut into middle rings (about one centimeter thick). Prepare a bowl of water and ice.
Pour water into a small saucepan, lightly salt and bring to a boil. Add the squid and cook for several minutes – until done. Drain the water, put the squid in a plate with ice and let cool for 4-5 minutes. Add the squid to the cooked salad and mix well. Cover the dish and put in the refrigerator for an hour. Serve the salad chilled.
READ Easy and Aphrodisiac Seafood Soup Recipe
Braised squid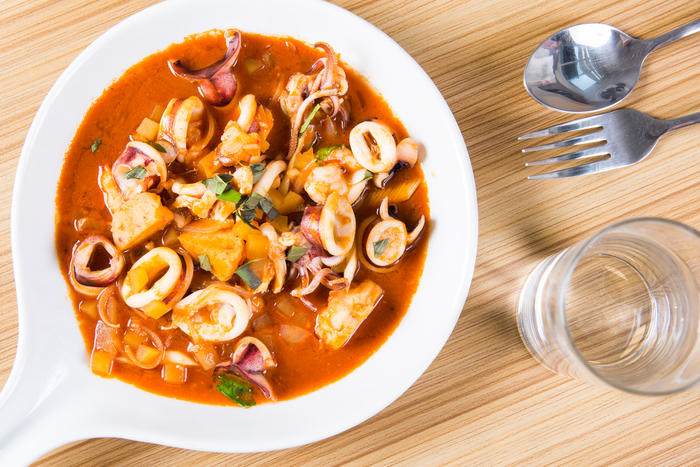 Take a kilogram of squid, 400 grams of tomatoes, 2 onions, 3 cloves of garlic, a handful of fresh coriander, 200 ml of red wine, 3 tablespoons of wine vinegar, a tablespoon of olive oil, a tablespoon of dried rosemary, half an orange zest, 3 bay leaves, a teaspoon of fennel seeds, a pinch of ground chili pepper.
Heat olive oil in a pan. Add the sliced ​​squid, chopped onion and garlic. Simmer for about 15 minutes until all the liquid has evaporated and the onion is soft. Add vinegar and chopped tomatoes. Cook a minute.
Add red wine and spices. Simmer for one hour, stirring occasionally. Turn off the heat and let the dish cool slightly. Sprinkle with olive oil before serving, sprinkle with finely chopped coriander and grated orange zest.
Squid and Persimmon Salad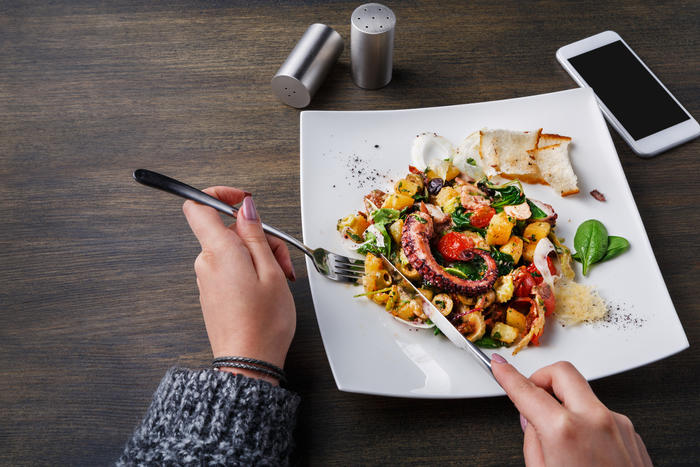 READ ALSO The Most Expensive Seafood In The World: What, where And How Much
Prepare 4 persimmons, 4 carcasses of squid, 12 quail eggs, a can of canned corn, 2 tablespoons of sour cream, 2 tablespoons of mayonnaise, 140 grams of red caviar, black pepper to taste.
Wash squids, clean and boil for 2 minutes in boiling salted soda. In another saucepan, boil quail eggs. Cool the squid and cut into strips. Cut the peeled eggs in half.
Cut persimmons into slices approximately 0.5 cm thick. Add canned corn. Shuffle everything in a large salad bowl, pepper to taste. For dressing, mix sour cream with mayonnaise. Dress salad, mix and serve, garnished with red caviar.
Squid pasta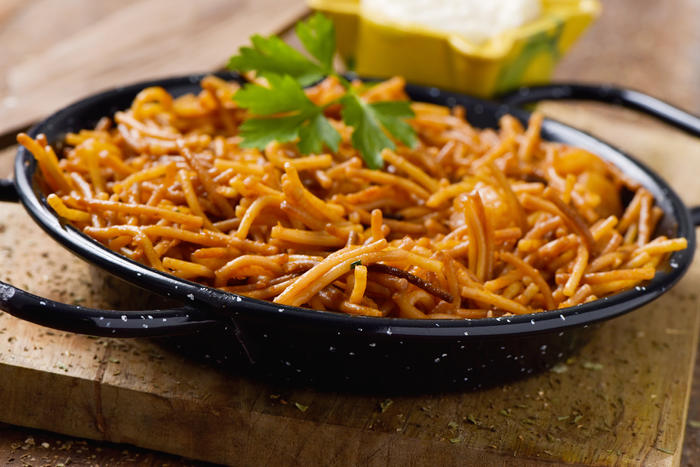 You will need 300 grams of spaghetti, 400 grams of canned tomato, 150 grams of squid, onion, clove of garlic, a handful of parsley, 4 lemon wedges, a liter of chicken stock, a tablespoon of olive oil, a teaspoon of paprika.
Heat oil in a deep frying pan. Sauté finely chopped onion and garlic over medium heat for 5 minutes until tender. Add tomatoes, stock and paprika. Bring to a boil. Reduce heat, add spaghetti and cook for about 7 minutes, stirring occasionally. Add seafood and squid rings to the pan and cook them for about 3 minutes. Season the dish to taste, garnish with finely chopped parsley and add a slice of lemon to each plate.
featured image credit: unsplash.com
Need more – recipes?
Delicious Fish Croquettes Recipe (even for a lazy mistress)
Easy Lemon Parmesan Tilapia Fish Recipe!
Bon Appetit!
Tasty Mistakes: Foods and Drinks that Invented by Random