What chic trench coats are in fashion in the spring-autumn 2020 season? Stylish, light trench coats are a real must-have for the spring-autumn 2020 season. Besides the fact that they are irreplaceable in cool, inclement weather, they also make you look attractive and impressive. These raincoats go well with trousers, dresses, skirts and jeans, and they sit perfectly on any figure. Which of them will be in fashion this year? I will tell you about this in the magazine "Furilia":
12 fashionable trench coats of the season spring-autumn 2020
A variety of colors and styles will allow you to easily choose a trendy trench coat to your taste.
1.Extended floor length trench coats
The longest 90s-style trench coats are back in trend. They were noticed after the shows of Sacai and Burberry. It doesn't matter which model you choose – fitted or voluminous, classic beige or color, as long as it is floor-length. Such trench coats need to be combined with shoes with thin heels, tucking up sleeves to enhance the chic. Elongated models look especially good on tall girls and women.
2. Classic trench coats
Want to feel like a Parisian bourgeois from the 70s? Pay attention to the classic beige trench coat just below the knees. Simple and without any special frills, it goes well with any clothes, including flared jeans. Together with other luxurious basic things, it was returned to fashion by Hedi Slimane specifically for the Celine collection.
3. Cutout trench coats
Trench coats do not have to be strict. Bold cutouts add lightness and appeal to the look. Want more experimentation? Then take a look at the collection of designer Jonathan Anderson. He revived the magnificent sleeves with slits in the spirit of the Renaissance, through which the underwear peeps.
4. Volumetric trench coats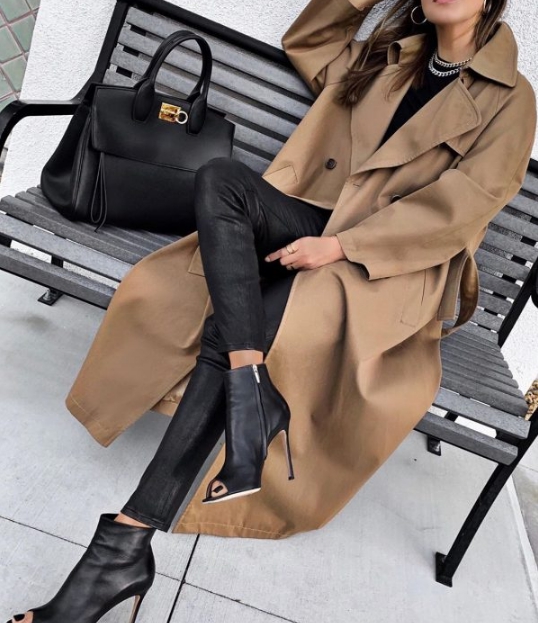 Baggy trench coats with a free cut, as if removed from the male shoulder, continue to be in fashion. Despite the size of the oversize and rough style, the images created with them are very stylish and feminine. The main thing to remember the basic rules of the aesthetics of the 80s: slightly increased shoulders and loose lines. Combining such trench coats is best with leggings and mules.
READ Expert Opinion: Top 3 Trendy Hair Shades This Spring
5. Leather trench coats
Leather trench coats will come in handy at the beginning of spring, when it is still cold for classic fabrics on the street. In addition to the ascetic black raincoats in the style of the 90s, the trend of 2020 also includes bright models of red, burgundy and even white. They can be free cut, oversize or "by smell" made of artificial leather, both matte and patent. In addition, suede trench coats with perforation, as well as reptile embossing, are in fashion.
6. Trench coats
Classic double-breasted models with a straight or slightly fitted cut to the knees with a belt, shoulder straps, cuffs and a turn-down collar in beige color always remain in fashion. They are practical and versatile, so they will replace any other option of outerwear for spring-autumn. Trench coats can be safely worn not only with boats, but also with sneakers, combining them with bright colorful clothes.
READ ALSO Holograms Of Late Artists: Why Are They Created And How Does The Public React?
7. Trench coats with asymmetry
Original, asymmetrical trench coats with a mallet cut (shortened in front and long in the back) became a novelty of the spring-autumn 2020 season. With their help, it is easy to create charming, elegant, stylish images that will definitely attract attention. By the way, asymmetry in trench coats can be traced not only in the hem. There are models that are worn with one shoulder lowered or even just one shoulder. So you have where to roam, picking up a fashionable cloak.
8. Sleeveless trench coats
Fashionable trench coats with 3/4 sleeves entailed the popularity of sleeveless raincoats in general. They look like elongated vests and are not suitable for wearing only in winter. To combine sleeveless trench coats it is especially fashionable with jeans, trousers, shorts and dresses. Want to add chic to your summer wardrobe? Take a closer look at these models.
9. Vinyl trench coats
In collections of fashion brands, black vinyl raincoats below the knees in the Trinity style from The Matrix are continually found. If you are not from a timid dozen, you can safely try on red models on yourself. The styles can be either classic under the belt or extravagant oversize sizes.
10. Kimono Trench Coats
Flying, floor-length kimono trench coats with a free cut under the belt, without fasteners, buttons and possibly even a collar look very sophisticated and feminine. They will be a real hit this spring. Of course, it will be possible to wear them only in very warm weather, but without them it will be difficult to imagine exquisite evening looks. In addition, kimono trench coats look great as part of a modern street style.
11. Trench coats
The "cross-check" pattern remains the most relevant, demanded and popular coloring of fashionable trench coats of the spring-autumn 2020 season. This print makes the cloak a memorable option for outerwear and gives elegance. This is especially true for color models of trench coats. You can combine them with basic things in black and white.
READ ALSO Full Guide To Trendy Skirts For The Spring-Summer 2020
12. Shortened Trench Coats
Short classic-style trench coats with a large turn-down collar are also trending this spring 2020. They more resemble fashionable jackets than raincoats, but nevertheless do not give up their positions. In addition, pay attention to the original sleeves, which can be not only voluminous, but also with ruffles, cutouts, a hem and other interesting elements. The more unusual their shape, the better!
READ Spring SOS Vitamin Face Masks Recipes DIY
DON'T MISS Bring Changes in Spring With Beach House Style Trend!