Any couple will need a little romance from time to time. Delicious wine and light snacks – the perfect menu for lovers. After dinner, there should be no feeling of heaviness, and the products from which it is proposed to prepare meals should relax the body and improve mood.
Tomato salad with feta cheese
You will need: 300 grams of unsalted feta cheese, 5 tomatoes, half a glass of peeled sunflower seeds, 2 tablespoons of sesame oil, vegetable oil and herbs to taste.
Cut the tomatoes and feta cheese into equal sized cubes.
Roast the seeds in the oven, finely chop the herbs.
Add all the ingredients to a salad bowl and stir, sprinkle with toasted seeds on top.
Trout with champagne
READ MORE: TRADITIONAL CHRISTMAS AND NEW YEAR BAKING RECIPES
You will need: one and a half kilograms of pink trout, 200 grams of butter, a bottle of champagne, a tablespoon of flour, juice of a quarter of a lemon, half a glass of sour cream, 4 yolks, 3 sprigs of thyme, parsley, salt and pepper to taste.
Peel and rinse the trout, sprinkle with spices and salt. Grease a baking sheet with butter, add the parsley leaves, place the trout and bake in the oven at 175 degrees.
After 5 minutes, pour an eighth of the champagne into the baking sheet and bake for another 20 minutes.
Melt a tablespoon of butter, add flour and fry it for 2 minutes. Pour in a quarter bottle of champagne and simmer the sauce for 10 minutes.
Drain the broth from the trout and add it to the sauce. Mix yolks with sour cream, lemon juice and 3 tablespoons of champagne, also send to the sauce.
Add the butter gradually, whisking. Season the sauce with salt.
Remove the skin from the trout, place in a dish and pour over the resulting sauce.
Canape with bacon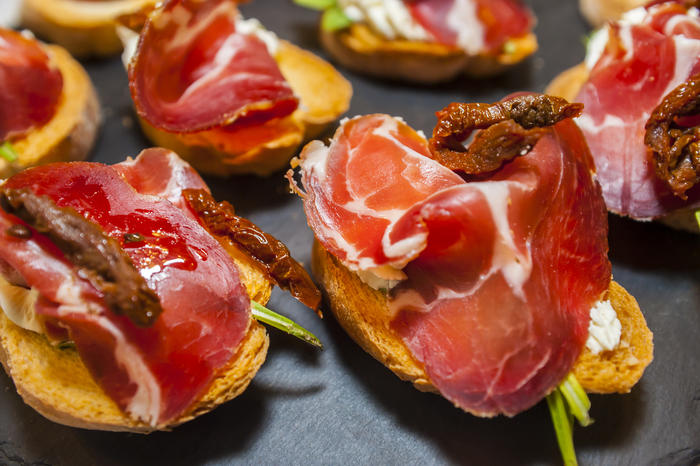 You will need: white bread, 100 grams of smoked bacon, half a red pepper, 2 teaspoons of paprika, bell pepper, 120 grams of hard cheese.
Cut the bread into canapé cubes, place in a bowl and sprinkle with paprika, stir and leave for 10 minutes.
Cut the bacon into cubes and melt. Remove seeds from hot peppers, chop finely and send to bacon.
Fry the bread in a frying pan in melted lard, cool.
Peel and dice the bell peppers, and cut the cheese in portions for canapes.
It remains to collect the canapes and serve.
Pistachio dessert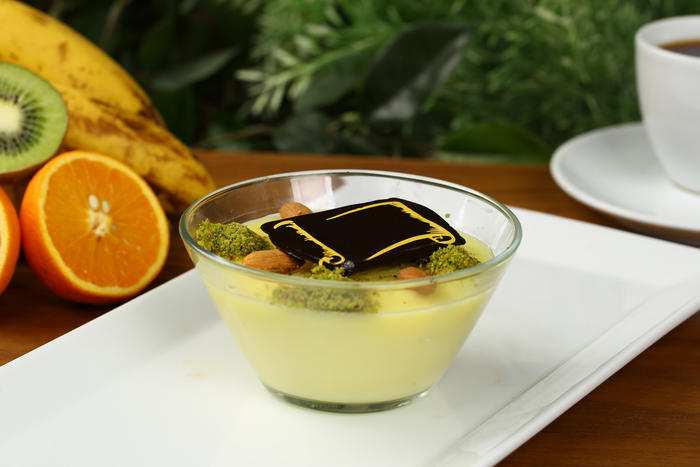 READ: DISCOVERING THE MOST ROMANTIC CORNER IN UKRAINE, "TUNNEL OF LOVE"
You will need: 100 grams of pistachios, 100 grams of sour cream, 3 tablespoons of milk, 10 grams of gelatin, 2 tablespoons of powdered sugar, 50 grams of chocolate.
1. Chop the pistachios finely, add a part for decoration. Whip sour cream with powder and mix with pistachios.
2. Fill the gelatin with water, when it swells, dissolve it in a water bath, cool to room temperature and add to the sour cream.
3. Distribute the dessert in the bowls and refrigerate until it solidifies.
4. Decorate the dessert with grated chocolate and pistachios.
Grapefruit dessert with liqueur
You will need: 2 grapefruits, 4 teaspoons of fruit liqueur, 4 tablespoons of sugar, 2 teaspoons of butter.
1. Wash the grapefruits and cut them in half, and place them with the cut side up on the grill pan.
2. Sprinkle with sugar, brush with butter and sprinkle with liquor, cover and cook for 10 minutes.
Bon appetit and good evening!
Featured image credit: unsplash.com
Follow Furilia on Instagram and Pinterest!
READ MORE: 3 ROMANTIC HOTELS YOU'LL WANT TO CHECK INTO WITH A SWEETHEART
DON'T MISS: OPEN MARRIAGE, FRIENDSHIP WITH PRINCESS DIANA AND 8 MORE FACTS ABOUT TILDA SWINTON