Spring Breakfast Recipe: vegetable bowl with egg. This breakfast option bowl with spicy carrots, beets, tomatoes, radishes, lettuce and eggs will make a difference in the diet and saturate the body with the necessary vitamins. Only 237 calories per serving – and how much fun and lightness!
Ingredients:
carrots – 2 pieces
beets – 1 piece
tomatoes – 2 fruits
radish – 4 heads
eggs – 2 pieces
mix salad – a handful
Greek yogurt – 2 cups
chopped green onions – a third of a glass
chopped basil – a third of a glass
chopped mint – a quarter cup
garlic – 2 cloves
olive oil – 3 tablespoons
lemon juice – 3 tablespoons
cumin – a pinch.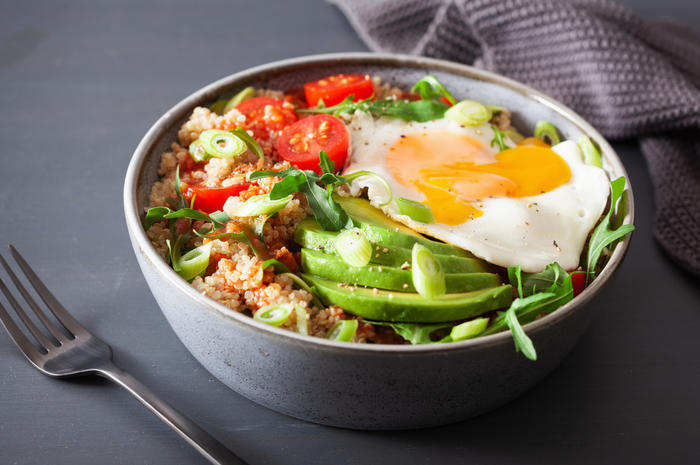 Cooking:
1. Grate carrots on a grater.
2. Transfer to a bowl, season with a tablespoon of lemon juice and a tablespoon of olive oil, season with cumin and mix.
3. Prepare the dressing: mix in a blender 2 tablespoons of lemon juice, 2 tablespoons of olive oil, Greek yogurt, garlic, green onions, peppermint and basil.
4. Hard-boiled eggs, peel and cut in half.
5. Grate the beets on a grater.
READ ALSO Best Sauerkraut or Pickled Cabbage Soup Recipes
6. Cut the radishes into thin circles, and the tomatoes into slices.
7. Put the carrot mixture, beets, lettuce, radishes, tomatoes and half the eggs in the plates.
8. Add a little dressing on top and serve.
Bon Appetit!
Follow "Furilia" on "Instagram"!
READ ALSO The Most Expensive Seafood In The World: What, where And How Much
READ MORE Which Chic & Stunning Trench Coats Are In Fashion In the Spring-Autumn 2020 Season?