We never cease to be surprised how the same piece of jewelry is revealed from a completely different side, depending on the style of stylization. In 2020, airy, like a cloud, Victorian blouses, knitted turtlenecks with deliberately long sleeves and wide-shouldered jackets, as from a man's shoulder, came into fashion. How to give these characteristic things some entertaining detail, so that the gaze wants to stop and examine the image more attentively?Wearing bracelets over clothes is a new Fall 2020 Fashion Trend you should try!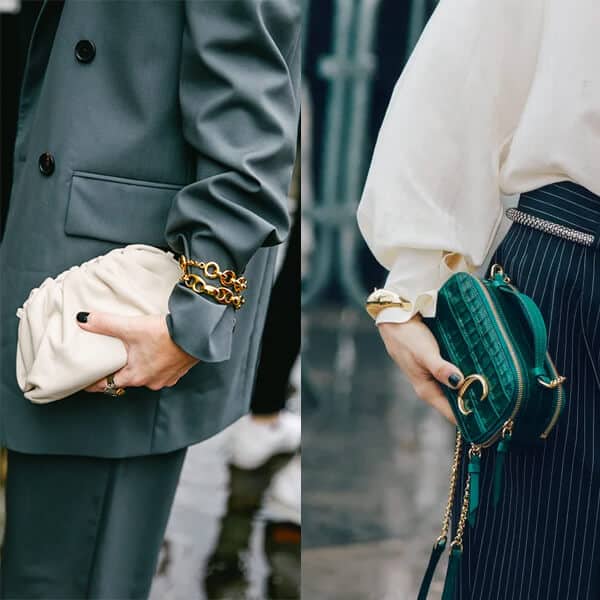 The heroines of the Street style column of the October Fashion Weeks spied a clever trick from the French brand Chloé: put on only bracelets from jewelry, but not hide them under clothes, but, on the contrary, put them on over it. The result was incredibly stylish, and somewhere the jewelry managed to become the central player in the image: the gold-plated chain and cast bracelets shone so stubbornly and proudly that they even distracted attention from clothes.
READ: 5 STRIKING FILM IMAGES OF ECSTATIC MIA WASIKOWSKA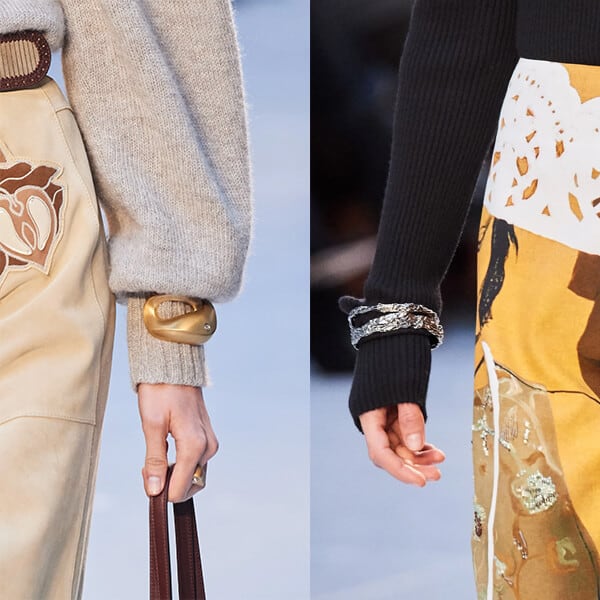 We suggest taking note of this stylistic technique and boldly using it throughout the fall, winter and spring – in other words, the entire long season of clothes with long sleeves. Wear your bracelets over the sleeves of plain white shirts, plain jackets, and basic knitwear such as a knit dress, turtleneck or sweater. Or maybe someone is already ready to wear such jewelry with a sweatshirt or tracksuit? You will need bracelets that do not get lost in the folds of cotton and wool.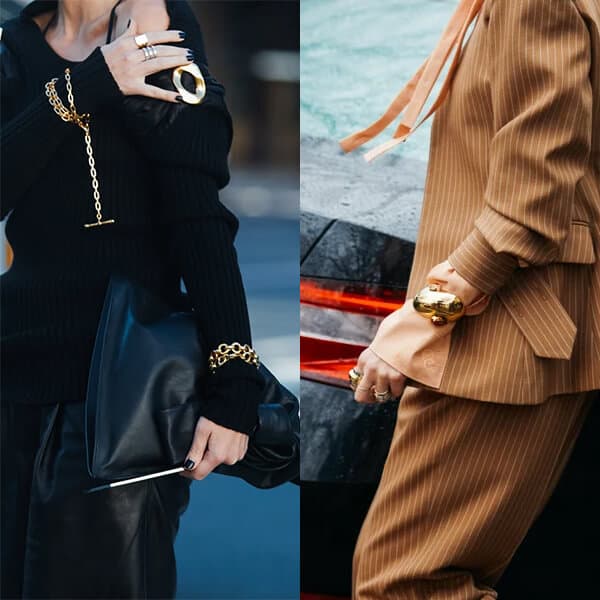 try to wear:
Chain bracelets with chunky links are perfect for bringing your style to life. These pieces are more relevant than ever and have great potential for combinations.
Gold snake bracelet – There is hardly anything that can compare with the sunshine of real gold. Metals of warm shades look luxurious and do an excellent job of making an image not only fashionable, but also expensive and noble.
Silver bracelet with multi-colored quartz. Connect your imagination of a stylist and experiment with bracelets not made of metal, but of beads. You can use one or more accessories, but try to hit the bull's eye with the overall color scheme of your look.
Silver cuff bracelet. Using the example of the Chloé show, we made sure that embossed silver bracelets are best worn in pairs, one piece on each wrist, and can be safely combined with other silver jewelry if you are wearing a simple knitted turtleneck and a bright printed bottom.
Gold bracelet with mother of pearl. Just imagine how such a bracelet will shine live in the rays of light!
Silver bracelet with flowers from quartz, pearls and beads. Fantasy bracelets on the theme of flora and fauna will definitely reveal their full scenic potential against the backdrop of a silk blouse with long puffed sleeves. Wear such jewelry when you want to add a little fairy tale and magic to your everyday routine.
Follow Furilia on Instagram and Pinterest!
READ ALSO: 5 SEXY STYLE TIPS THAT WILL MAKE YOUR STYLE VERY ATTRACTIVE
READ MORE: WHAT JEWELRY AND ACCESSORIES WILL IMMEDIATELY MAKE YOU FASHIONABLE