Spring-Summer Fashion Weeks 2021, by definition, should have turned out to be unusual, because they were created during a total quarantine, when everyone predicted a catastrophic failure for the fashion industry. Just imagine that the designers sat in their pajamas in front of the TV, just like the rest of us, and drew a collection so that later they could demonstrate it in an empty hall without spectators or in studio photographs.
Perhaps the desire to quickly flip through the calendar has never been as strong as in 2020. We already have enough exciting events and news occasions, you can go straight to 2021 with hope for the best and with a slight nostalgia for the times when movement was free and big holidays were noisy, crowded and legal. The same is with the collections of the spring-summer season – 2021: they contain a lot of hope and nostalgia for the bright 2000s, as well as home comfort, which this year has become almost a must. Neon hues, colorful prints, satin suits, pajamas and white are on the trendy menu for next year.
2000s return
It was only one decade ago, and many of us have already forgotten how colorful and bold that era was. The flourishing of democratic brands and large stores gave rise to a huge variety in clothes, and fashion trends and the very word "dress up" have become for many a favorite pastime. We remembered huge bows on clothes, colored leather, graffiti prints and neon accessories? Barbie-like outfits can easily fill the mass market again next year.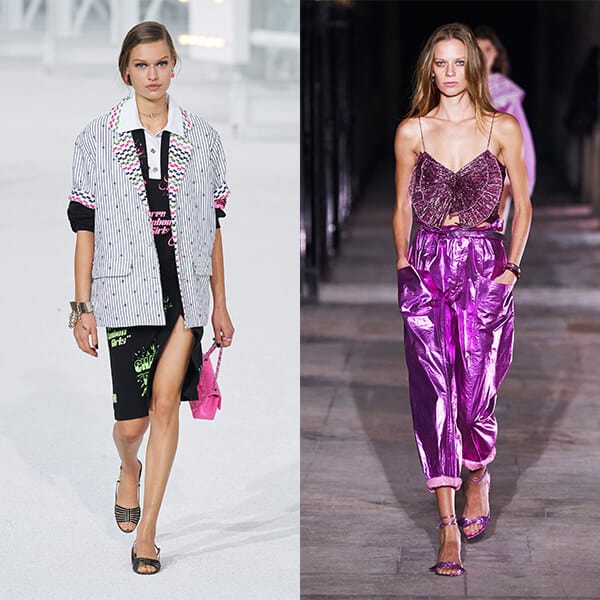 Asceticism in everything
Minimalism in the reading of Jil Sander and Hermès is not an attempt to hide from the world in not at all attractive clothes, but, on the contrary, the luxury of not proving anything to anyone through external attributes. Unlike the freaky style of modern Gucci and Dior, the ascetic chic of Jil Sander and Hermès does not seek to become famous by hitting all the country's Instagram accounts. This is a story about clothes that have served for centuries, but look laconic and monumental, like a uniform from the future.
Eyes out bags
In the 2000s, did you also have such a bag that could be seen from the opposite side of the street? In patent leather, an acid shade, or an apple-sized gold buckle? The fashion for kitsch accessories is back, so you can go in search of your crazy handbag now. Keyword passwords: spikes, tassels, chains, graffiti prints and giant key rings.
Going out pajamas
The months of quarantine were not in vain: someone learned to cook, someone returned to yoga, and someone discovered that there is no more comfortable clothing than pajamas and better round-the-clock entertainment than watching TV shows. There were so many pajamas in the spring-summer 2021 collections that it would be high time to move them from the section of home clothes to the section of relaxed suits. If at the beginning of 2020 we were recommended to buy expensive business suit, then the following months have shown: expensive pajamas will come in handy for you more.
Bra as clothing
In the West, bras are rapidly losing their popularity – this is evidenced by the statistics of sales of lingerie stores. But the usual piece of underwear does not disappear anywhere, but turns into a multi functional top: you can still wear it under clothes, on clothes or instead of clothes. For example, as at the Alberta Ferretti show – sensual and completely without vulgarity.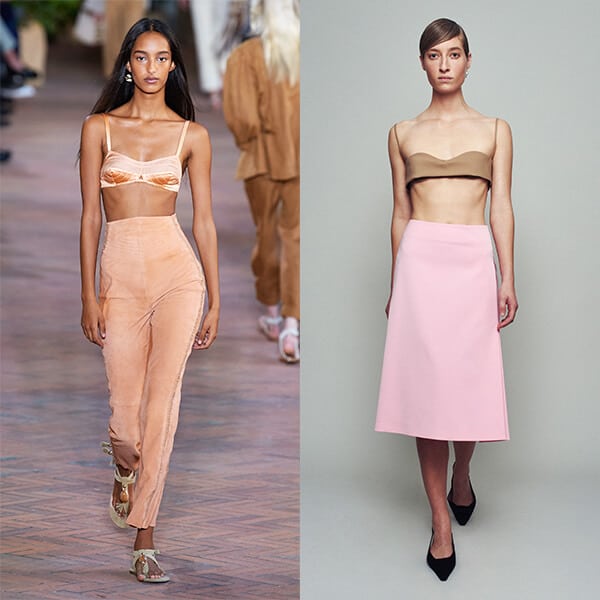 White for hope
It was not easy for Italian designers in 2020, because the virus hit hard in the northern part of the country, where the entire fashion industry is concentrated. For this reason, the white color is not only about a chic summer vacation in Capri, but also about heartfelt gratitude to the doctors for their work during the pandemic.
High sandals
To maintain good mental health in 2020, it was necessary at times to demonstrate endurance no worse than that of Roman gladiators. "Gladiators" will be the name of the most original (and at the same time wearable!) Footwear from the spring-summer collections – 2021. With midi dresses, these high sandals look spectacular, and with mini dresses – also sexy.
Hole-in Clothes
Miuccia Prada delighted fans with a fresh decision: the already expensive Prada knitwear in the new season came out with a creative defect. It turned out, as it were, the embodiment of our plans for 2020: it seems, in general, everything is intact, but there are a number of tangible punctures. We are already waiting for this sweater to copy Zara and absolutely everyone will be able to dress "in a hole", or in the spirit of the era.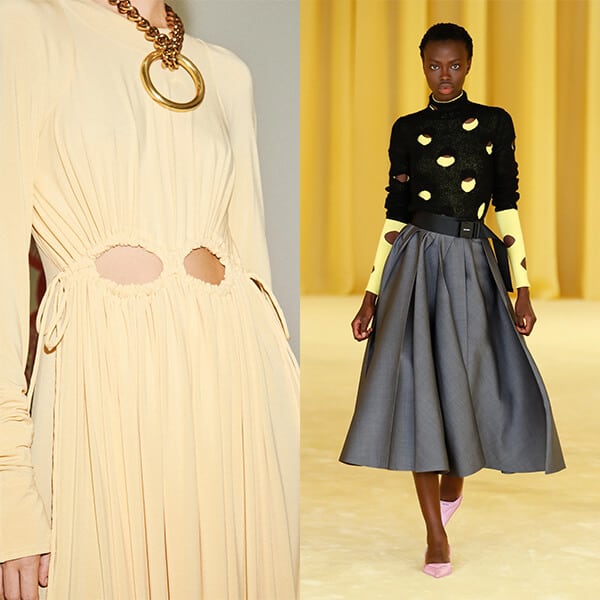 Follow Furilia on Instagram and Pinterest!
READ MORE: HOW TO WEAR BRILLIANT FLARE JEANS! THE MOST FASHIONABLE SILHOUETTE OF 2020
READ ALSO: GENIUS TIPS ON HOW TO LOOK TALLER CERTAINLY, EVEN IN FLAT SHOES!