With the advent of the cold season, sauerkraut becomes a must-have for any table. It is a healthy source of fiber and vitamins that are preserved in cabbage up to 10 months.
Sauerkraut or pickled cabbage contains almost all vitamins necessary for health: B1, B2, B3, B6, K, U, as well as provitamin A. This is an excellent prevention of intestinal congestion and diseases of the gastrointestinal tract. In the process of fermentation, lactic acid bacteria are involved, which improve the microflora and help get rid of dysbiosis. Lactic acid effectively fights bacteria, including E. coli.
Most of all, sauerkraut contains vitamin C, which is very important during an exacerbation of autumn and winter viruses. Consuming sauerkraut reduces the risk of developing tumors and affects blood cholesterol levels.
Cabbage is a dietary product, and in the sour form, calories even decrease, despite the high nutritional value and satisfaction of hunger. In order to effectively lose weight, it is also beneficial to consume cabbage brine, which has excellent cleansing properties.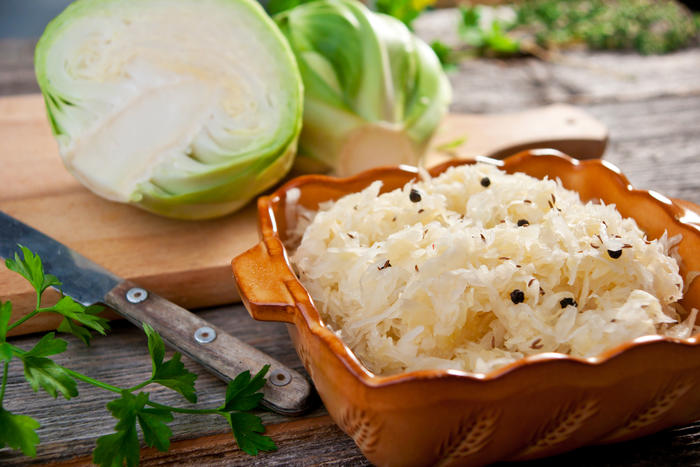 Sauerkraut pickle is also effective as a remedy against pregnancy toxicosis.
Sauerkraut contains a lot of iodine and niacin, which strengthen nails and hair roots, giving them a natural shine. Cabbage is even used as an external cosmetic, as a face and hair mask. The ingredients of sauerkraut moisturize the skin, tighten pores and tone up.
Who shouldn't eat sauerkraut / PICKLED CABBAGE
Due to the high content of organic acids in sauerkraut, it should not be consumed:
people suffering from diseases of the thyroid and pancreas,
everyone who suffers from surges in blood pressure, with renal failure,
if there are stones in the gallbladder,
in chronic diseases of the gastrointestinal tract in the acute stage.
Cook with Furilia the best recipe of pickled cabbage below!
Featured image on unsplash.com
READ: WHAT IS SO UNIQUE ABOUT RED CABBAGE? CHINESE RED CABBAGE SALAD RECIPE